Homemade Lip Balm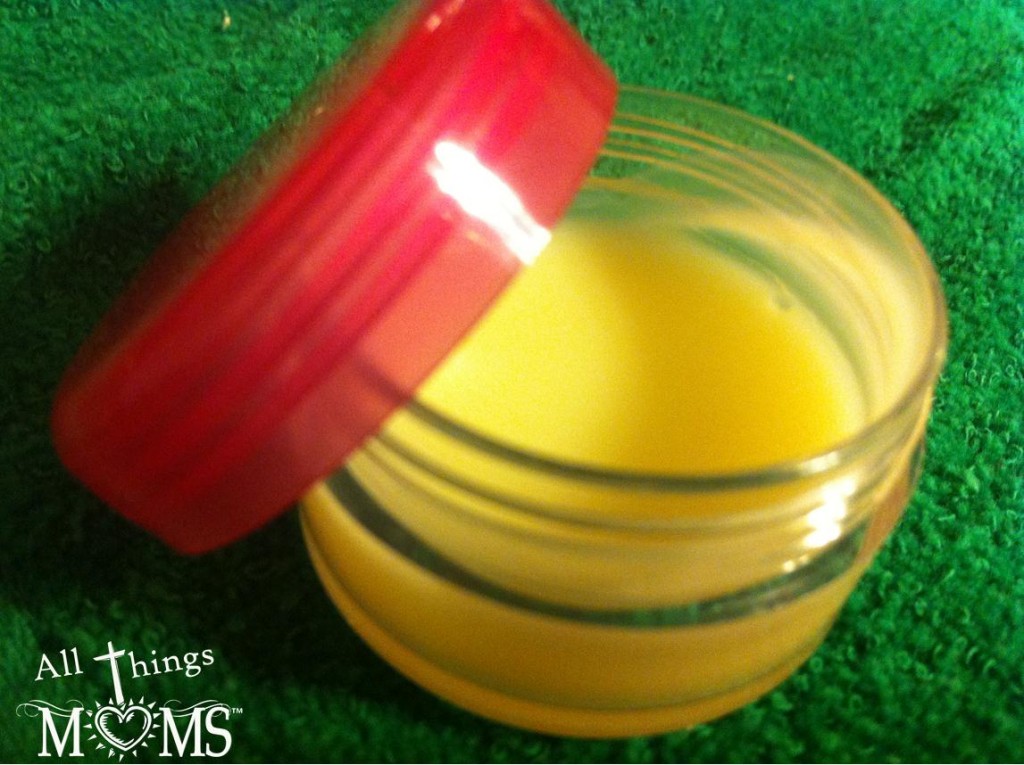 I have found that when you tell someone you've made something rather than bought it you can expect one of two reactions. The first (and my favorite!!) "That's Awesome! How did you do it?" The second and most common reaction is a look of bewilderment that is sometimes accompanied by a "why?" I have determined there is no middle ground.  People either think I'm a fruit loop or they think it's cool.  It cracks me up really, convenience stores and supermarkets have not always been on every corner and carried such a large variety of stuff to choose from.  Our grandparents and great grandparents had to make things themselves but in today's world people sometimes think you're a wackadoo for choosing to make things rather than buying them.   Don't get me wrong, the convenience and ease of being able to run in somewhere and grab what I need is great, but honestly the pride that comes with making your own, knowing what's in it, and saving money is so much better.
Take this lip balm for example. I am sure I will get the strange looks for this one. I mean, chapstick is on every corner and it's under the $5 range which means most people won't think twice about tossing it in their shopping cart. Why would you possibly want to make it yourself?
1. It's Easy. I only used 3 ingredients and it took less than 10 minutes to make from start to finish (More if you're trying to get the perfect picture as you go :))
2. It's good  stuff.  There are no chemicals, artificial ingredients or things that I can't even pronounce, just 3 all natural ingredients – Vitamin E, Coconut Oil, and Beeswax.  Vitamin E  is vital in protecting skin cells from ultra violet light, pollution, and other elements that can damage your skin. It's good for the prevention and treatment of sunburns, it protects against the aging of skin and prevention of cancer. Coconut Oil includes antioxidant, antifungal, antibacterial and antimicrobial properties. Beeswax is very moisturizing and is another major protector against UV rays. It also has antibacterial agents which help with excessively dry and cracked lips.
3.It's Inexpensive. A little bit of ingredients makes a lot of lip balm.  I got great deals online for my coconut oil and Vitamin E. The beeswax I got at my local farmers market from a bee farm about 15 miles away. Here's the price breakdown – Coconut Oil 6.75 for 30 ounces, only used .5 ounce= .23¢, Vitamin E $5.97 for 2 ounces, only used 5 drops = .05¢, Beeswax $1.50 for 1 ounce, used 1/3 of bar= .50¢. Total cost to make was just .83¢!! The best part was it made 5 containers!! That's just .16¢ per tube/tin.
16¢ for All Natural, Organic Beeswax Lip Balm! Compare that to $3 per tube/tin for a similar, popular brand name. Yeah, I'll take the crazy looks.  Try making some of your own, if the crazy looks get to be too much, just don't tell them, they'll never know the difference 🙂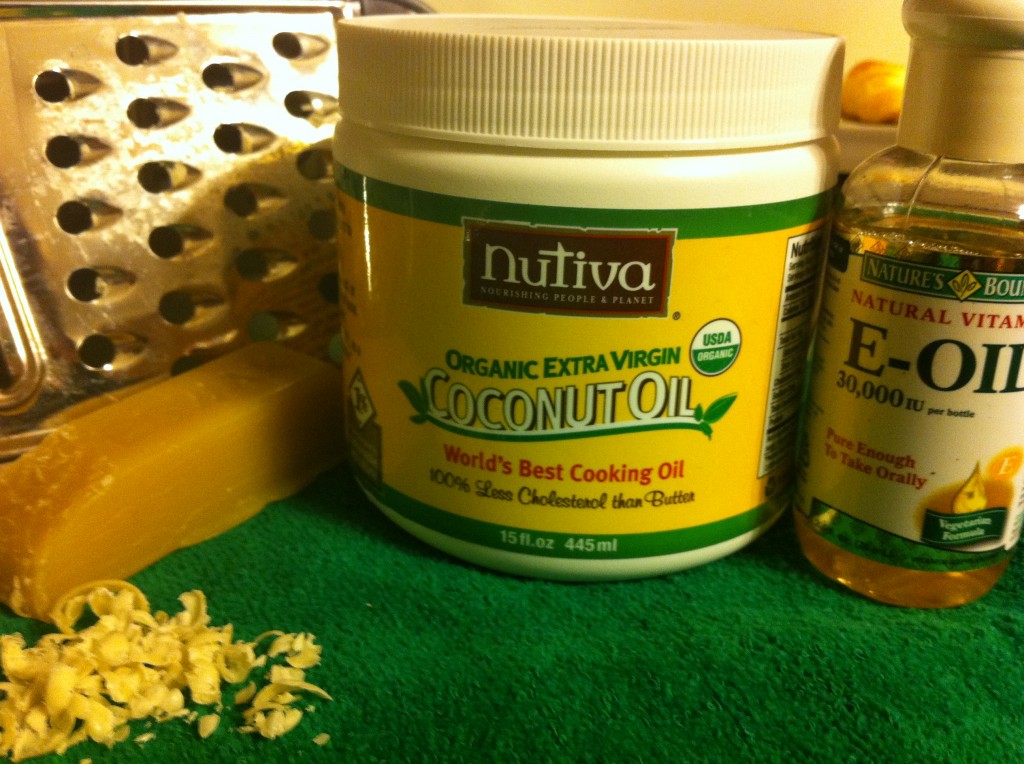 Homemade Lip Balm
Ingredients
1 tablespoon coconut oil
2 tablespoons grated beeswax
5 drops of Vitamin E
Directions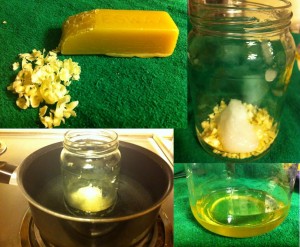 1.  Put 2 inches of water in a small pot and place on the stove on medium heat.
2.  Place coconut oil and beeswax in a glass, heat safe container (small jar, measuring cup)
3.  When water begins to come to a boil, sit the glass container in the pot. Stir occasionally until ingredients are melted.
4.  Add Vitamin E and stir the ingredients.
5.  Remove from the heat and pour into your containers.
The lip balm will become solid pretty quickly so you will want to have your containers ready before starting.  I used old containers that I had, I just washed them out. I had 3 tins and 2 tubes.  You could reuse tins from makeup, mints, etc or purchase new ones online or in a beauty or craft store.
You can also add some honey or essential oils to this recipe to make it different flavors.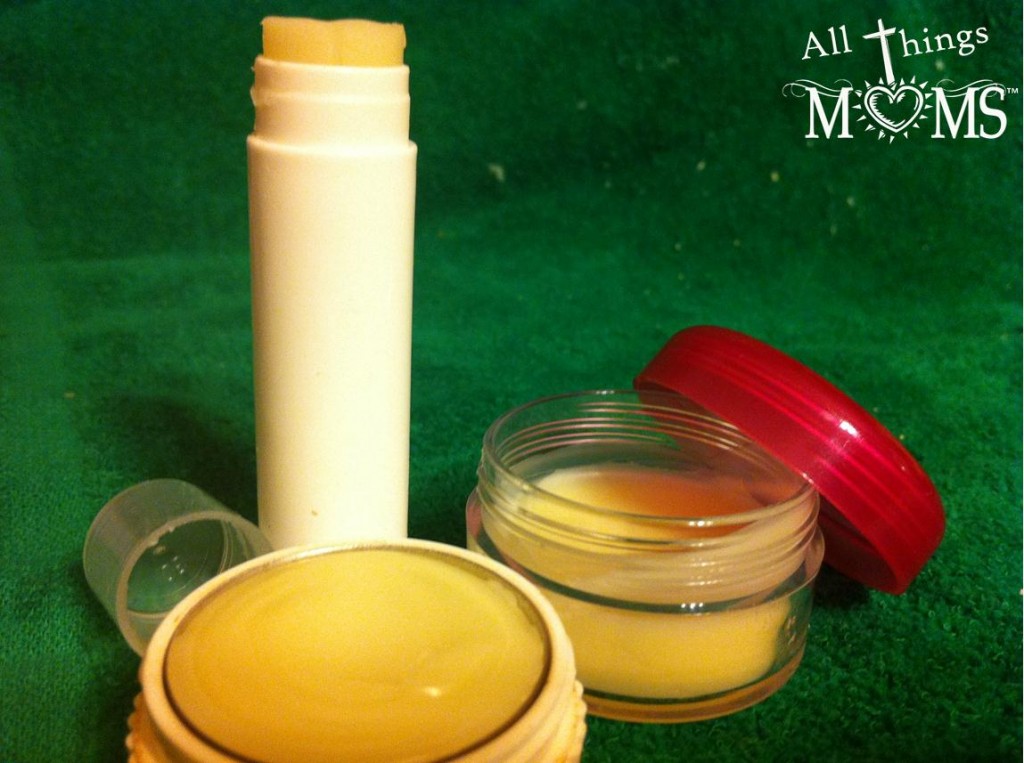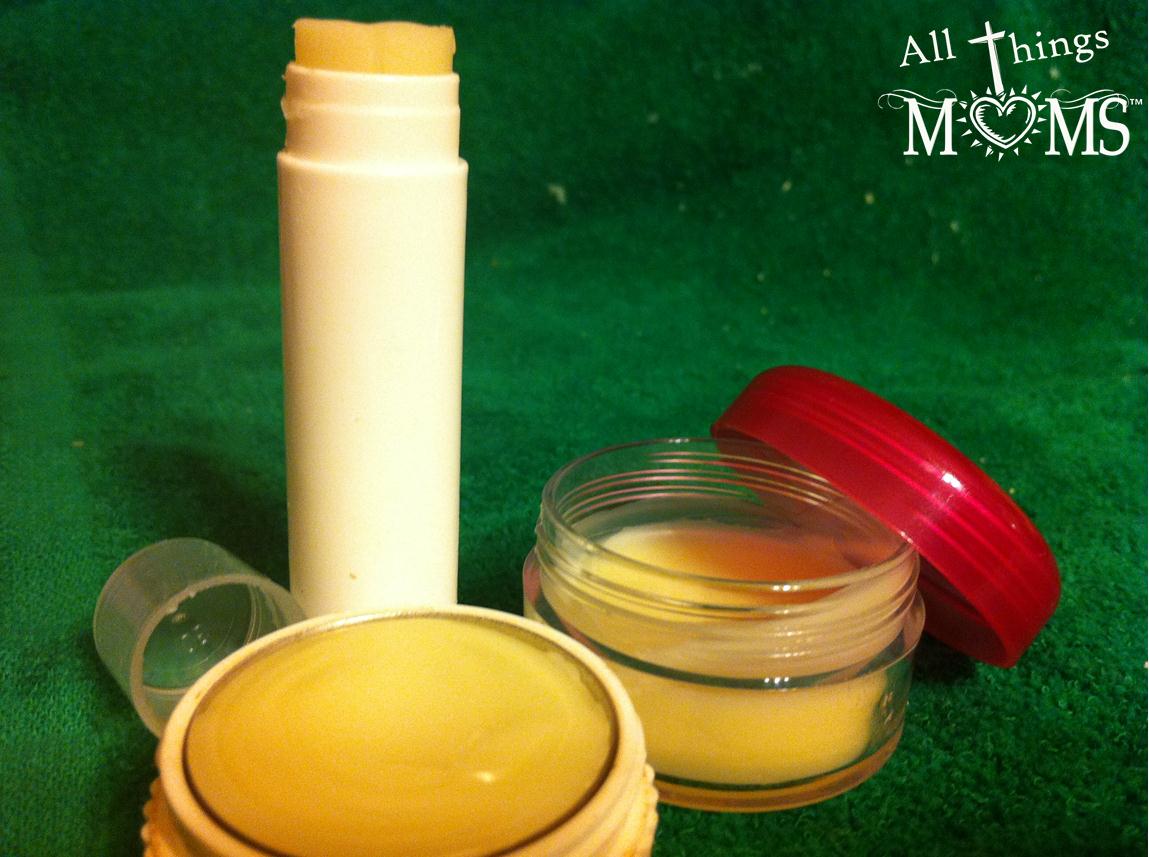 A special Thank You to my wonderful Mom for allowing me to come over and make this with her! Even though we were both exhausted I had a fun night!
Recipe Adapted from: Glamology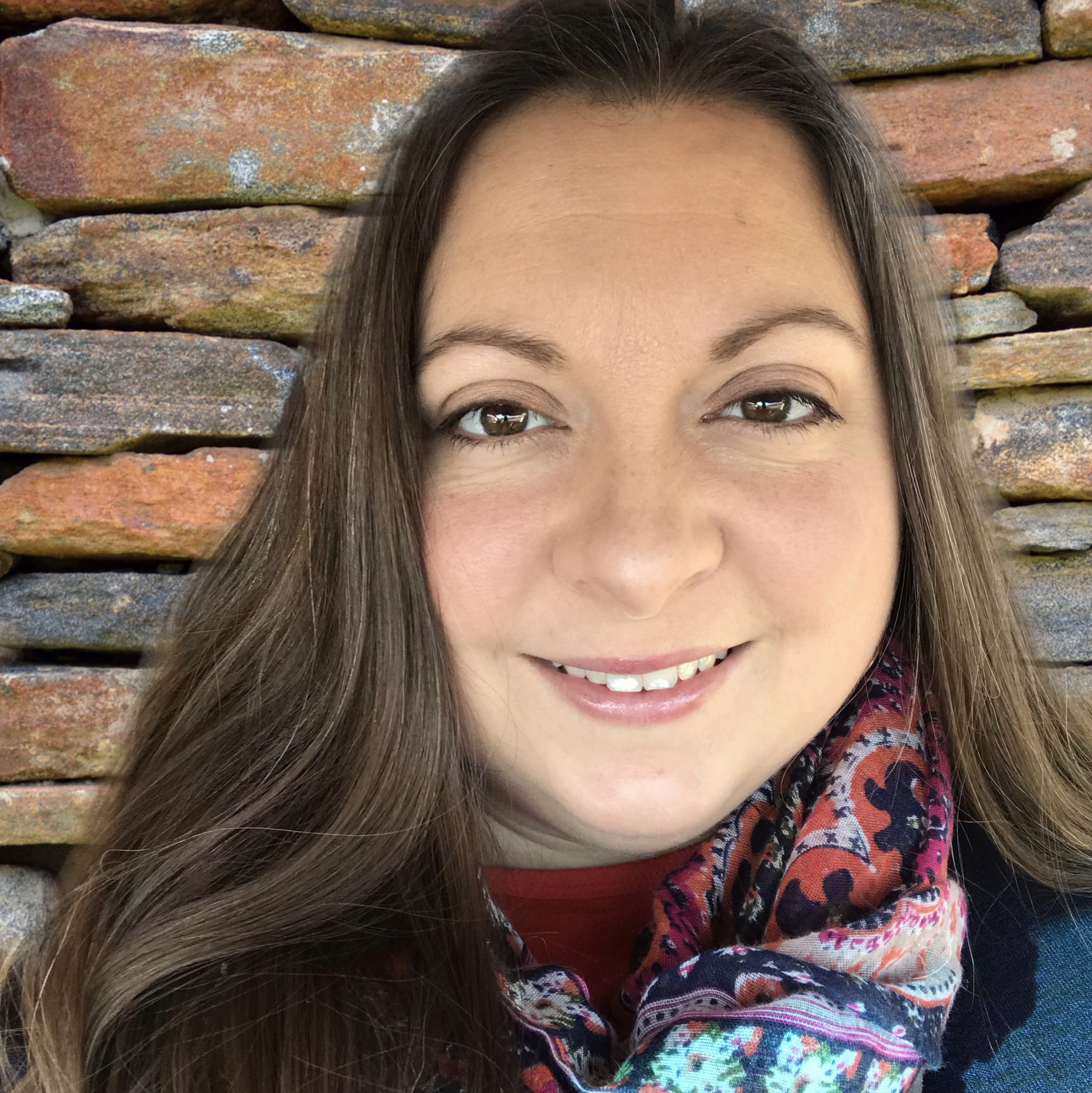 Hi! I'm Paula, a wife and mom by both, birth and adoption. We are a homeschool family and are also therapeutic foster parents. I enjoy spending time with our horses, gardening or going on adventures (usually in our backyard) with my family. We love Jesus and strive to honor Him in all we do. Want to know why I started All Things Moms? >>Read More