3 Easy Steps to Start Saving Money on Groceries (without using coupons)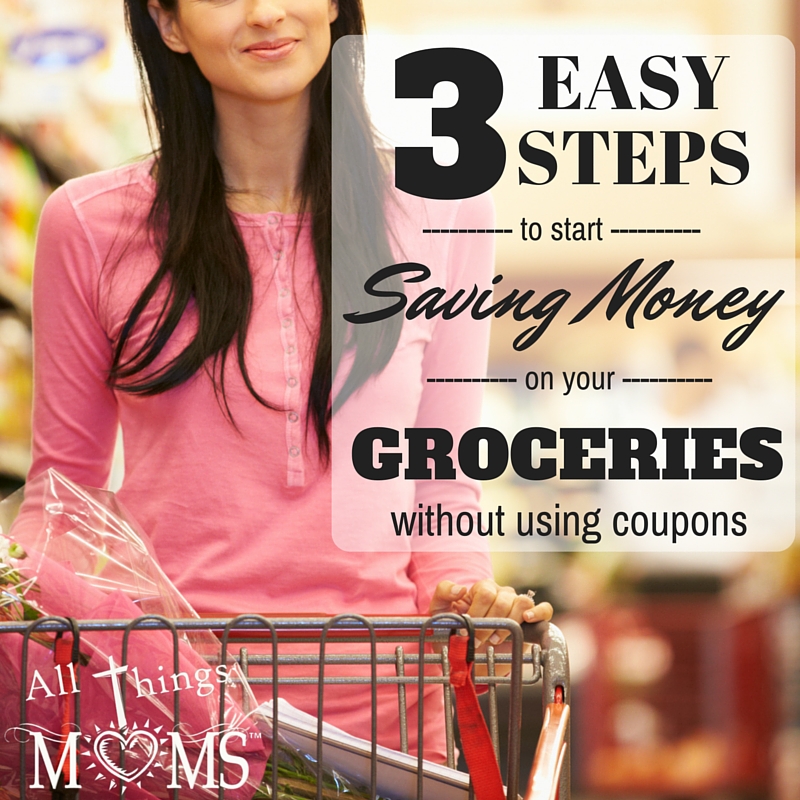 It's Thursday, which in our area at least, means grocery ads came out yesterday!   Which means a new opportunity to save money on the items you need most…groceries.  With a little planning you can save money on your groceries… even if… you don't use coupons.
There I finally said it, I don't use coupons.  Coupons seem to overwhelm me and I never seem to be able to find the one I know I had, or I forget my coupons, or the one I wanted to use has expired.
Don't get me wrong, I have friends and even my daughter, who just happens to be 10 times more organized than I am, use coupons successfully.   I hear the stories of the items that they got for almost nothing or sometimes even free.  I hate to admit it but I'm a coupon flunkie.
Just because I don't use coupons, doesn't mean that  I can't save money…with a little planning.
So here is my 3 step plan to save money.
First of all…take stock of what's in your fridge and pantry.  Write down any items that you need and while you're writing make a note of the staples you have on hand, essentially the items you DON'T need.
Second, check the grocery ads of the three closest grocery stores to you or your three favorite stores.  By checking three ads, you can quickly write down the items that attract your attention.  I just checked the three closest stores to me and wrote down the better buys in under 15 mins, and I did it from my phone.  
It's that easy and fast.  You could do it while your kids nap or on your lunch hour today.
Now, plan your menu for the week based on what's on sale.
For example in my area, Harris Teeter has 93% lean ground beef on sale for  eVIC customers for 3.99/lb.  They also have whole chickens on sale for .89 cents/lb.
Please note: These prices apply to eVIC customers, so if you haven't signed up for it yet, do it now.  I get extra savings that way, and the sale prices are delivered right to my email!
On that note, if you haven't already signed up for a rewards card or VIP customer card at your favorite stores, do it now.  No, I do not carry all those cards with me or put them on my key chain. Every card I've signed up for allows you to use your phone number as a login number, so I just use my phone number instead of swiping a card.
Anyway the other two stores I checked were:
Food Lion, which has Chicken legs for 89 cents/lb. and whole Boston butt $1.29/lb.  Canned veggies are 2/$1.
Aldi's has a pork roast kit for $6.99.  The ad says its 2.75lb, but since it says it's a kit and the picture shows carrots, potatoes, and onions,  I'm going to assume that it the weight is not all pork roast.   Might be a good deal for a small family, but it won't work for my family.   Aldi's has onions for .49 cents/lb, bananas  .29 cents/lb.
Notice that I did not list everything the store had on sale here.  Typically I would make a list anything that was on sale that would benefit my family.  
Now make your menu based on what's on sale and what your family likes to eat. Incorporate what you already have on hand, when you can.  A menu can be super simple just jot down 6 or 7 seven meal ideas.  You don't even have to assign them a night of the week.  You just want to know that you will have the items needed for at least that many meals.
For example, if your family loves spaghetti, tacos, meatballs or meatloaf, you might want to get the ground beef at Harris Teeter.  Any leftover cooked ground beef can be used to top a pizza or throw into soup.
Pick up a whole chicken to bake or put in the crock pot for another night.  Leftover chicken can be used in soup, chicken salad or chicken quesadillas.
Maybe you want to cook a whole Boston Butt in the crock pot.  Boston butt is traditionally used for BBQ, but the leftovers could be used on a salad, baked potato or in tacos.
My family loves grilled chicken legs, if your crowd loves them too, then pick up the chicken legs at Food Lion.  I've recently discover that grilled chicken legs are great for salads.  I just cut the meat off the chicken leg for a perfect size portion!
Now, write out your grocery list and stick to it! You'll be amazed at how much money you can start saving when you become intentional about planning your meals around the sales and what you have on hand!
I'm a wife and mother of four homeschool graduates. I enjoy walking, reading and writing. I also love to do almost anything creative from taking photos to painting furniture. I'm an imperfect mom with a less than perfect family learning to walk by faith in Jesus through life's daily challenges. >>Read More