About
Do you remember being a kid and having these really big dreams for what you wanted to be when you grew up? Doctors, Lawyers, Firemen, Veterinarians, NBA players- you know the list. Not me- my heart's desire was to meet some dreamy man that would make me happy every second of every day and raise lots of wonderful, well-mannered little children. HA! I should have chosen NBA player-looking back, that seems much more achievable!
Obviously, life didn't pan out to my picture perfect dream. Instead I became a workaholic (in grocery retail, of all things!). In January of 2008 I found myself engaged to be married to a great man and I was miserable. Why? Wasn't this the start to the life I'd always dreamed of? God began to stir in my heart and on a tear filled drive into work one day I gave my life back to Him. After years of running away from Him he graciously pulled me back into His arms and filled that God sized hole in my heart.
In 2010, God blessed us with our first child, a little girl who has the sweetest heart for others and loves to play in the dirt. Having her began to ignite the passion that God put deep within me so many years ago to be a stay at home mom. I immediately began praying for God to open up a way to allow that to happen. Just before she turned 2, I was able to quit my full time job so I could be a stay at home mom and raise her to be the woman He desired her to be!! This is something that had seemed nearly impossible since my husband had lost his job of 9 years just the year before but with God ALL THINGS are possible! We stepped out in faith and He has answered our prayers and shown me ways to save money, eat healthier, be creative with what we have and get organized along the way.
In October of 2011, I began to feel like maybe God had called me to share some of the things He had shown me to others. I prayed over this decision for months and finally started this blog in January 2012. It didn't take long for satan to start making me doubt God's calling. I fell for it hook, line and sinker. You see, life hasn't turned out to be the fairy tale I imagined. My dreamy man is as broken as I am, my daughter talks my ears off and is hit or miss with manners, and while I had begun homeschooling, so far, God had used it to teach me more about my brokenness than I had taught her. Still, probably the hardest blow was that by the time our daughter turned 6 years old, she still had no brothers or sisters yet.
In 2015, after much prayer, my husband and I decided it was time to give up on our dream for a baby and give our extra bedroom (still decorated as a nursery) another purpose. We began taking classes to become a foster family. In 2016, we were licensed and received our first placement, a sibling group of two. Adoption was not the reason we began fostering, we just wanted to be a safe place for these children for as long as needed. But it didn't take long for us to see that God had bigger plans. When I look back now I see God's hand at work in everything, He had been preparing our family for these two little children for years! In 2018, God granted our hearts desire and made us a forever family of 5! (Now I have 3 precious kiddos who love to play in the dirt!)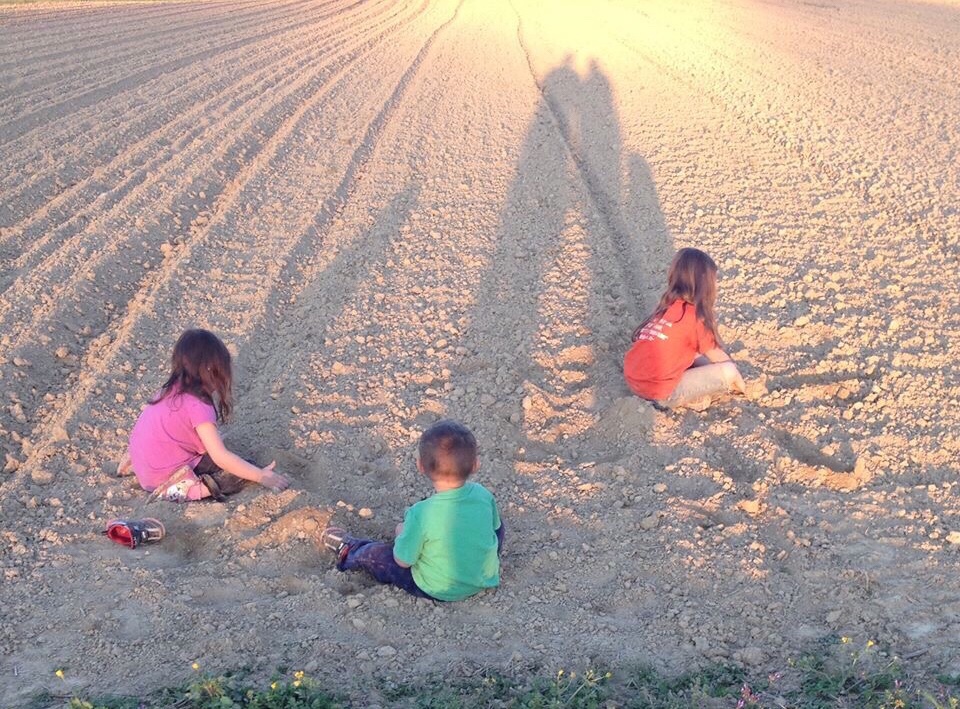 Throughout the last 6 years, I have listened to satans lies and almost quit blogging multiple times, But God. He continues to call me back to it and is unveiling His plan for my life and this blog each day. He's gently shown me where I have been led astray and asked me to be obedient in sharing more than just recipes and crafts. He's called me to share our story, including our heartache, struggles and victories. He's also given me a heart for other moms and shown me the need to share encouragement and truth with them. Satan would like us to believe that we're all alone, but we're not! Sometimes, we all struggle just to make it through the day, my hope is that you can find something here that encourages you and reminds you that you can do ALL THINGS through Christ who strengthens you! (Philippians 4:16)
Thank you for stopping by and being a part of His work in my crazy life! We are so blessed and God deserves all the praise, honor and glory for it! Make sure to pop over and meet our contributors too!