Forget the Apple Orchard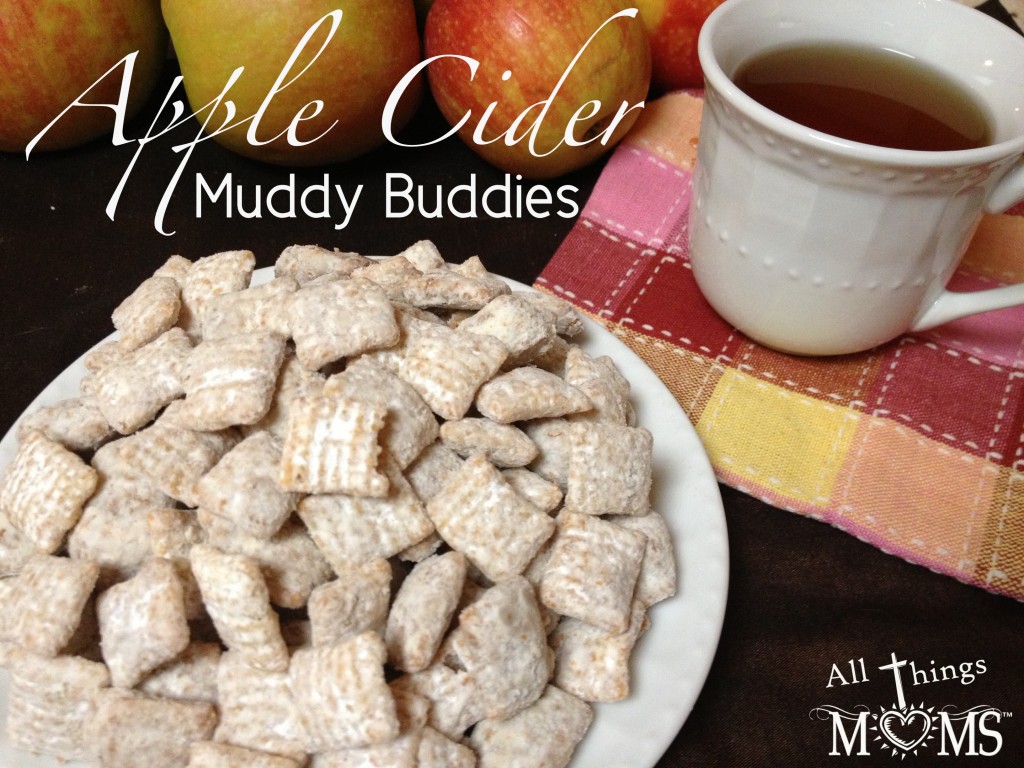 Now that fall is here I have really been wanting to go to the apple orchards. I blame pinterest really.. all of these delicious recipes and cute crafts for kids. Of course, then there is facebook, all of your friends posting their pics of fresh apple doughnuts, hot apple cider and kids smiling from ear to ear, apple in hand, under the trees.
Reality check. It's like a 2 hour drive to the closest orchard. You have to wait in line and they may call "no more pickers" before you even get there. The kids can't reach most of the apples and the cider and doughnuts.. ok.. I've got nothing on them. I'm sure they are fantastic, lol, but you get the idea. If you can't make it out to the orchard, it's ok! Just make a fun Apple Cider snack and call it a day! The best part is.. no apples actually needed.
Apple Cider Muddy Buddies
Ingredients
1 cup cinnamon chips
1/2 cup cream cheese frosting (not whipped)
1 tablespoon butter
5 cups of Apple Cinnamon Chex Mix
1 1/2 – 2 cups Powdered Sugar
Directions
1. Place 5 cups of Apple Cinnamon Chex mix in a large bowl and set to the side. Place powdered sugar in a large bag or bowl with lid and set to the side.
2. Melt cinnamon chips, frosting and butter in microwave safe bowl in 30 second intervals for 1 minute.
3. Pour melted mixture on top of chex mix and stir until covered. Stir quickly, before the melted mixture cools.
4. Once coated, pour chex mix cereal plastic bag (or bowl) with powdered sugar and shake to coat.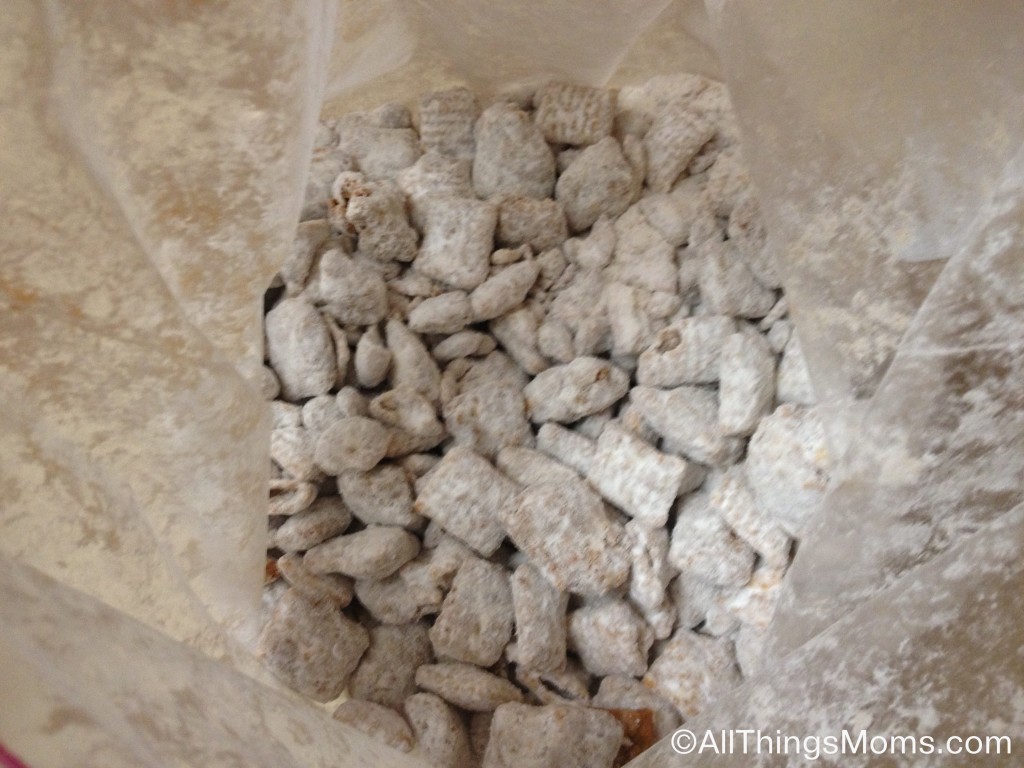 Yields: 5 cups
So forget the orchard and whip up a couple of batches of these! They are so good, I could eat them all day. They were a big hit with my friends too! One of them even suggested I call them apple cider heavenly goodness. Not a bad idea except most people have a name for the powdered sugar coated chex mix snacks. Some call it muddy buddies, some call it puppy chow. What do you call it?
Recipe Source: All Things Moms original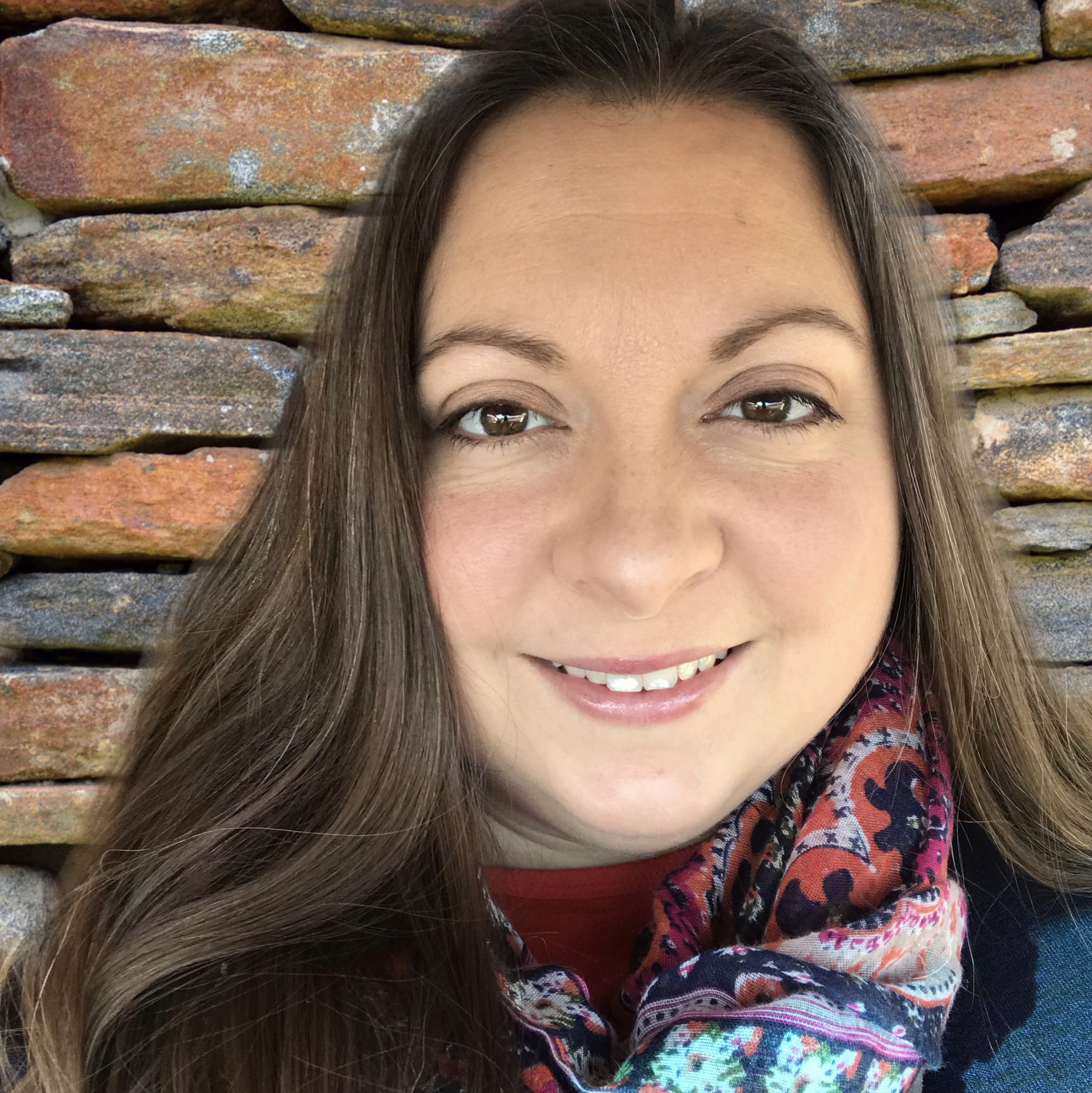 Hi! I'm Paula, a wife and mom by both, birth and adoption. We are a homeschool family and are also therapeutic foster parents. I enjoy spending time with our horses, gardening or going on adventures (usually in our backyard) with my family. We love Jesus and strive to honor Him in all we do. Want to know why I started All Things Moms? >>Read More