Backyard Blessings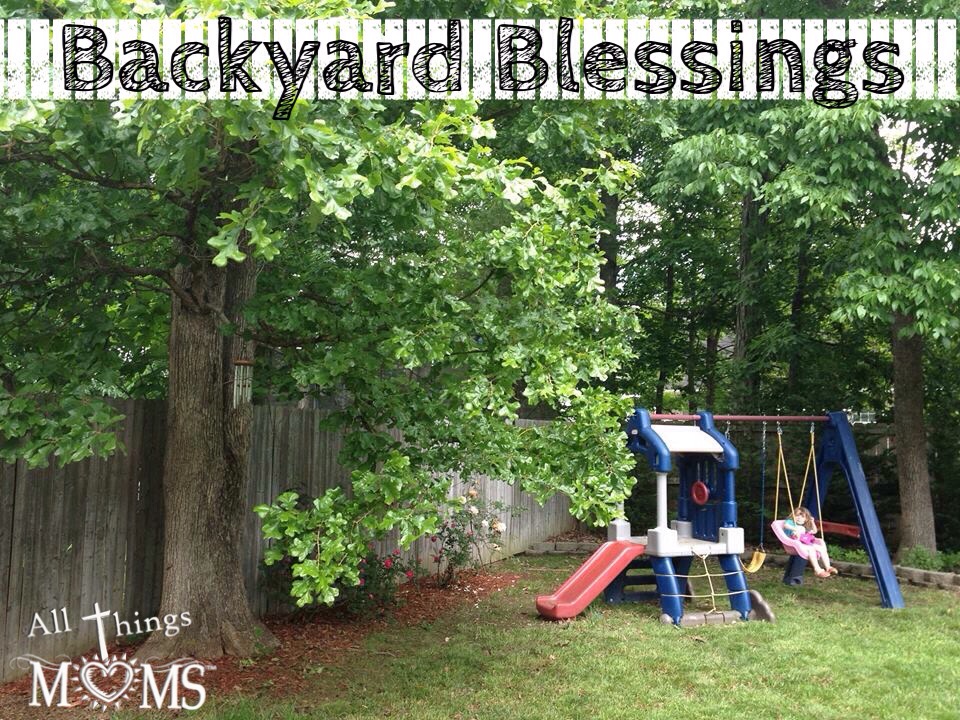 I just love our backyard. When we were looking to buy a house, I knew we had to have a backyard with trees. Trees aren't so easy to come by when you're looking in housing developments, especially mature trees like the ones we have, but God provided. Our house has a beautiful fenced backyard with large trees, and a covered porch that has been such a blessing to me. I love going out there, especially when the weather warms up, to do my quiet time. The birds chirping, the squirrels playing, wind blowing, everything out there is a reminder of God's love and blessings, even our swing set.
When I first became a stay at home mom a few years ago, I remember sitting out on our back porch, watching Boots, who was almost 2 at the time play in our back yard. I thought about the things we would have to give up for me to become a stay at home mom. Transitioning to a single income household isn't easy but we knew we were following God's calling for our family. Still, I remember thinking "I just wish we had a swingset for her to play on". I didn't pray for it, or maybe I did, I honestly don't remember, I just remember thinking about it and then quickly brushed it aside, grateful for the opportunity to be at home with my little girl.
About a week later my Dad called, he found a swingset and was bringing it over! I never mentioned my thoughts to anyone, and yet, here it was, being delivered to my backyard, totally free. The only person that knew was God but that was enough. It was the perfect swingset with a little slide and swing, just right for a toddler. Boots loved it and spent time on it almost every day.
Time flies and she grows so quick. This spring, we were outside and I noticed she was swinging her baby on her swing and sending it down the slide that she had now outgrown. I thought about how she was outgrowing the little swingset and caught myself wishing for a bigger one. I dismissed it even quicker than before because God has blessed us with so much, there was NO way I was going to ask for another swing. Three days later I got a call from a friend. She was moving and the new house had a swing, would I like hers?
My eyes swelled up with tears. God had done it again. Being a stay at home mom is not easy. Contrary to popular belief, there are no bon bons. No employee of the month, notices of appreciation or raises. Ha, there's not even any compensation. But there is something better, there are backyard blessings. Laughter, playing, and sometimes even swingsets.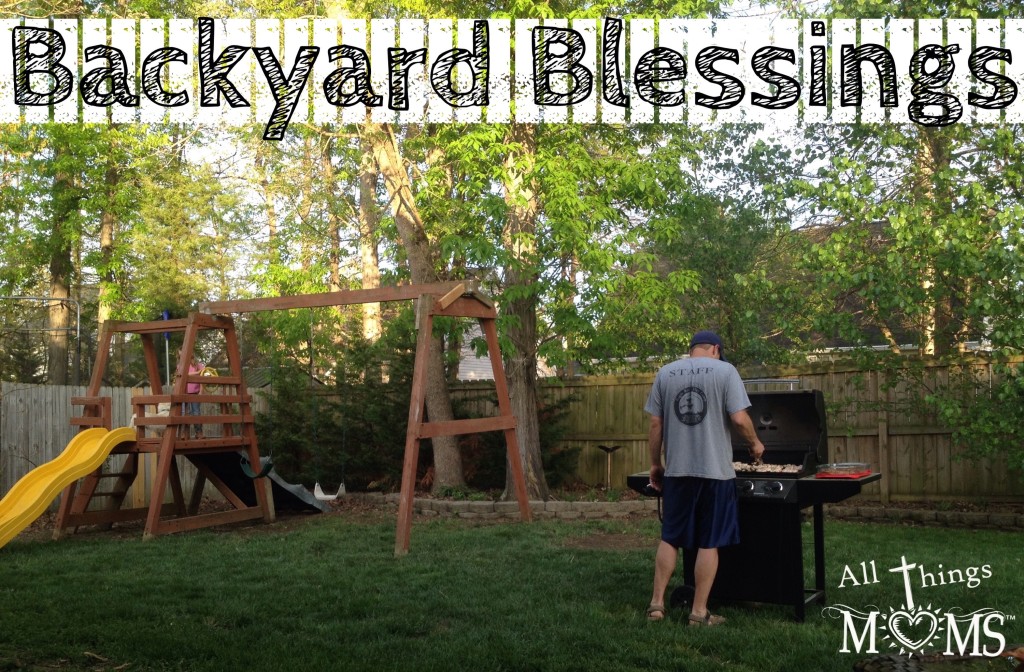 My view while sitting on the porch. Our new swingset, Boots and her pup up top with Hubby on the grill, It doesn't get any better than this! We were able to bless another family with our old swingset and for her birthday we made Boots a really cool swing for that empty spot! (More on that coming soon!)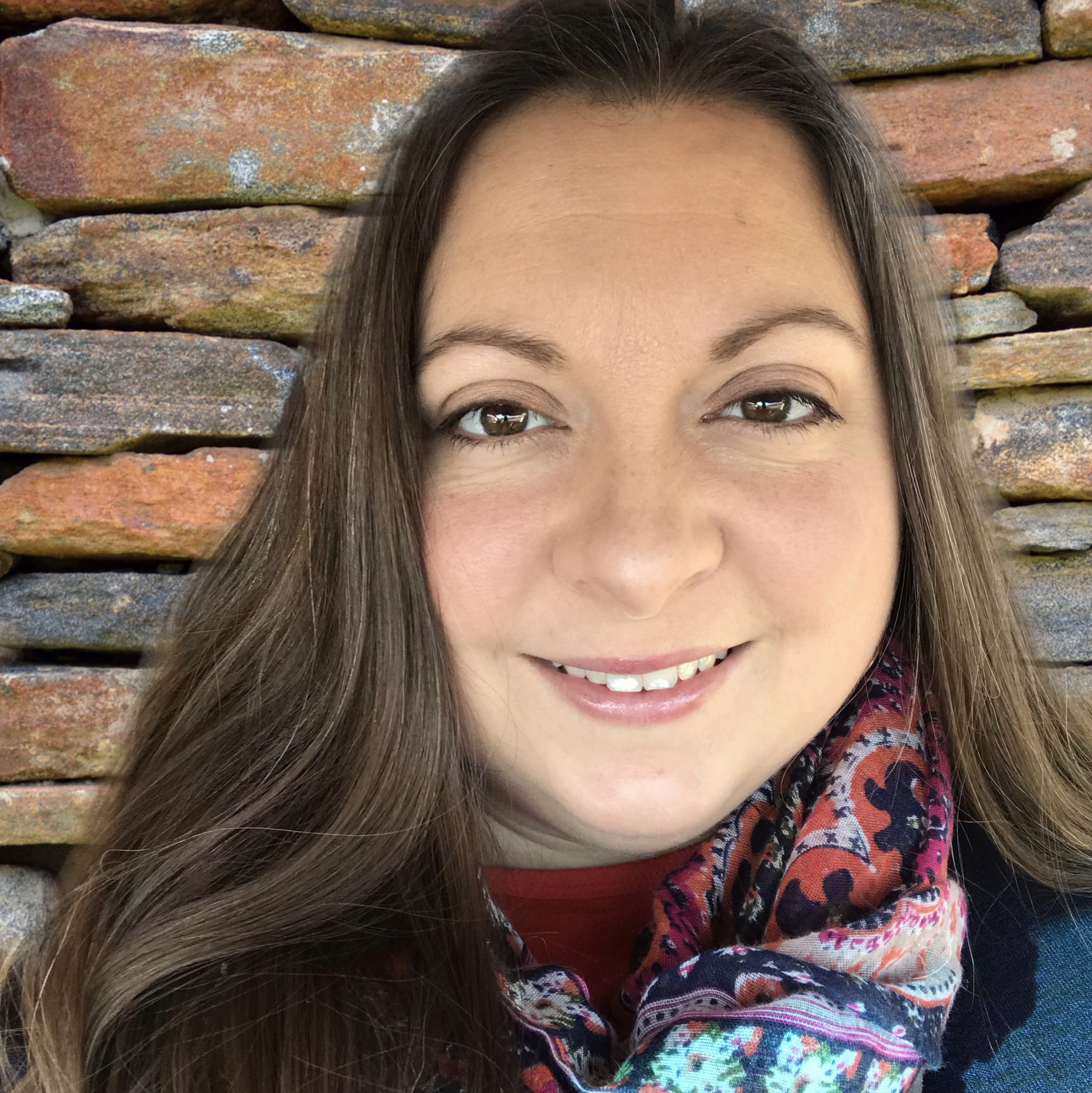 Hi! I'm Paula, a wife and mom by both, birth and adoption. We are a homeschool family and are also therapeutic foster parents. I enjoy spending time with our horses, gardening or going on adventures (usually in our backyard) with my family. We love Jesus and strive to honor Him in all we do. Want to know why I started All Things Moms? >>Read More