Conviction Cake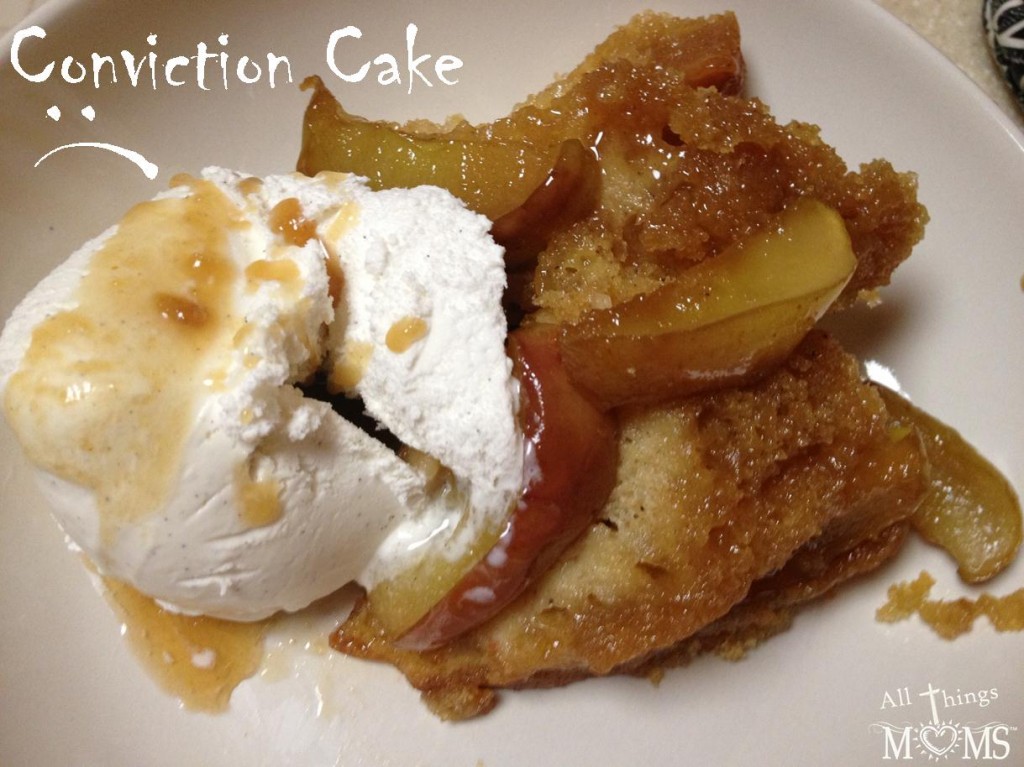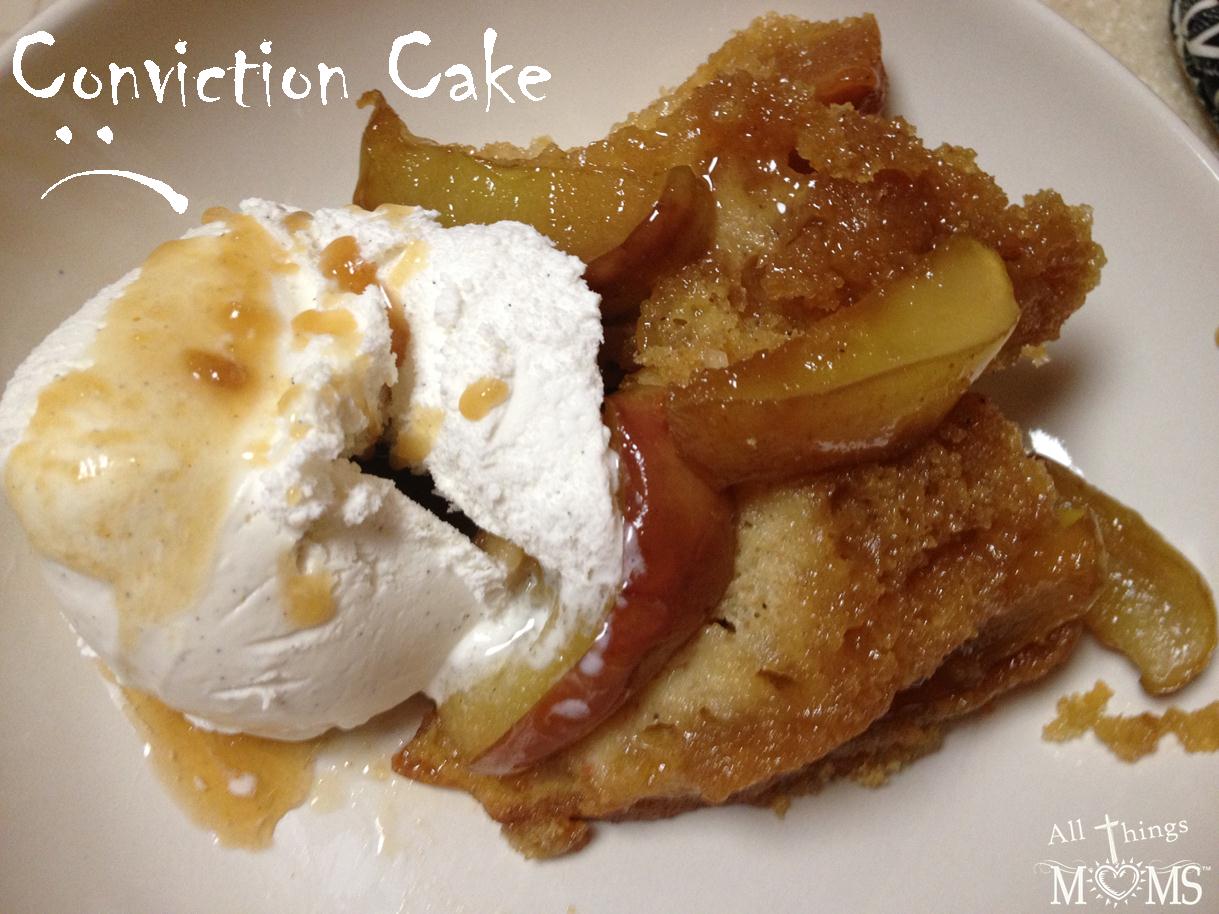 All day yesterday I have wanted to make a cake.. not just any cake- like the best thing I've ever eaten type cake. Hot Caramel, warm apples, moist cake- ummmm yum! I talked to my mom, I told her about this cake. I talked to my sister, I told her about this cake. I had a taste of it and I could not not get it out of my mind. I was obsessed with this cake! 
From now on this cake will be known as my conviction cake. This cake is not in the slightest bit good for you. Not that everything I eat and post is, but I certainly steer away from things like this on a regular basis and I had just made it two days before. (Don't judge me, I told you it was good and I had 2 partners in crime, it's not like I ate it all myself! lol)
As bad as it is for me this is not where the conviction came from. I knew I didn't need to make that cake. If I had thought it was ok to just make it I wouldn't have told my mom and sister to come over so I would have a good reason to make it. I wouldn't have made up excuses for why I needed to make the cake. Things like practice for my Pampered Chef show or as a reward to myself for a long day. I would have been at peace with it, and I was not. As soon as I scooped the last of the sour cream out of the container it hit me. "The last of the sour cream? I'm not planning on buying more groceries until next month. I should save this." but I ignored it. Then again with almost every ingredient, "there is so much of this ingredient used.. wouldn't it be better put to use for something else?" and finally the apples got me "I'm using two apples on this unhealthy dessert to satisfy my personal selfish desires. Two apples that would make a healthy snack for my little girl." God always uses her to put things in perspective for me.
I knew right then I shouldn't have made the cake, I knew I was being convicted. Not because it was unhealthy but because it wasn't the right thing to do. I've been praying that the Lord give us wisdom and show us how to be good stewards of the time, money and things He has given us. Making delicious cake once was ok, a special treat He allowed us to be able to enjoy together. Choosing to make it a second time out of selfish desire was not being a good steward of what He has given us and quite honestly I feel like it may even push that line of idolatry.
Think I've lost it yet? Wouldn't be the first time, won't be the last- stay with me here. I tasted the cake, I wanted the cake, I sought after the cake. I went to the trouble of finding reasons to have the cake and I was telling others about it. Pathetic when you think about it and I've almost deleted this whole post three times for fear you will all stop reading but I think someone out there may be able to relate to me on this one. Maybe not with cake, maybe with Facebook, a job, a smartphone- who knows .. whatever it is you are seeking after. The truth is we should only be seeking after one thing.. God himself.
"Taste and see that the Lord is good, blessed is the man who takes refuge in Him"
Psalms 34:8
Now I'm not going to go all Beth Moore on you (if you ever happen to read this Beth- thank you for all your studies- I love them and the Lord always uses them to grow me!)  but the Hebrew word used for refuge is "chasah" it literally means to seek, confide in, have hope, make refuge, have trust. Taste and see that the Lord is good, blessed is the man who seeks HIM.. not cake.. not friends.. not phones.. not emails… not money.. not goals.. not ______ (fill in your conviction)-  just HIM.
How appropriate the Lord showed me this with something I actually did taste. How many times has He tried to show it to me with other things and I have been so focused on getting them that I didn't see Him trying to guide me. Wow. Sometimes I'm just so amazed at His grace and love. Don't get pulled away from Him, from His blessings for some cake friends. Stand strong, put your sights on Him – taste and see. Seek after Him, find reasons to be near Him, tell others about Him. It'll be better than the best cake you've ever eaten!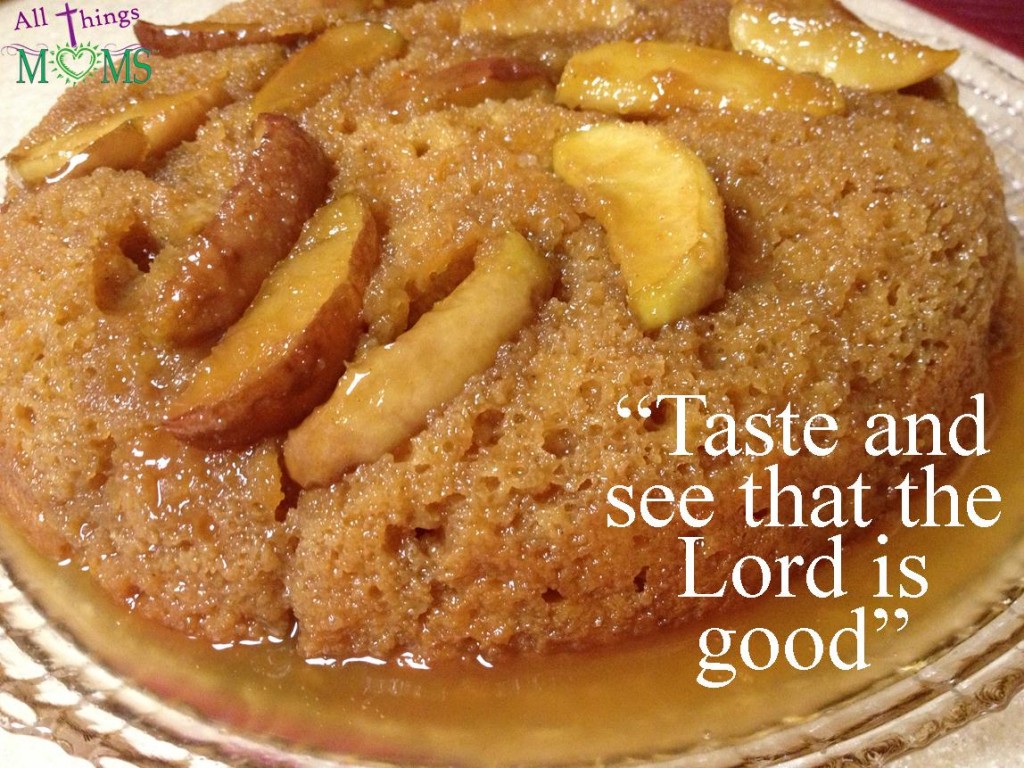 The following two tabs change content below.
Hi! Thanks for stopping by! My name is Paula and I'm blessed to be a wife of one amazing man and mother to three great kids. We are a homeschool family that loves Jesus and strive to honor Him in all we do.
>>Read More
Latest posts by Paula @ All Things Moms (see all)