Corn!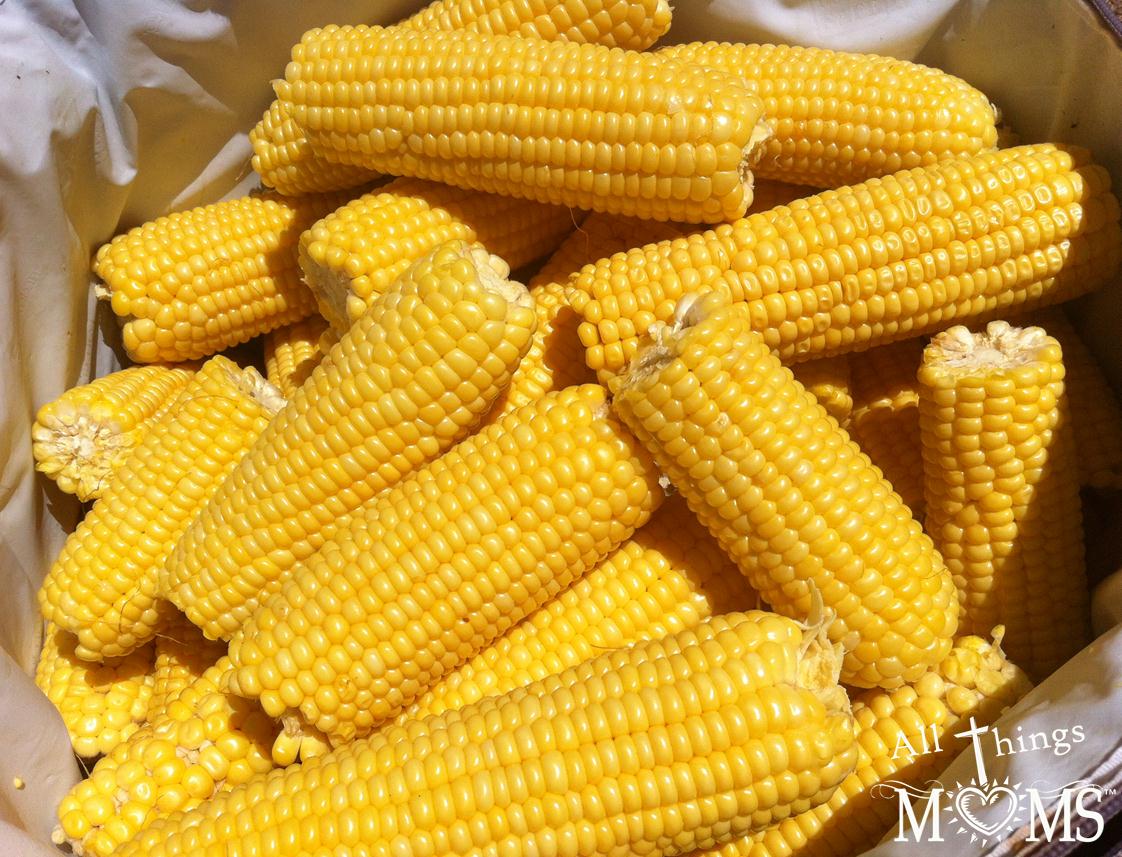 It has been a very busy week! It's garden season- woohoo! While I don't have a garden in my own backyard this year I am very blessed to be able to pick from my Dad's garden. He has a huge garden and every year he is nice enough to pick me some vegetables since I am so busy working. I usually get just enough to eat for a week or so but not this year! This year I am picking on own vegetables and putting them away! Just another way God has blessed me since becoming a stay at home mom!
One thing I have gotten a lot of is corn!  Last year I froze a couple of ears of corn on the cob but lets be honest.. they are still in the bottom of my freezer. 🙁 I use a lot of corn throughout the year in different recipes (tortilla soup, salsa, creamed corn and the list goes on) and almost once a week we have steamer corn or the mexican blend steamer corn.  I needed to find a way to put this corn up in a way that I will actually use it! So I decided to flash freeze it off the cob so that the kernels would be individually frozen like the corn you buy in the freezer section. I can take out as much or as little as I need for my recipes and reseal the bag. I can also put it in my Small Micro Cooker and microwave it for 4 minutes (same as the storebought kind) and have perfectly cooked corn! (See complete details here) This is going to save me tons of money- tons!! The store bought kind is around $2 per 12 oz bag- that's not even 2 cups of corn!! One dozen ears of corn should get you about 8-10 cups of corn so you can easily put away 5 bags of the steamer corn.
First thing you want to do is shuck, silk and wash your corn. I filled a crock pot with cold water and sat it in the sink with several ears soaking. I pulled them out one by one and removed any left behind silks, cleaned them off, rinsed them off and sat them out on a clean towel to dry.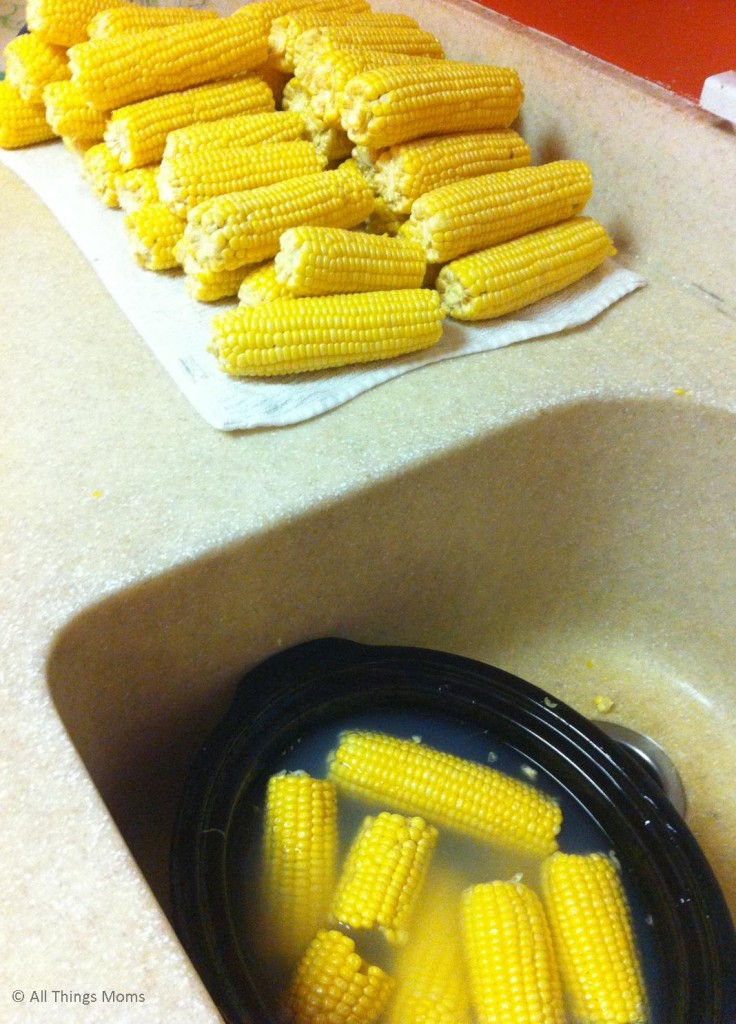 As you set your corn up to dry, carefully inspect it for any bad spots. Remove any bad areas with a knife.  Hold the cobs upright on a cutting board and carefully cut the corn off the cob. A sharp, non-serrated blade works best for this. Be careful and make sure you don't let to much water build up under or on your cutting board from the recently washed corn. It can make your cutting board slippery and your work surface dangerous. (I obviously had this problem.. but corrected it BEFORE I cut myself!)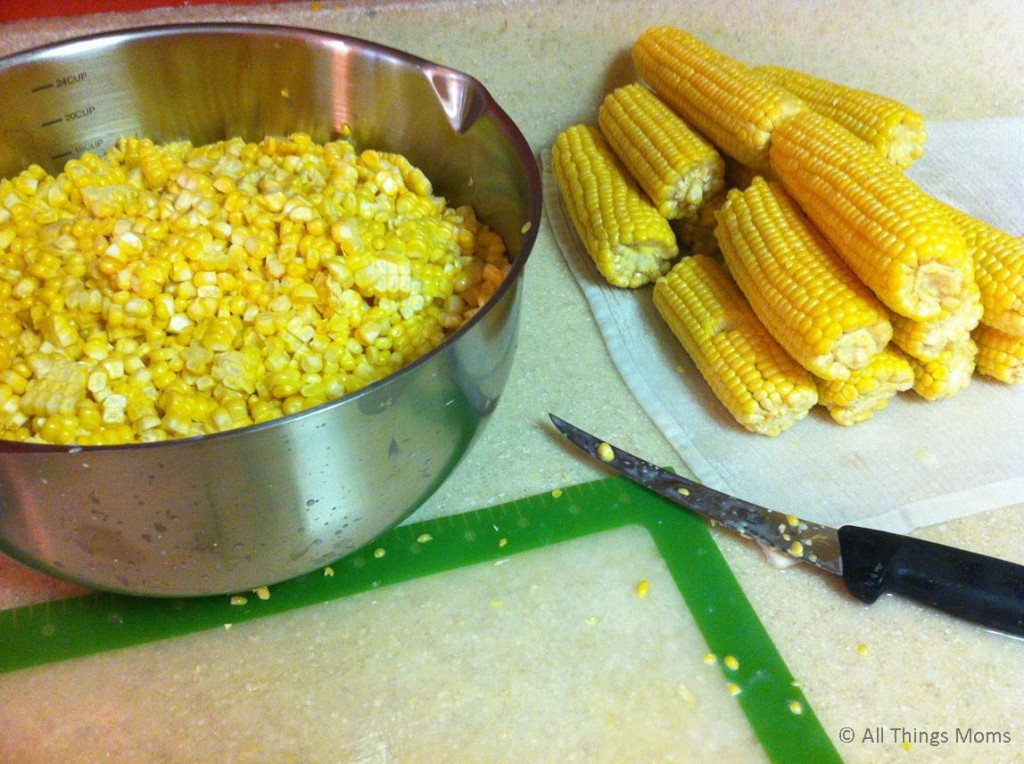 Now you need to blanch the corn. Place all your corn in a large pot and barely cover with water.  Put the corn on high and stir occasionally until it begins to boil. You just want to make sure the corn is hot throughout.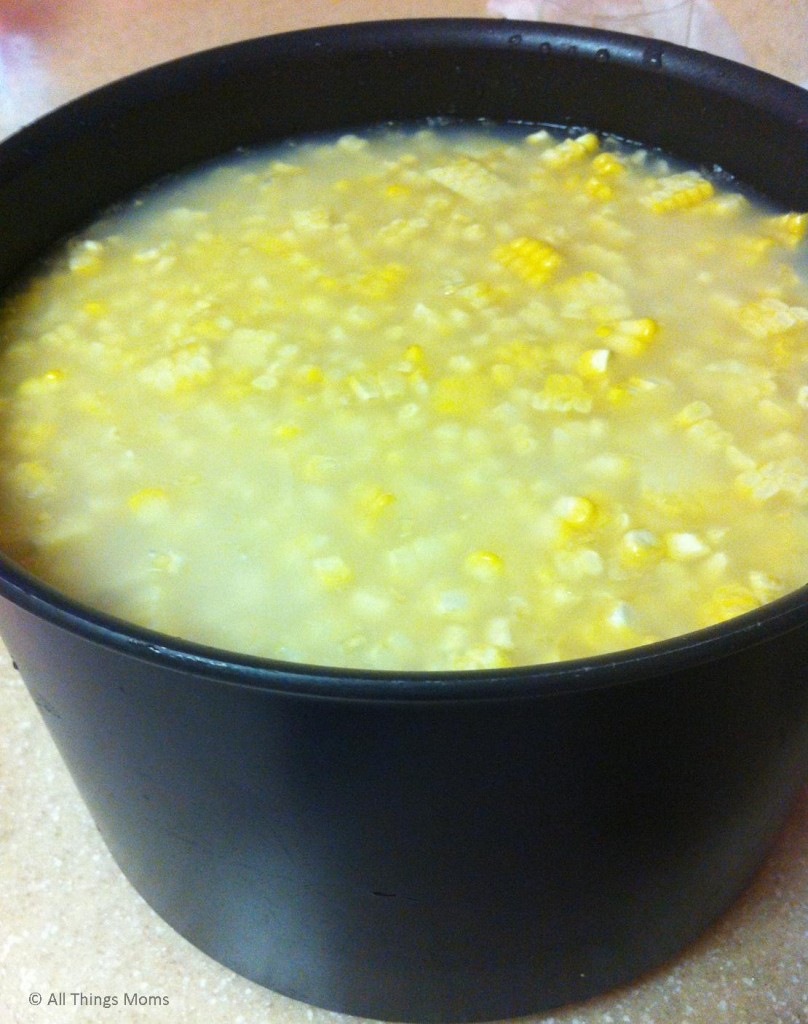 Once the corn has come to a boil turn the heat off and begin to cool it down as quickly as possible. I used my Easy Read Measuring Colander to scoop the corn out of the pot, rinse with cold water and put into an ice bath.
Drain the corn and spread thinly onto metal baking sheets. I covered mine in aluminum foil, however, I don't think I will do that next time. The frozen corn stuck to the foil in a couple of places and made it difficult to pull up. You can freeze directly on the metal pan or use a silpat.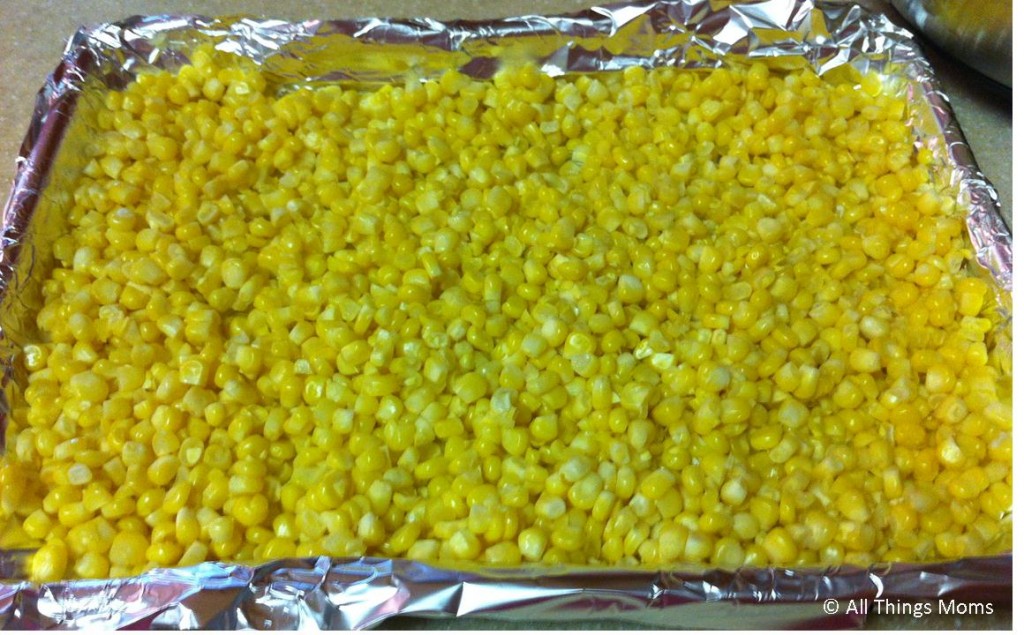 Stack the trays and place them into the freezer. Freeze for at least a couple of hours or overnight.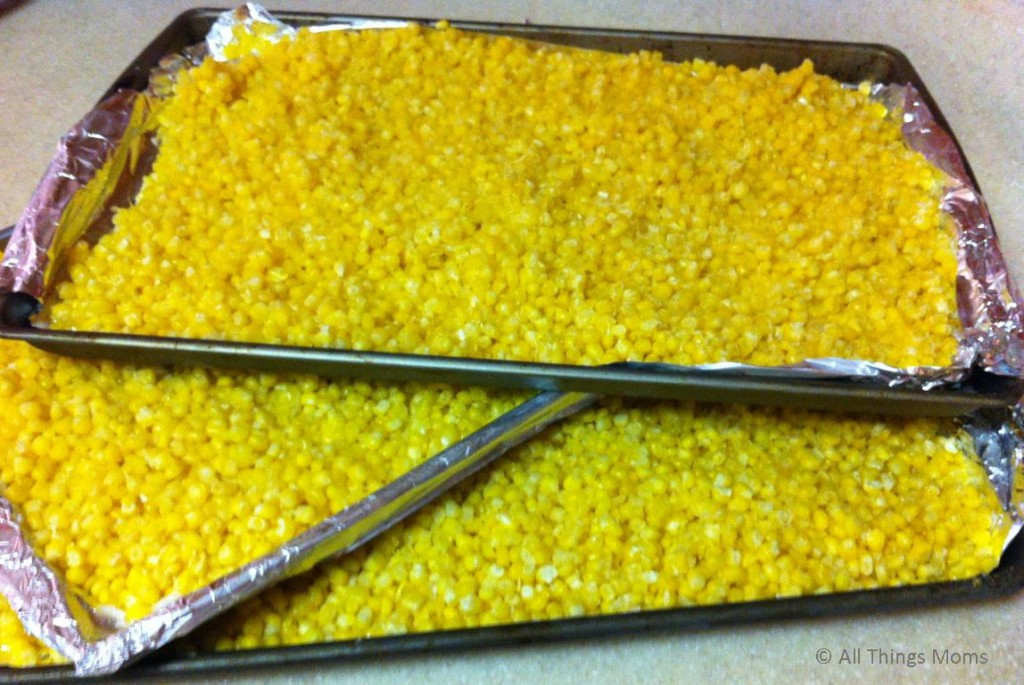 Remove the corn from the freezer.  You will see the kernels of corn are individually frozen. perfect for using in recipes!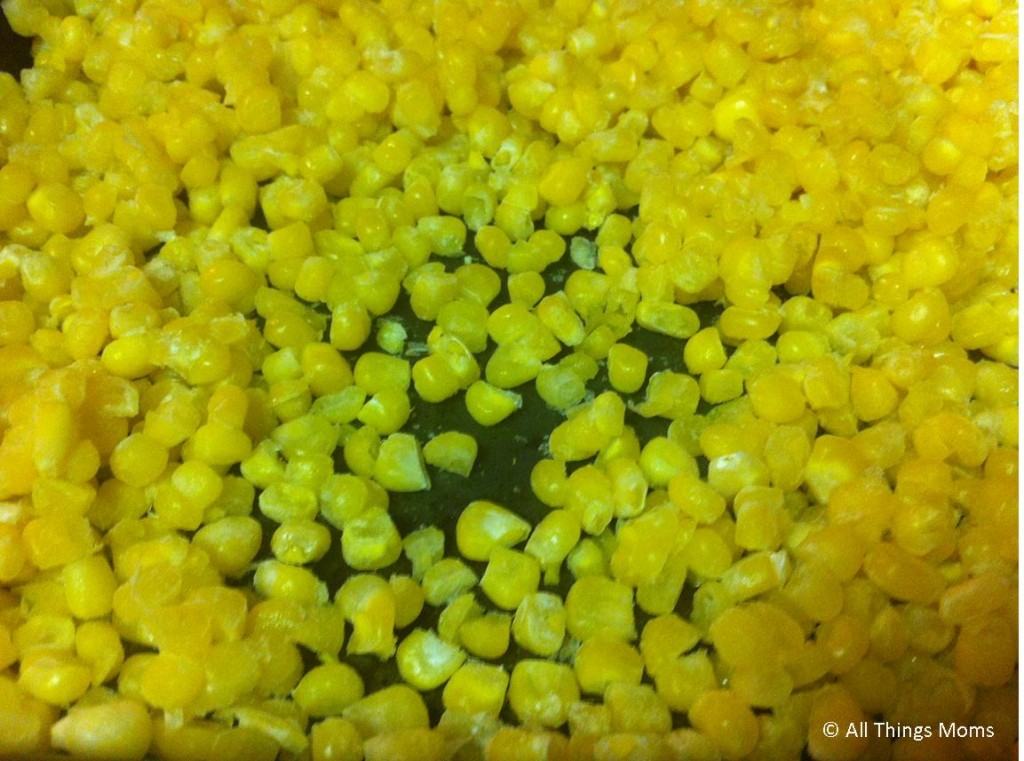 Use a measuring cup to measure the amount of corn you want in each bag. I did 15 bags of 2 cups and 7 bags of 3 cups. The 2 cup bags are perfect for the steamer corn for my family- you may want to do larger bags depending on the size of your family.
This is a great way to put up your corn, whether you get it from the garden or find it at a good price in the store- it's guaranteed to save you money! You can put away as much or as little at a time as you want.  Just make sure to be safe with your food, always use clean hands and get the corn in the freezer as quickly as possible.
Check back tomorrow for a post on my homemade steamer corn. It's so easy and so good- I even made a mexican blend!! Editted to add: I couldn't wait until tomorrow!! Here is the new post! Enjoy!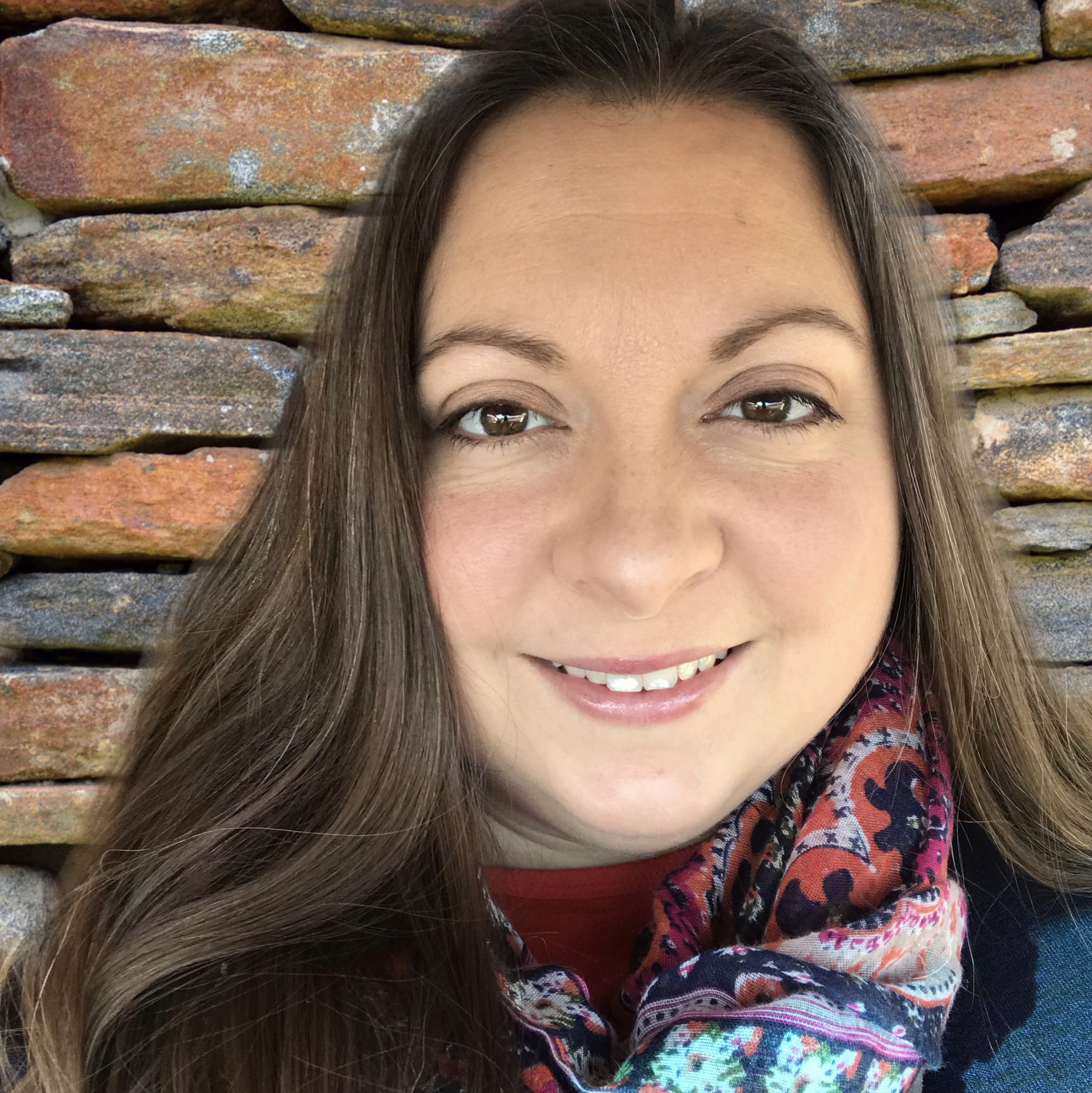 Hi! I'm Paula, a wife and mom by both, birth and adoption. We are a homeschool family and are also therapeutic foster parents. I enjoy spending time with our horses, gardening or going on adventures (usually in our backyard) with my family. We love Jesus and strive to honor Him in all we do. Want to know why I started All Things Moms? >>Read More