Double Decker Nachos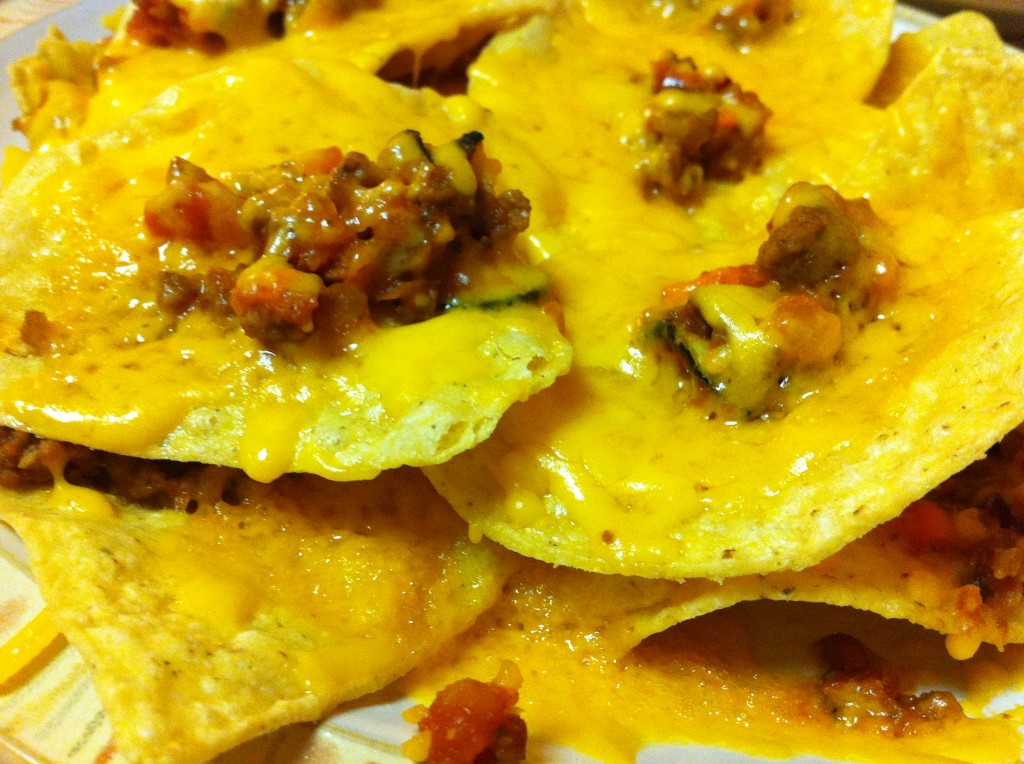 Sometimes I get in the mood for nachos, you know the kind that are covered in cheese and delicious toppings. Yes, I know- they are not exactly good for you, but you have to cut loose and get a little crazy every now and then 🙂 Several years ago my husband and I stumbled across something brilliant- Manwich Nachos! They are so much better tasting than regular nachos!!
Earlier this week we made Hearty, Healthy Sloppy Joe's– let's be honest here- eating sloppy joes as a sandwich is for my husband.  Yesterday, using the leftovers on nachos- that's for me! I really like tortilla chips -I think it comes from my love of mexican food. I actually have a theory- all mexican food should be eaten with a tortilla. (Kind of like using chopsticks for japanese food) It can be in a chip, wrap or shell form, but I prefer chips. On one of our first dates I actually ate my entire dinner with chips, never even unwrapped my fork.  After two years of marriage my husband reminded me of that night and said he remembered thinking I was weird. My response: "Really? What was wrong with what I did?" He didn't think it was very good date etiquette. I still don't see anything wrong with it 🙂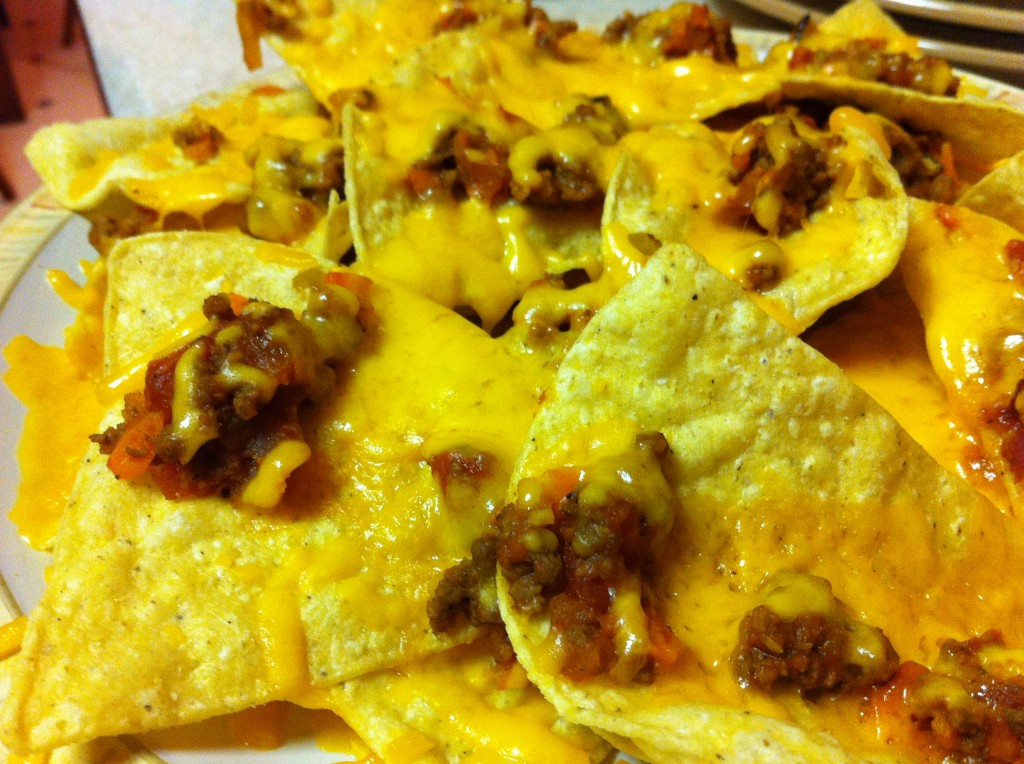 Ingredients
1/2 cup Sloppy Joe Leftovers
1 cup cheese
16-22 chips depending on size of your plate and your chips
Additional Optional Toppings: Sour Cream, Salsa, Jalapenos, Black Beans, Lettuce
Directions
1.  Heat leftover sloppy joe mix for about 30 seconds to 1 minute in the microwave
2.  Lay down 1 layer of tortilla chips on a microwave safe plate.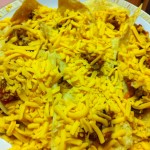 3.  Sprinkle half of the sloppy joe mix on the chips. I use a spoon and put just a little bit on every chip, but remember I'm weird 🙂 Cover with half of the cheese
4.  Lay down the second layer of tortilla chips.
5.  Sprinkle the remaining sloppy joe mix and cover with the remaining cheese
6.  Micowave about 1 1/2 minutes until the cheese on the top layer has melted
You can use any type of sloppy joe leftovers you have or you might just find yourself (like me) making sloppy joe mix just for nachos! I used Hearty, Healthy Sloppy Joe Mix to make this a little bit better for us, now our toddler can enjoy some nachos too! In fact, instead of calling them manwich nachos, I might just have to start calling them "Mom-wich" Nachos!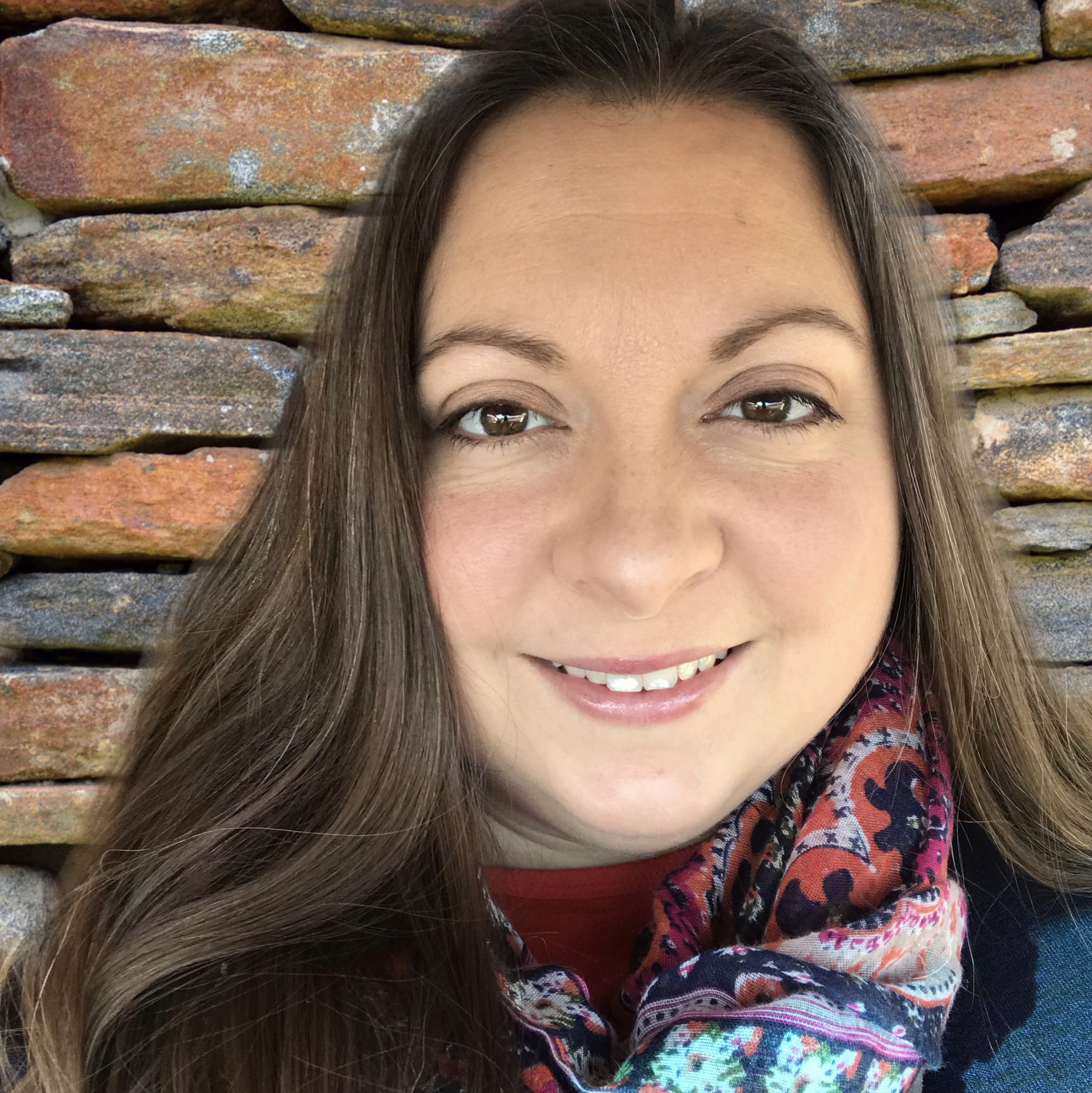 Hi! I'm Paula, a wife and mom by both, birth and adoption. We are a homeschool family and are also therapeutic foster parents. I enjoy spending time with our horses, gardening or going on adventures (usually in our backyard) with my family. We love Jesus and strive to honor Him in all we do. Want to know why I started All Things Moms? >>Read More