Easter Garden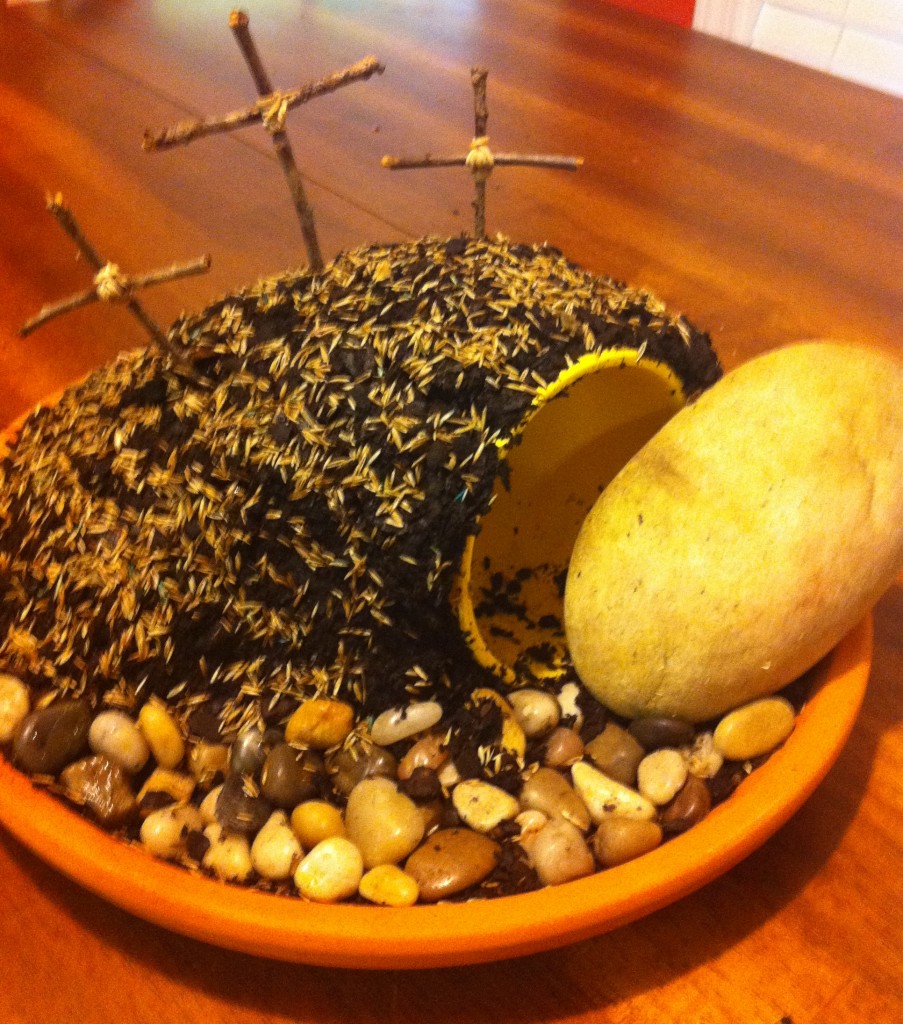 But when they looked up, they saw that the stone, which was very large, had been rolled away.  As they entered the tomb, they saw a young man dressed in a white robe sitting on the right side, and they were alarmed. "Don't be alarmed" he said, "You are looking for Jesus the Nazarene, who was crucified. He has risen! He is not here.  See the place where they laid him." – Mark 16:4-6
If you follow my blog you may know that I have a daughter that is almost 2 years old. You may not know that I have about 8 other children. Ok, so they are not technically mine, they are the children from my Sunday School class at church, but I love those kids!  I am always looking for ways to teach them about Jesus in songs, crafts, and stories.  When I saw this craft on someone's facebook page I knew that I had to do this with my kids. Why? because it's the perfect visual for the upcoming Easter holiday- the tomb is EMPTY! our Savior is RISEN!! Praise the Lord! That get's me so excited I just want to jump around and tell everybody!! Seriously folks, the only perfect person to ever walk this planet- the Son of God- Jesus- carried our sins and hung on that cross to pay the price for us, rose again and is in heaven waiting on the day when He will come back and take us home if we have accepted Him as our personal savior! Did you get that? Do you understand how incredibly awesome that is? I want my kids to understand that, I want your kids to understand that, I want you to understand that. If you don't or you have questions about it will you please send me a message so I can pray with you and for you? If you do will you share that incredible news with someone this week? It's my challenge to you- make an Easter Garden- show it off and use it as a talking point to tell someone about the good news!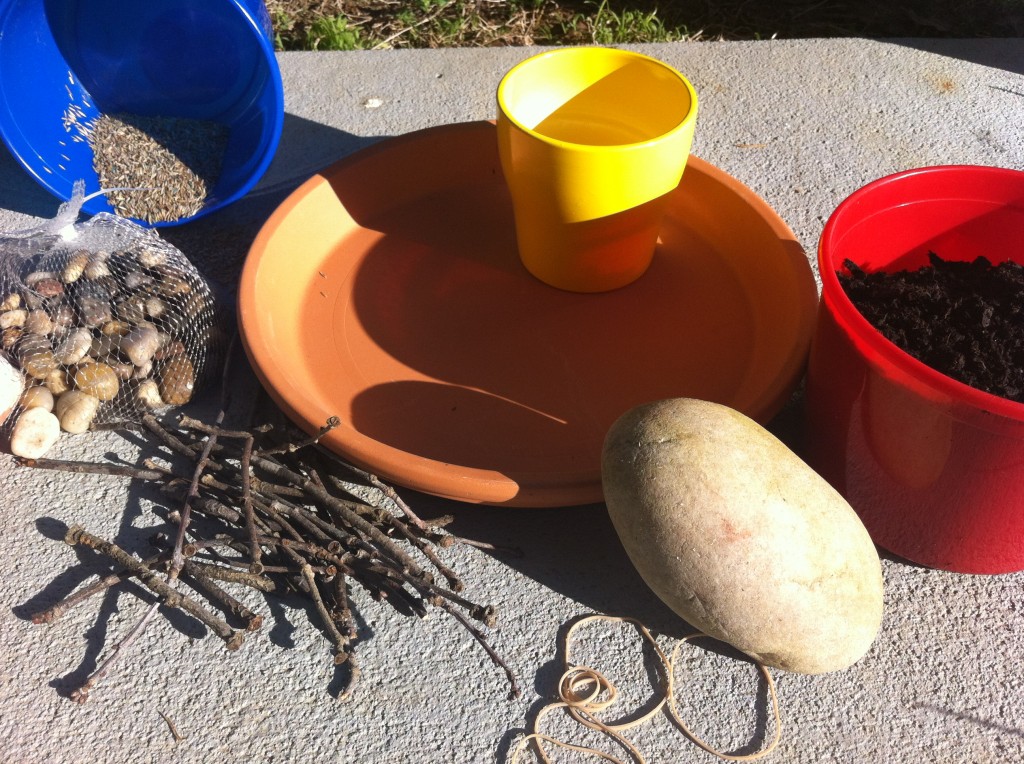 What you'll Need
– several small, straight sticks
– 3 rubber bands
– 8.5″ – 11″ ceramic base for a pot
– 2″ – 3″ small ceramic pot
– Handful of small rocks
– Potting soil
– Shade grass seed
– 1 large rock
– Spray bottle of water
Directions

1.  Break the sticks until you have the right sizes and number of pieces to make 3 crosses.
2.  Use the rubber bands (or twist it ties, twine, hot glue, etc.) to secure the crosses together
3.  Spread a thin layer of potting soil on the bottom of the ceramic base
4.  Place your small pot in the ceramic base on it's side.  To find the position, locate the center of the base, move it forwards and to the right and place it there, leaving room for your large rock.  I ran out of small ceramic pots so I just used a cheap pot from the dollar store. (The yellow is not exactly the look I was going for but it works)
5. Cover the pot with potting soil. Be sure and mound it up along the back of the pot so you will have a hill for your crosses. You may want to spritz it with water as you are working to help the soil stay in place.
6. Stick the 3 crosses on the hill. Press the dirt in around them to help them stay.
7.  Sprinkle the hill and sides with grass seed. Spritz well with water.
8. Place the small rocks in front of the tomb to create a path.
9.  Place the large rock leaning on the tomb to the right to create an open, empty tomb- He is risen!
10. Mist your garden twice a day and the grass should be grown within 7-10 days.
Extras- Make a crown of thorns by braiding dandelion stems or pine needles and place it on the center cross. Cut strips of white cloth and place them in the tomb.
I made this craft Sunday morning with all my kids at church, we made the entire project a learning experience. We went outside and looked at all the things God has made and the kids got to pick up sticks and rocks. Once back inside, I sent my husband back out to get the HUGE bag of potting soil and other supplies needed. Now I wasn't in the room, but I heard that some of the parents eyes got pretty big when they saw him coming in with a 40lb bag of dirt, lol! (Don't worry- we stayed clean!) As we were doing the project, the oldest child read to us from the Bible the story of the crucifixion and resurrection.  When we heard about the cross we talked about how small our little twigs were in comparison to the great, big cross Jesus carried.  We showed them the three crosses on the hill and talked about the other two men that were next to Jesus that day. We showed them the path that Mary and Martha walked. We showed them the tomb and the big, heavy rock that blocked the entrance and we rolled that rock to the side and talked about how the tomb was empty! It was awesome! My favorite part: As we were reading about the soldiers mocking Jesus and telling Him to come down I asked the kids why he didn't come down off that cross.  One of the kids answered "because God told Him that He was supposed to do that for us so that He would take the punishment for our sins on the cross".  He gets it. (still brings tears to my eyes) So proud of those kids!
Warning: If you do this with your toddler around you might find that all your dirt, seeds, and rocks were dumped out on the patio. You may also find yourself saying : Don't put the rocks in your bubbles, or NOOO! Don't put the rocks in your diaper!! … or maybe that's just my kid 🙂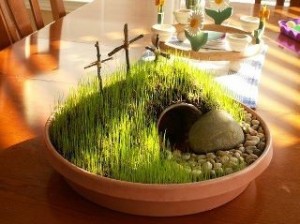 After your grass grows your garden should look like this. (This photo is courtesy of Pinterest, I will update with my own photo once I have some grass 🙂 )
Idea and photo on the right from: Melissa Holt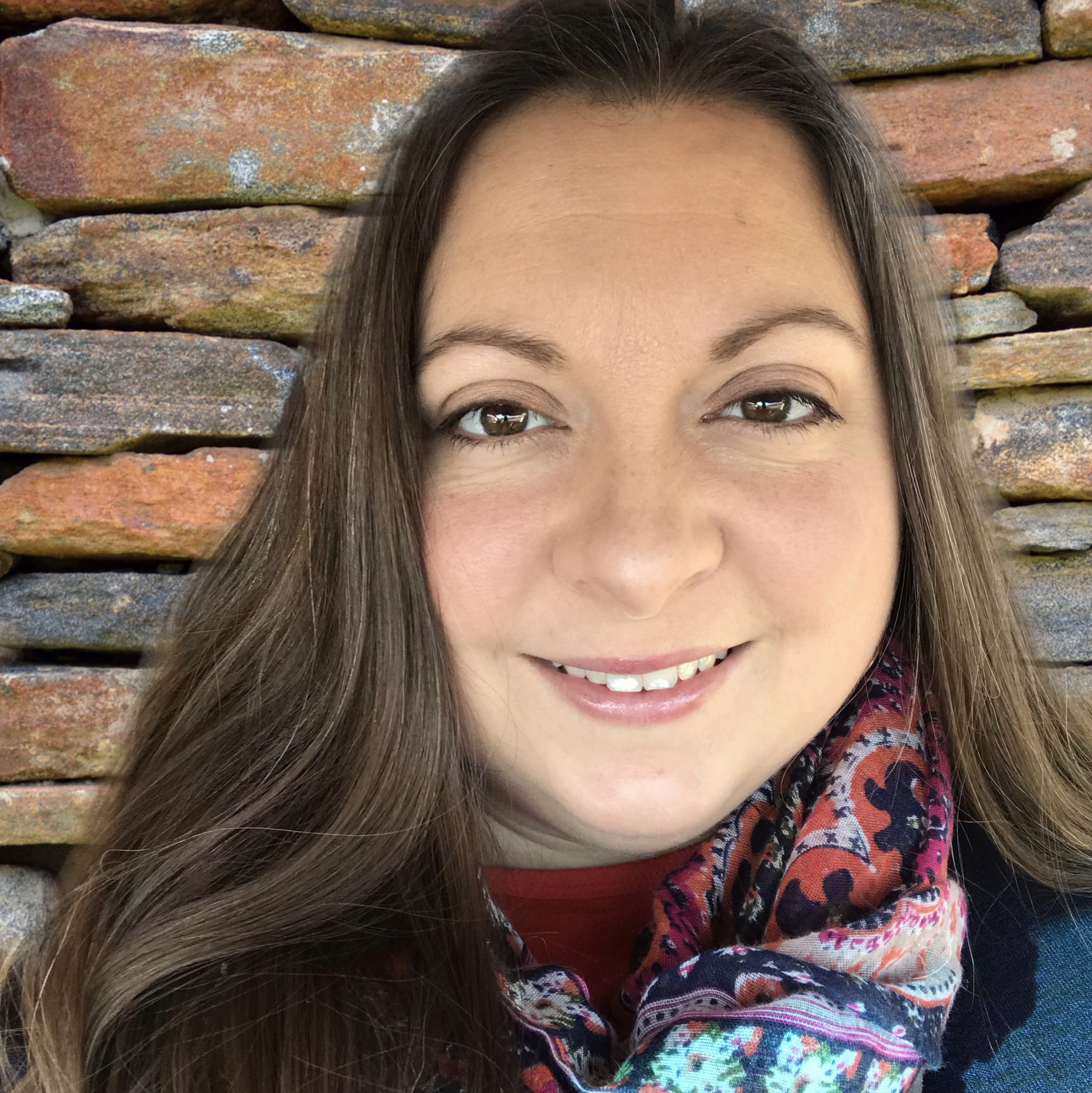 Hi! I'm Paula, a wife and mom by both, birth and adoption. We are a homeschool family and are also therapeutic foster parents. I enjoy spending time with our horses, gardening or going on adventures (usually in our backyard) with my family. We love Jesus and strive to honor Him in all we do. Want to know why I started All Things Moms? >>Read More