Finding Beauty in the Busy Holiday Season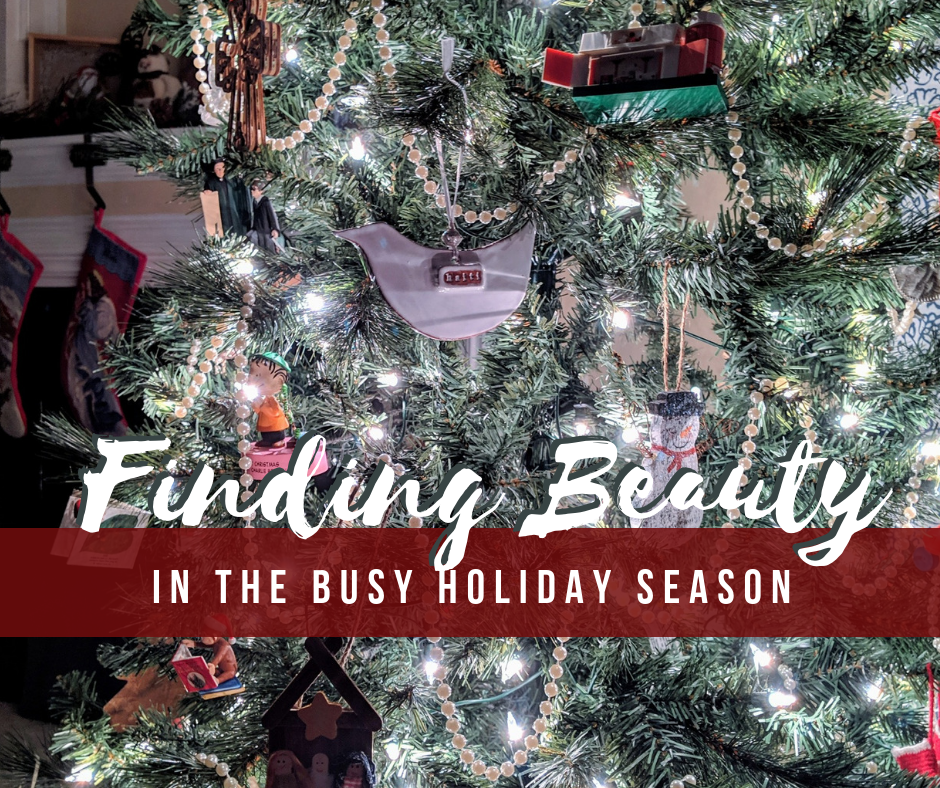 I'm tired today.
It's the lament of most moms, especially at this time of year as the holidays bring about more responsibilities on our already long to-do lists. There are gifts to buy, cards to send, decorations to display, baked goods to make, gatherings to attend, and so many errands to run. All the while, we are still caring for our homes, our children, and our spouses. We're balancing church serving, work, friendships, and extended family needs and issues. We're fitting in those last minute doctor, dentist, and eye care appointments before our insurance changes in January. And, hopefully, we are still squeezing in some time for our own self-care. This is where you are chuckling to yourself. Self care? What is that?
I get it, friends.
However, in the midst of this fatigue, and because I promised myself that THIS YEAR I would take the time to look, I am finding immense amounts of beauty all around me. Beauty that in years past, I could not see due to my own selfishness, clutter, busyness, illness, hurt, and attempts at creating the "perfect holiday season". All things that previously forced me to not see the beauty of the season, or things that I willingly chose to look at instead of seeking the beauty that was in front of me.
I've learned over the years that beauty is truly in the eye of the beholder, and that seeing beauty around me is a choice that I have to make. I've learned that I need to ask God to show me His beauty when things are busy. Otherwise, I miss things because it's so very easy to get caught up in the worldly things around me that skew my perception, and this skewed perception has often made me feel less than. Among them are
● Thoughts that we're inadequate parents because we don't have enough money to do or buy x-y-z this Christmas (insert the latest, greatest gadget, toy, or trip).
● Thoughts that because my house doesn't look like a Better Homes & Garden or Country Living Christmas issue then it's not nice enough or worthy enough to invite others over.
● Thoughts that I don't have the right clothes for my husband's work Christmas party so it's going to be even more evident that I'm "just a stay-at-home mom" among these urban, chic working moms.
● Thoughts that our Christmas card picture isn't nice enough because we didn't ask a professional photographer to capture our color-coordinated outfits in a gorgeous, natural setting hinting that we just might have it all together (at least for the photo!).
Advertisers, baking shows, fashion gurus, and home decorating professionals tell us that our gifts need to be wrapped in buffalo check or plain paper with a tree sprig and burlap ribbon for accent; the table setting should be stunning yet minimal; our children will be left out if they don't get the new video game, doll, or cell phone on the market; we'll look unkempt if we're not wearing velvet, sequins, or this year's seasonal in-color at the holiday party, and our baked goods will not be delicious if our royal icing runs over the edge and our cookies don't look like Monet painted them himself. Everywhere we turn, our attempts at a beautiful holiday season are thwarted before we even begin.
It's so easy to feel inadequate when society is telling us what things should look like, and our means, time, or efforts don't coincide with the ability to obtain any or all of the "things" that it says defines Christmas. It is exhausting!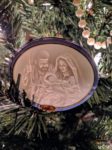 But… what if we take a minute to slow down, be still, and reflect upon Christmas and what the season means to us as followers of Christ? Because ultimately, it all comes down to a dirty, smelly stable in a foreign town and a baby wrapped in scraps of cloth. None of it was beautiful to the eye of the beholder. Yet, it is the most glorious, stunning, life-altering, and beautiful moment that has and will ever exist. Jesus was born. Jesus, our Lord & Savior, who came to die for our sins. That is beautiful to the nth degree!
His birth doesn't take away our fatigue right now though. You might be thinking, "You have no idea how tired I am." I do, sweet Mama. I really do. We can receive stamina through Him though.
What if we slowed down daily, for just a few minutes at a time, to look at the beauty around us? To ask God to show us the beauty of the season – our own, personal Christmas season – in our homes, lives, families, and friendships. What if we asked Him to fill in all of the gaps that society says we have because we're not on-trend with our decorations, wrappings, meals, and outfits, or we're not wealthy enough to buy the expensive gifts or take the trips? Would He come through for us? Would this alleviate some of the fatigue and help us forge ahead when our holiday schedule feels daunting?
The answer is a resounding YES! His beauty is everywhere, all of the time, right in front of us, despite our fatigue, our financial, health, or family situations, and our inability to fit into society's definitions of the perfect holiday. And these glimpses of beauty inspire HOPE. In turn, that Hope gives us strength to push through the busyness of our days, no matter how tired we are, because within the Hope comes a deeper JOY and PEACE that surpasses anything the world can dictate about us.
This season, I've been asking Him to show me His beauty, and this is what I've learned so far:
● Sunrises are stunning and often filled with my favorite blends of colors: pinks, blues, and purples (even if I'm awake far earlier than I want to be!).
● Snippets of time and cups of coffee with good friends amidst the busyness of the season are heart-lifting.
● Twinkling Christmas lights viewed in the rain add an extra-special glow and make the Chick-fil-A Peppermint Chocolate Chip shake taste even better.
● Cold, wintery air with a hint of a wood-burning fireplace smells amazing, and reminds me of growing up in New Hampshire even though I'm now 1,000 miles away.
● Witnessing the God-given gift of creativity unfold in my son through a newly found love of baking is exciting.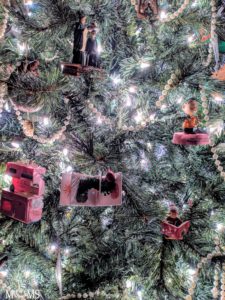 ● My Christmas tree, filled with various ornaments gathered over the years, and by no means following a theme like magazines tout, indicates a life well-lived. There are crosses and nativity ornaments stating our faith. Hallmark ornaments showcasing beloved childhood toys, movie characters, and books. Ornaments from our travels, and ornaments gifted to me from friends and family because "this reminded me of you". There are handmade ornaments by toddler sized fingers and adult-sized painting skills. And every single one of them tell our family's history and story.
Our stories are beautiful, friends. The gift of His son is beautiful, and His beauty is everywhere around us all year long, and especially during the Christmas season. But, we need to stop and look for it when it becomes crazy-busy. We need to ask God to provide the glimpses of His beauty to help us get through the days. We need to make sure we are slowing down, even if only for a few minutes each day, so we don't miss the miracle of our redemption & His infinite love for us through His creation and the birth of His Son.
It's time to let go of society's demands and shoulds that define a beautiful Christmas, and own His beauty that He presents to each of us when we seek it. My beautiful gifts are mine, and yours are yours, and because they come from His glorious grace, the season can be special, stunning, and less exhausting when we cast our eyes on Him.
I pray that within my declaration of fatigue, and yours too, that we can remain steadfast in clinging to His beautiful gifts today… especially the remarkable, free, and life-giving gift of His Son.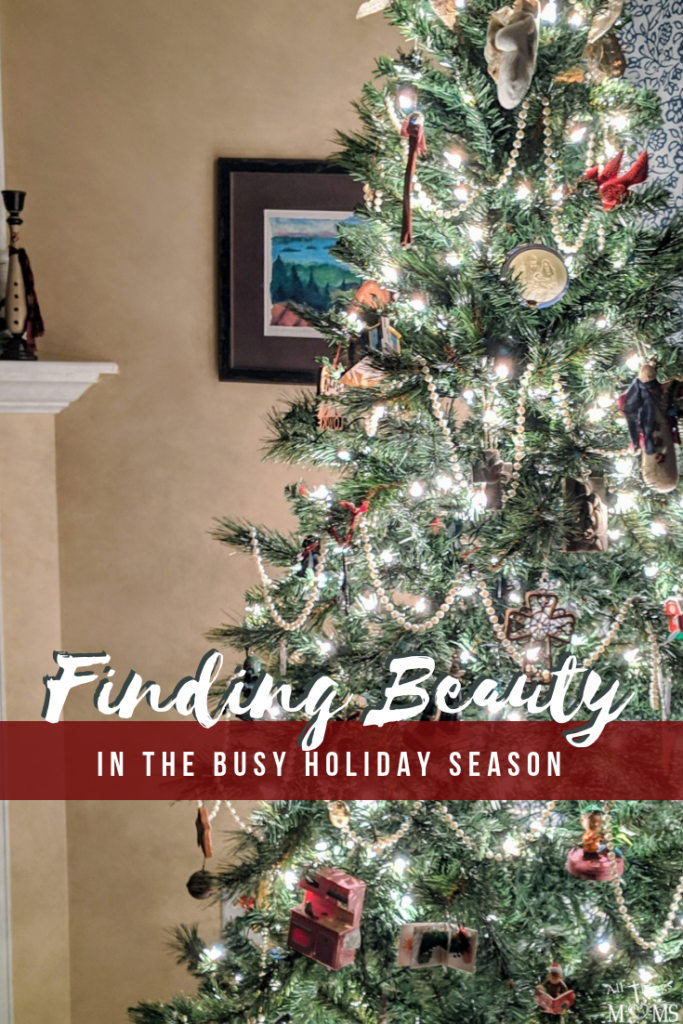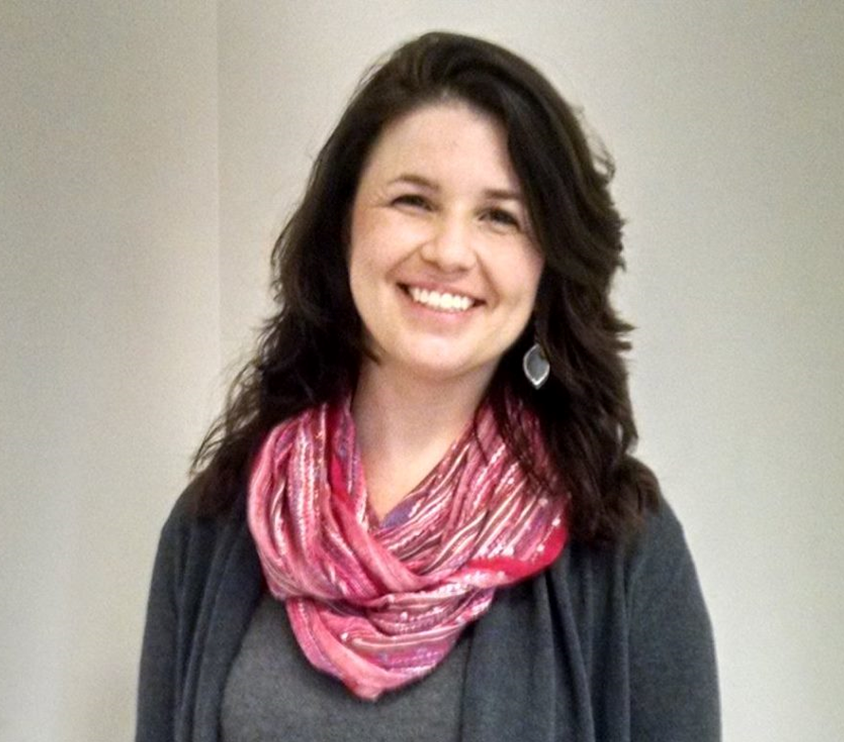 Jen is a Jesus-loving wife and a homeschool mom to two fiesty boys in North Carolina. A former public school teacher, Jen has been blessed to be able to stay at home and school her boys and serve in her church. Always striving to live and love as Jesus did, she relies on her Heavenly Father daily and knows without Him, she would be nothing.