Freezing Zucchini and Squash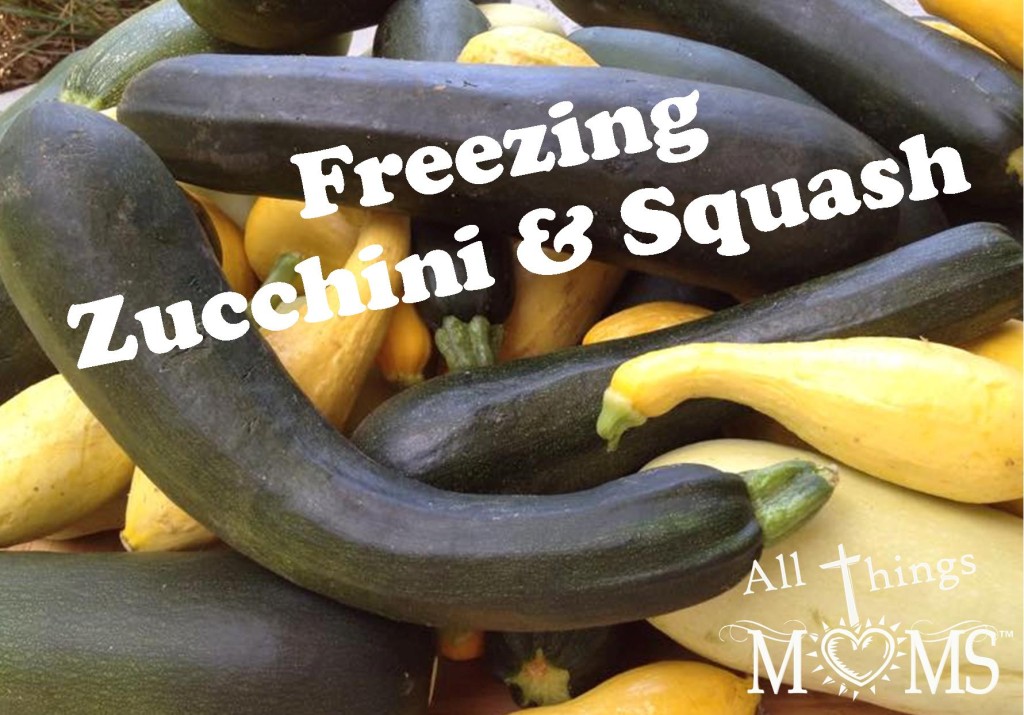 I love eating zucchini everyday while it's in season (no, really, I do!) but I'm also a practical girl. I wanted a way to preserve zucchini and squash throughout the year for all types of recipes. So, naturally, I did what anyone does these days.. I asked if anyone had any suggestions on facebook, LOL. That's when my friend Merissa, from Little House Living, suggested I freeze it. I've always frozen shredded zucchini for bread but she also suggested freezing it in pieces too. Skeptical, I decided to try her method and guess what- it worked!
After that, I decided to get adventurous and have come up with several other ways to freeze zucchini and squash so we can enjoy all of our favorite zucchini meals year round! I put away TONS of squash and zucchini last summer and we used every last bag of them through the winter so I'm excited to be putting away some more this year and sharing this idea with you, so you can do it too!
Let's get started!
First things first, make sure to wash and clean your zucchini and squash good and set them out to dry.
Then, make sure you have the right tools. These may vary depending on how you decide to freeze yours, but the quick list below shows what I used.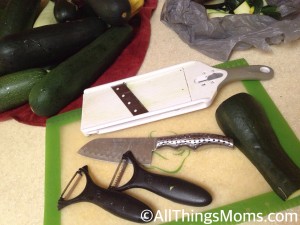 Knife
Cutting Board
Peeler- to remove blemishes or rough spots
Grater- for shredded zucchini
Mandolin/Slicer- for slices of zucchini
Julienne Peeler- for zucchini "noodles"
Bag for trash and/or compost
Freezer bags or containers
Water
ok, Let's get started!
1. Remove any rough spots or blemishes in the skin. You don't need to peel the entire thing (unless you want to), just remove any bad spots.
2. Cut the zucchini/squash into the size pieces that will work for your recipes. See below for the 4 ways I use.
3. Add water to the bag to almost cover the squash. You want to add enough so that all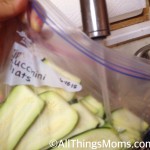 contents in the bag are in water when laying flat to freeze. Make sure to leave about an inch at the top of the bag so that the water has room to expand in freezing.
By adding the water to the bag, you prevent the squash & zucchini from becoming soggy and gross. As the water freezes, the squash and zucchini are able to maintain their own water content so when you thaw it out they are perfect for your recipes!
*You do not have to add water to shredded zucchini
4. Freeze flat.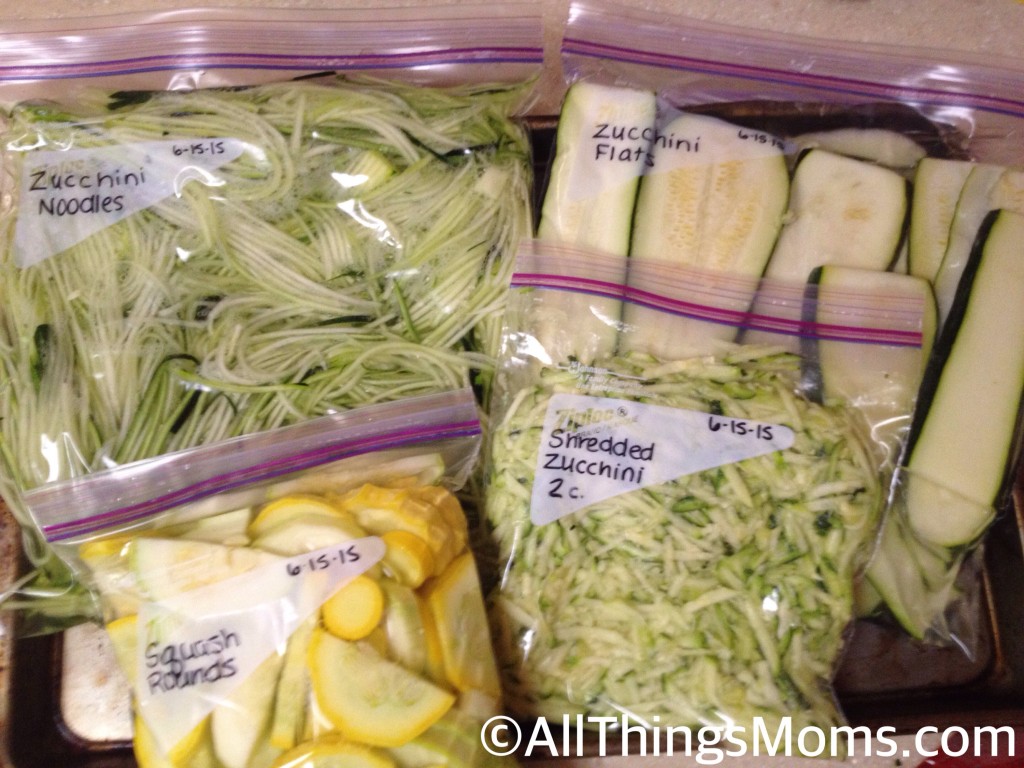 5. When you are ready to use, take the bag out of the freezer a day ahead and place in the fridge to thaw. I like to put mine in a pan just in case the bag has been damaged and there is a water leak. (Yes. I learned that the hard way)
Once thawed, drain your zucchini/squash out and make your recipe per directions.
Flats – Sliced 1/4″ thick in long flat pieces or sometimes round pieces. These are great for grilling or making Zucchini Lasagna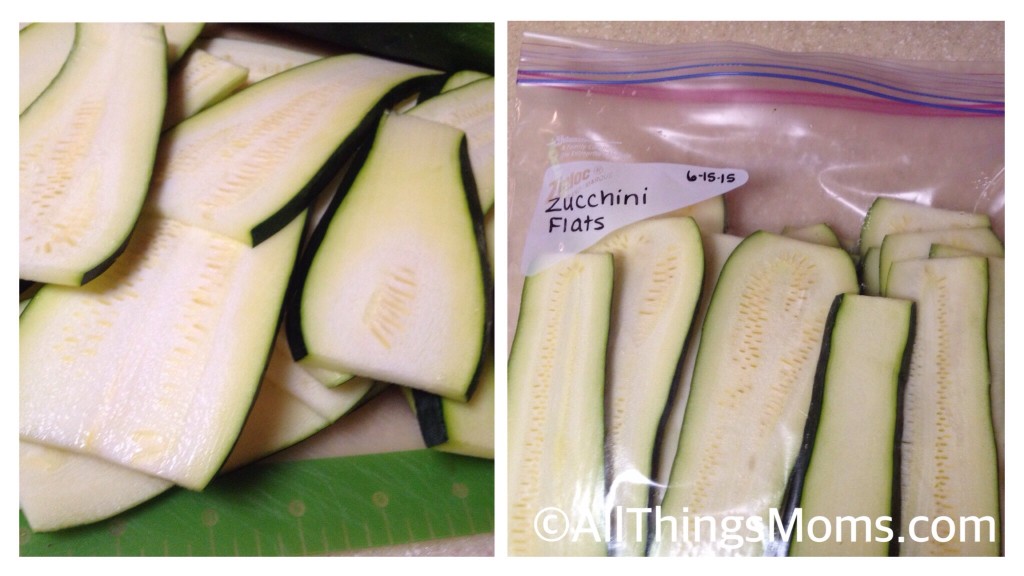 Noodles – Julienned into long, noodle-like strips. Perfect for spaghetti or other gluten free pasta dishes.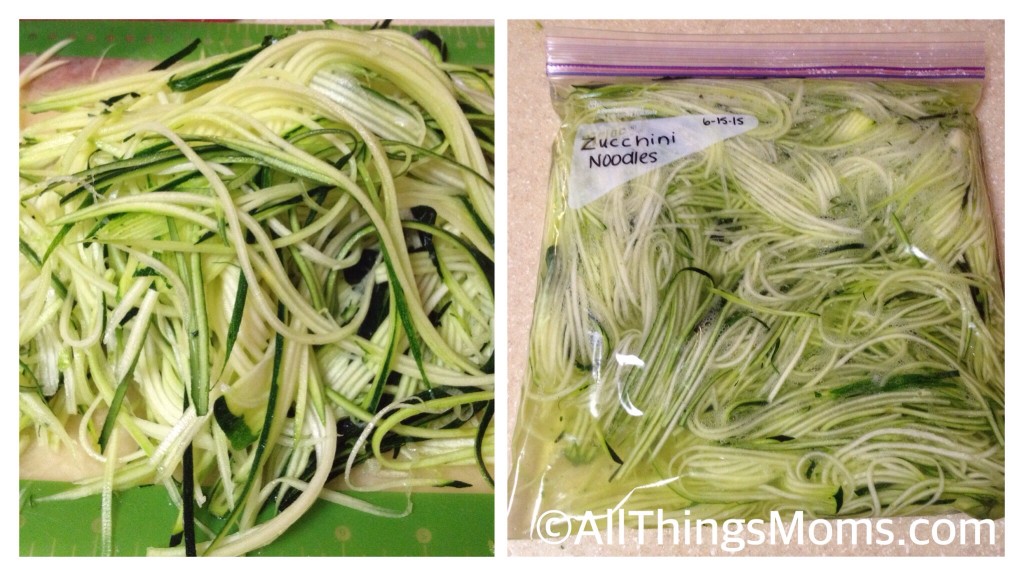 Rounds– Sliced 1/4″-1/2″ thick round slices or pieces. I use these for Squash N'Onions, Hummus Chicken & Steamed Squash.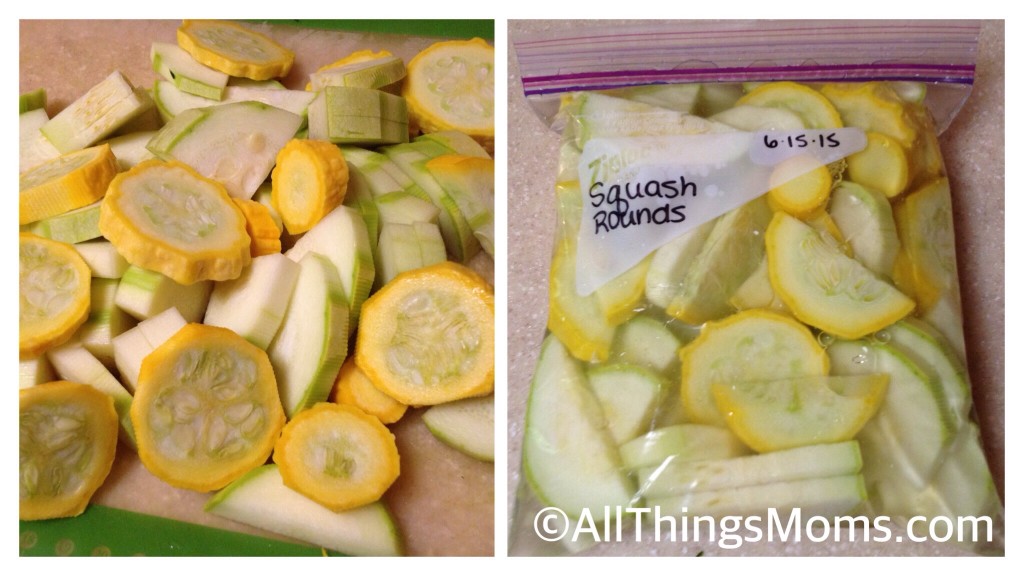 Shredded– Grated. You don't need to add water to this bag! I use this in zucchini bread, soups, and pasta sauce.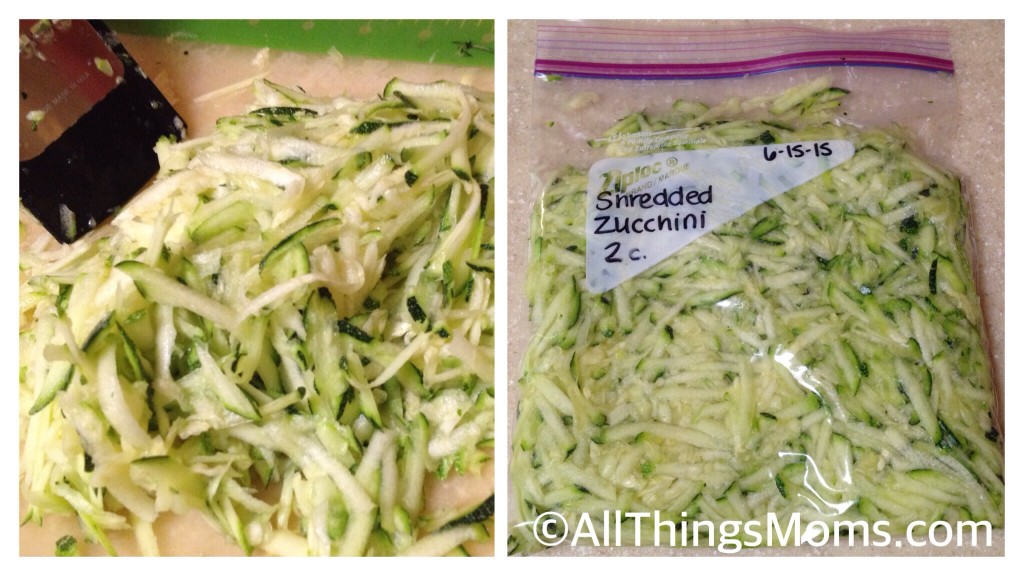 Easy Peasy, right?! You'll notice I've used mostly zucchini because that's what I have the most of (today at least) usually, I use squash and zucchini interchangeably in most recipes.
We love having frozen zucchini and squash in the freezer for quick access. Last winter we didn't have to buy zucchini or squash- talk about grocery savings!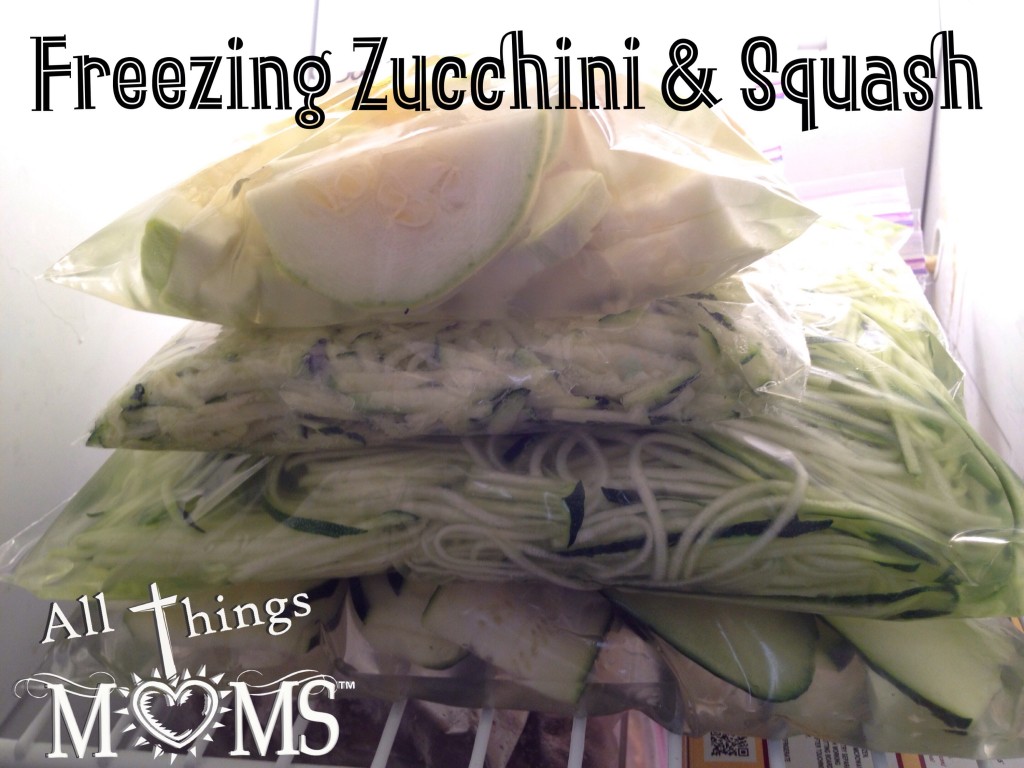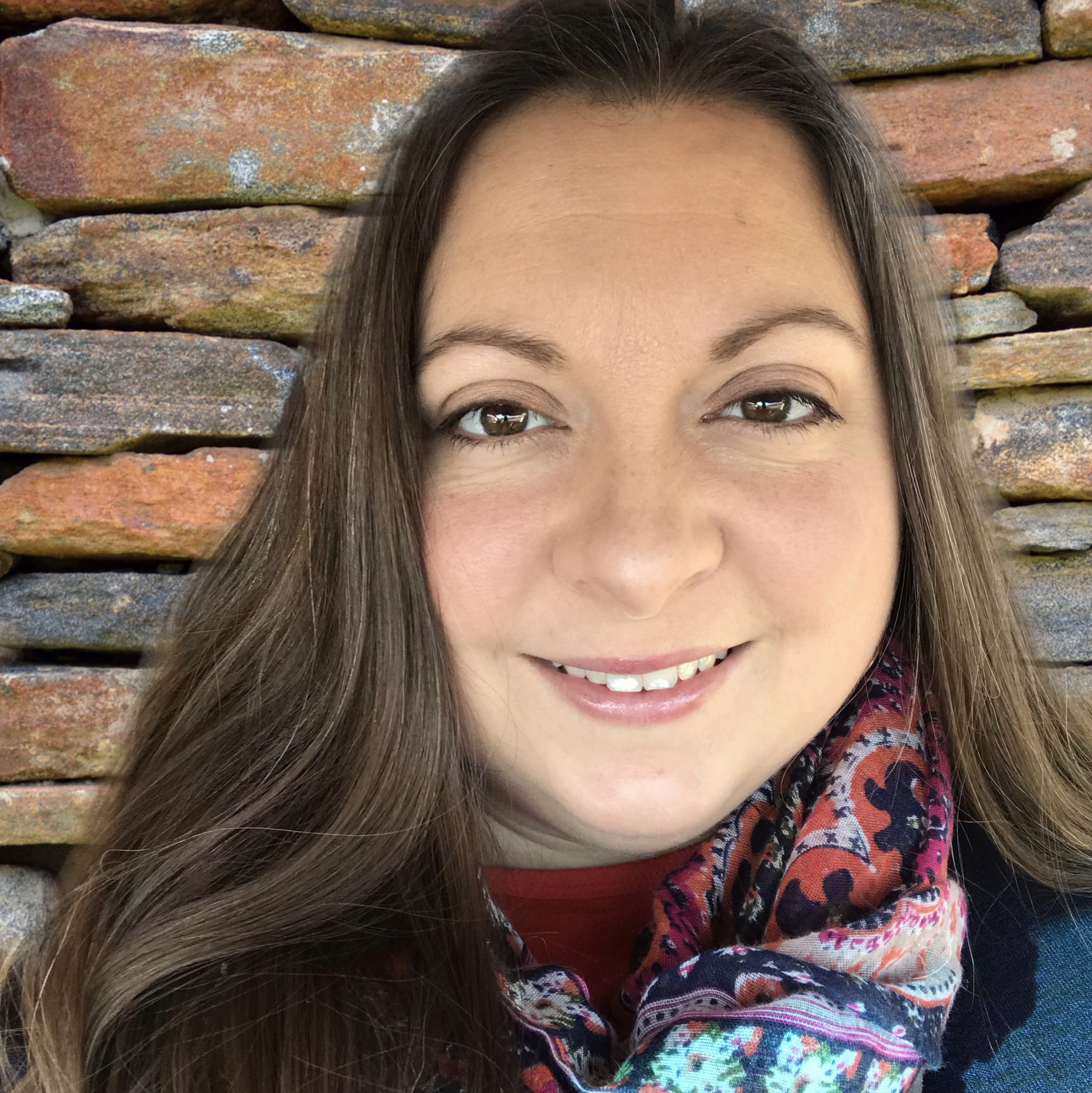 Hi! I'm Paula, a wife and mom by both, birth and adoption. We are a homeschool family and are also therapeutic foster parents. I enjoy spending time with our horses, gardening or going on adventures (usually in our backyard) with my family. We love Jesus and strive to honor Him in all we do. Want to know why I started All Things Moms? >>Read More