Fun & Functional Storage Desk
This page may contain affiliate / referral links. See Disclosure for more info.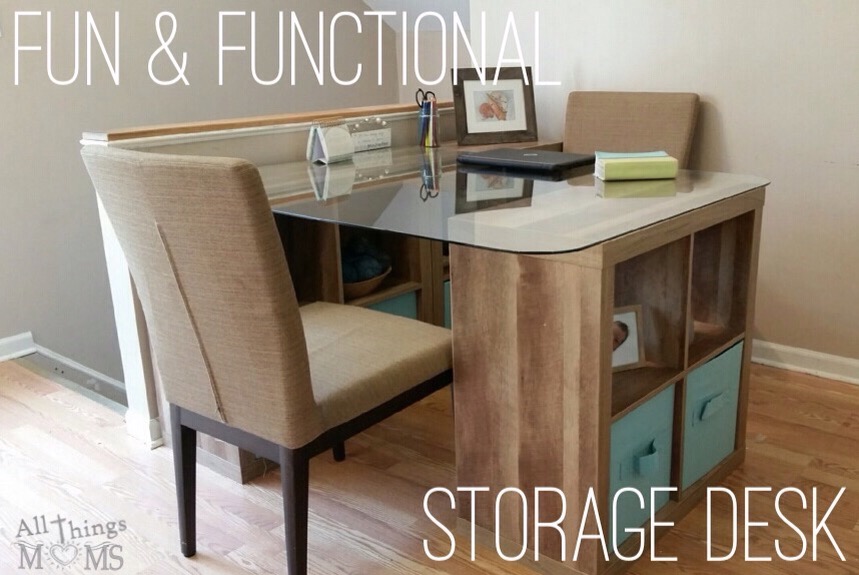 For a little over a year now, I've been looking for a desk.
Not just any desk, but a pretty desk.
Oh, and it had to have storage.
And I didn't want to spend a small fortune for it either.
I have looked at consignment stores, I've searched online ads, and thrift shops.  I found lots and lots of desks.  Big desks, small desks, prissy desks, manly desks, cheap desks, and expensive desks.  But I could never find a desk that had both storage and beauty.  I wanted nice clean lines, and I found desks that had them, but offered no storage. Or I found desks that offered lots of storage but were big and bulky.
Finally I gave up on the idea of buying a desk and decided to create my own desk.  My husband had seen some organizers at the local big box store that he wanted me to see.  So, on a Friday night, off we went.
I did not expect to like them, but I did.  Actually, I loved them!  They were the Better Homes and Gardens Storage Cube Organizer
s. The weathered wood finish was exactly what I was looking for!  It had a casual almost beach-y feel.   The storage cubes
themselves came in lots of cute colors. The turquoise was the perfect color, since it went with colors already in the room. I was pleasantly surprised at the large size of the cubes as well as how sturdy they are.  We bought two organizers and four storage cubes.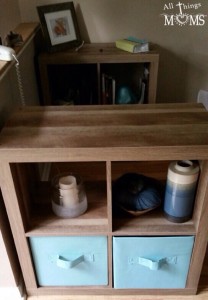 Our first plan was to use two cubes and place an old door across the top to form the desk top.  So, Saturday morning, we started our search for a door.  Finding a suitable old door proved to be more difficult than it sounded.  We looked at  two different Habitat for Humanity ReStores, and found plenty of doors but none that fit my space.  At the second Habitat store my husband found a large piece of glass with finished edges.  I was skeptical.  It wasn't the exact measurements we were looking for, but my husband assured me it would work.  Now, I just needed to find a chair.
I went to the closest Salvation Army store, again not expecting to find anything much.  (Clearly I'm a little too pessimistic for my own good.)  As we drove up, I saw a set of two chairs that were the perfect size, shape and color!   The only draw back was that they would not split the set.   I'd like to say that at that moment the idea of creating a double desk came to me, but sadly it did not.   On the drive home, the idea to create a double desk finally came to me.
We had to revise our original plan in order create the additional desk space, which meant purchasing an eight cube organizer and two additional storage cubes.  Of course, that meant more storage space, which was a win/win in my book. Even with the revision, it took less than 24 hours to create my dream desk.  I couldn't be happier with the finished product, which provided us with a double desk, all the storage I could want and looks great, too.  The casual style creates an inviting work space which has been a great addition to the room.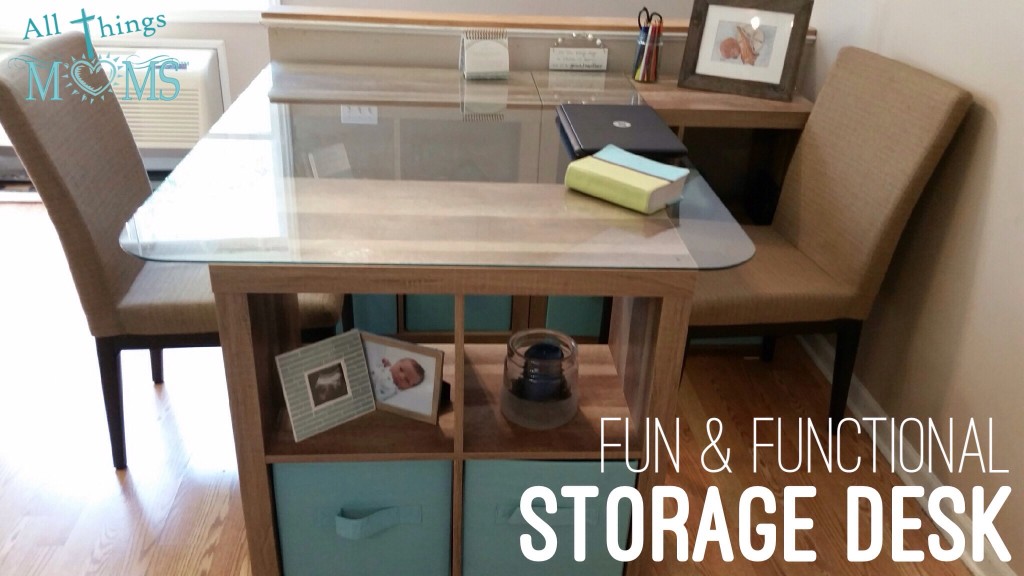 I'm a wife and mother of four homeschool graduates. I enjoy walking, reading and writing. I also love to do almost anything creative from taking photos to painting furniture. I'm an imperfect mom with a less than perfect family learning to walk by faith in Jesus through life's daily challenges. >>Read More