Home Organizer- Free Printable
This page may contain affiliate / referral links. See Disclosure for more info.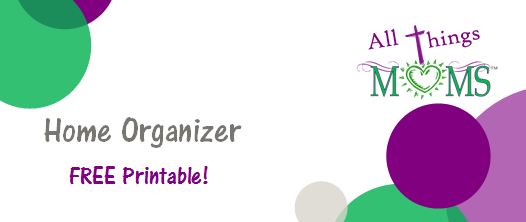 Ok, it's confession time. There's something you should know about me- I'm a little (very, very little, lol) OCD and kind of (again just a little) stubborn and strong willed. There I said it.  Now of course that can cause some problems here and there but I am working on it- I promise! However, there is one area that still seems to be a problem. I get these ideas in my head about how something should work or look and.. well apparently they are different than everyone else's because I can never find exactly what I am looking for!
The Non-OCD, less stubborn person they would just accept the closest thing and move on- not me. I tend to dwell on it and then I do the most logical thing- figure out how to do it myself. Sometimes it works, sometimes it doesn't. My husband often says, "If we could just make what's in your head.. we might not be millionaires because of it but at least it would be easier to find stuff!"  I guess he's been along for the ride one too many times as I look for the perfect bookshelf, organizer, planner, or whatever else is driving me nuts!
In April, when I began my new job as a Stay at Home Mom I began looking for the perfect Home Organizer. I scoured the internet and Pinterest and I found some really good ideas, however, just not exactly like what I was looking for. So I attempted to make one myself! The good news is this time I think I did a pretty good job! I LOVE my new Home Organizer! So much, in fact, that I decided to share it with you!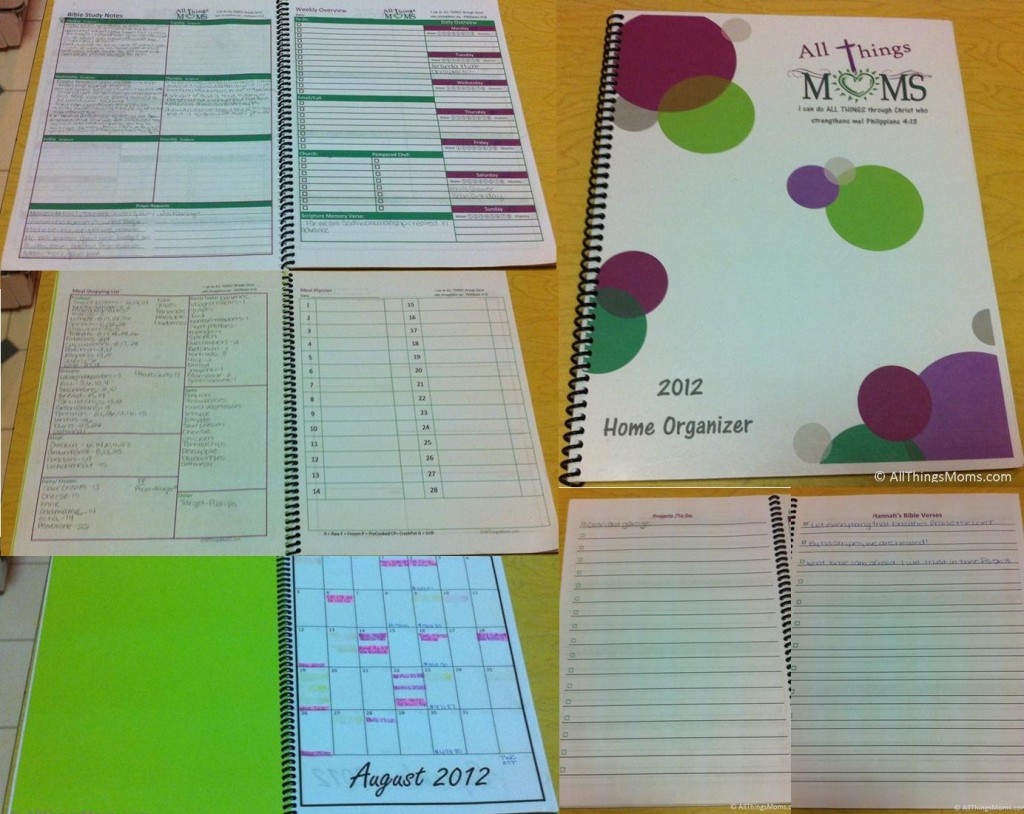 Each day this week I will share a couple of pages and how I use them. Each individual page is printable so you can choose which ones you want to use, combine them with any other favorites from other sources and assemble them in any order. You can put them in a 3 Ring binder or take them to Office Max and have them Spiral Bound together like I did. This was less than $3 at my Office Max, well worth it for a year's worth of planning in my opinion.
Here are today's Printable Pages:
Printables are available to All Things Moms subscribers, Enter your email to subscribe above and get instant access to the printable. You can see how I use each one below.
Home Organizer Cover (Download above)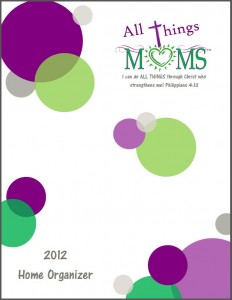 This is a cover page for the planner. You can print off the original version as pictured to the left or choose the custom version where you can edit the Date and Title Fields.
I got the inspiration for the colors from the All Things Moms Logo and the dots from the background of the blog used here. I love how the colors match perfectly- it looks like they were made for each other!
Weekly Overview (Download above)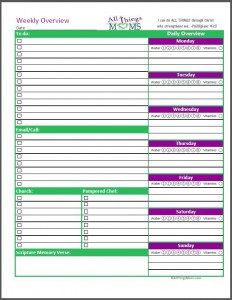 This is the page that started it all- The Weekly Overview! There are a lot of changes you can make in the custom version of this printable!
Part of my stubborn flaw is I don't like to be told what to do and when, lol. Most of the organizers I found had Daily to do lists. I never seem to get things done when I plan to on a daily basis! This allows you room for weekly to do's. There is also a small space each day for appointments, birthdays or other things that do have do have to get done on a specific day. Each day also has a little reminder for water intake and vitamins. In the custom version you can type the dates in so they will print out. I didn't think of this prior to printing mine so they are handwritten in, but it works.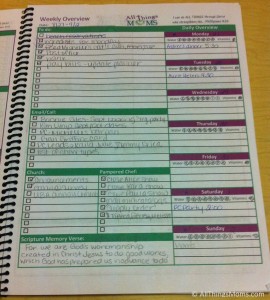 The date at the top can be keyed in or left blank to hand write.  In addition to the Weekly To Do, there are also 3 other spaces. I use the larger one for emails/calls to be made and two smaller spaces for church and my PC business.  These would also be great for work or different kids.
My favorite part of this page is the Scripture Memory Verse Section. Focusing on a new scripture each week is a great way to commit them to memory! You have the option to type this verse in prior to printing or leave it blank to hand write it in each week.
Bible Study Notes (Download above)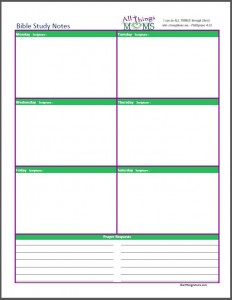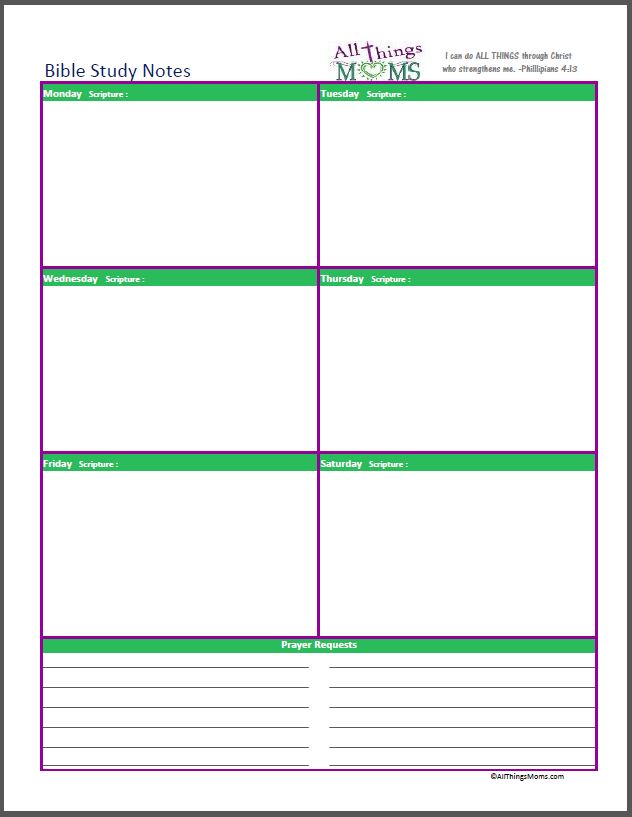 Here's another page I couldn't find anywhere else. Bible Study Notes and Prayer Requests.
I printed this page on the back of my Weekly Overview page. I like keeping my Bible Study notes with my weekly planner together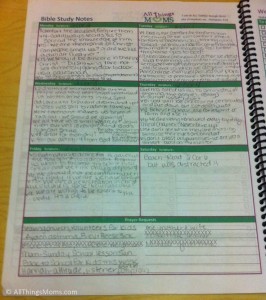 because I can do my Bible Study, pray over my prayer requests, and then pray over what God would have you get done for the day! Having your notes in a book you look at daily is also a great way to stay accountable remember those you are praying for throughout the day and during the week.
That's it for today! Check back every day this week for the remaining pages! There will be a Yearly Calender, Bill Tracker, Meal Planner, Shopping List, Birthdays List, Projects Checklist, and Kids Scripture Memory Checklist! Make sure you don't miss them by subscribing to my RSS feeds and get posts delivered to your emails- just enter your email in the subscribe section in the right margin.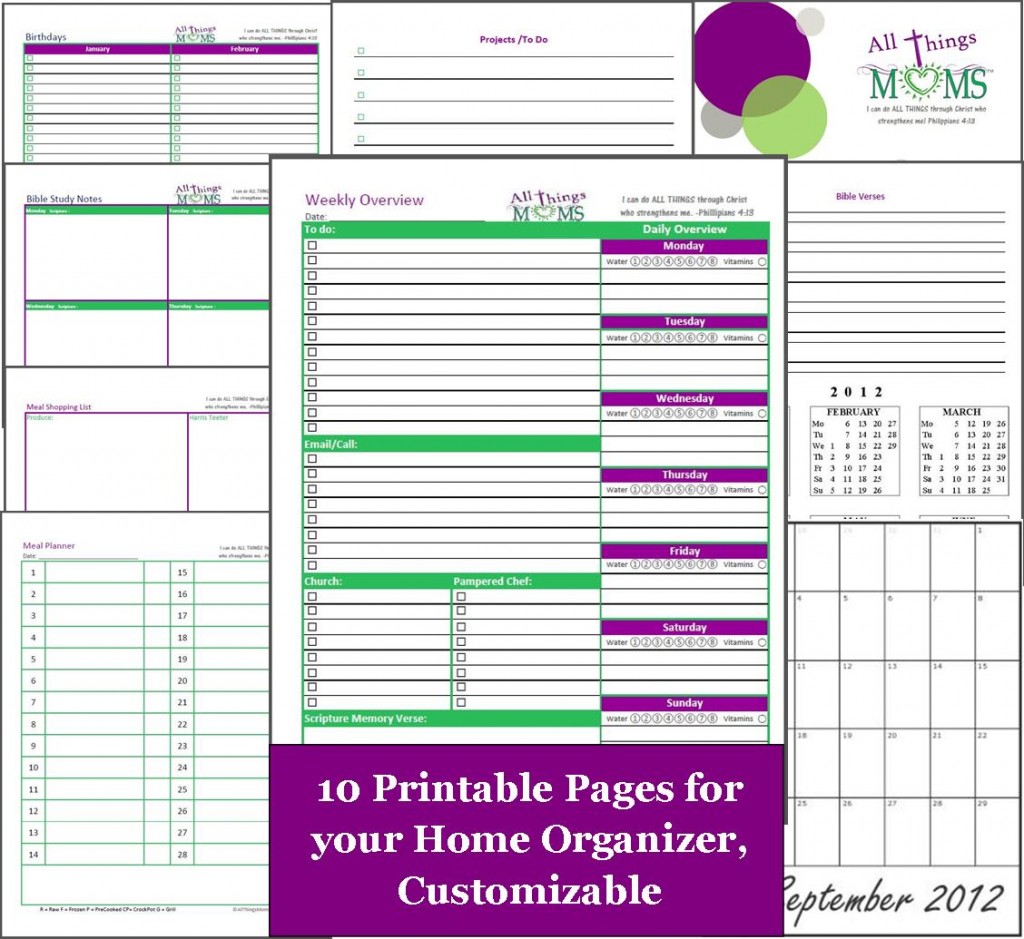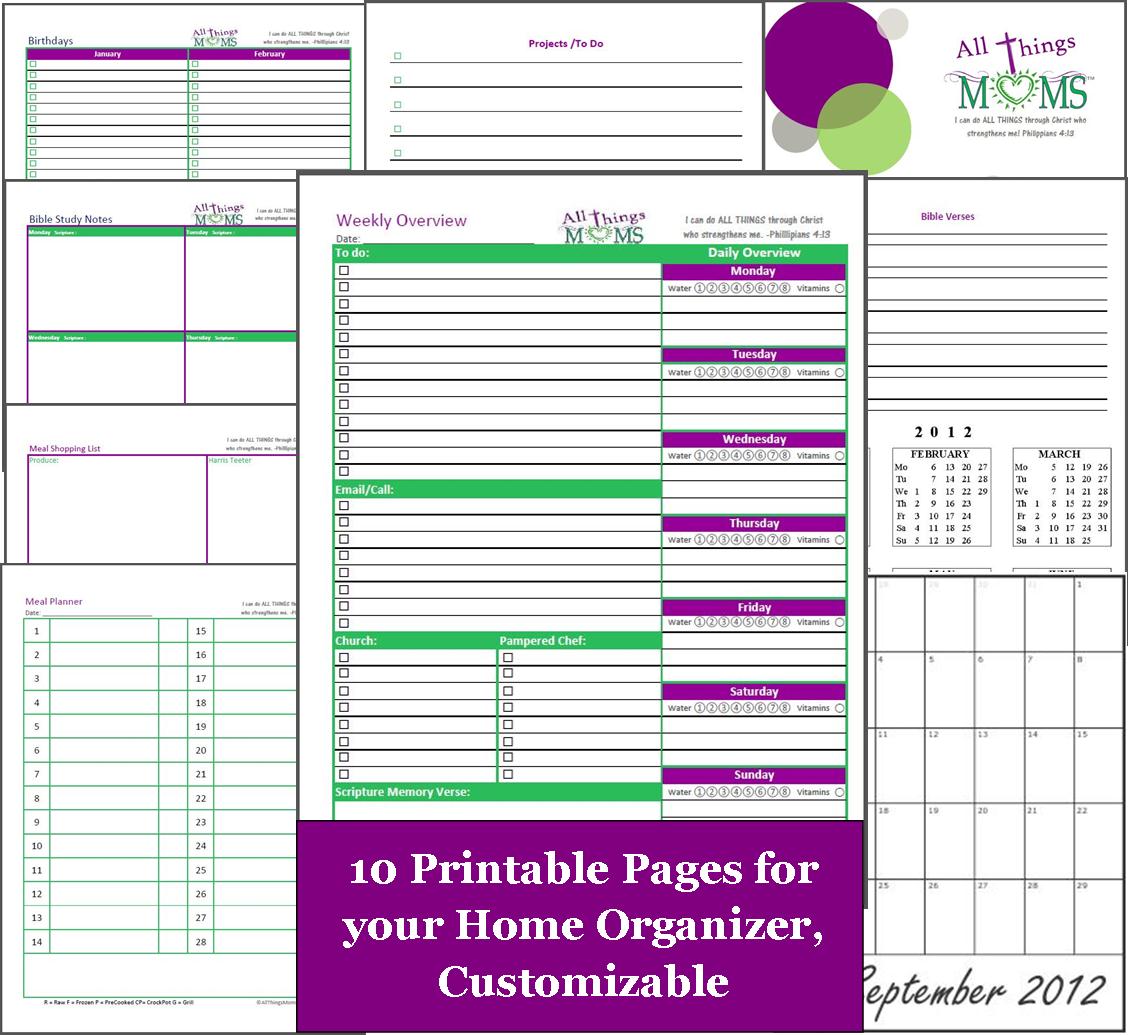 I'd love to hear what you think- please leave me a comment and let me know what you think or what pages you might like to see 🙂
---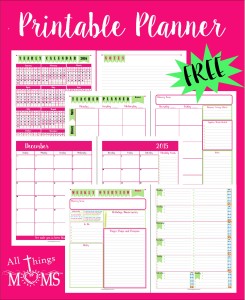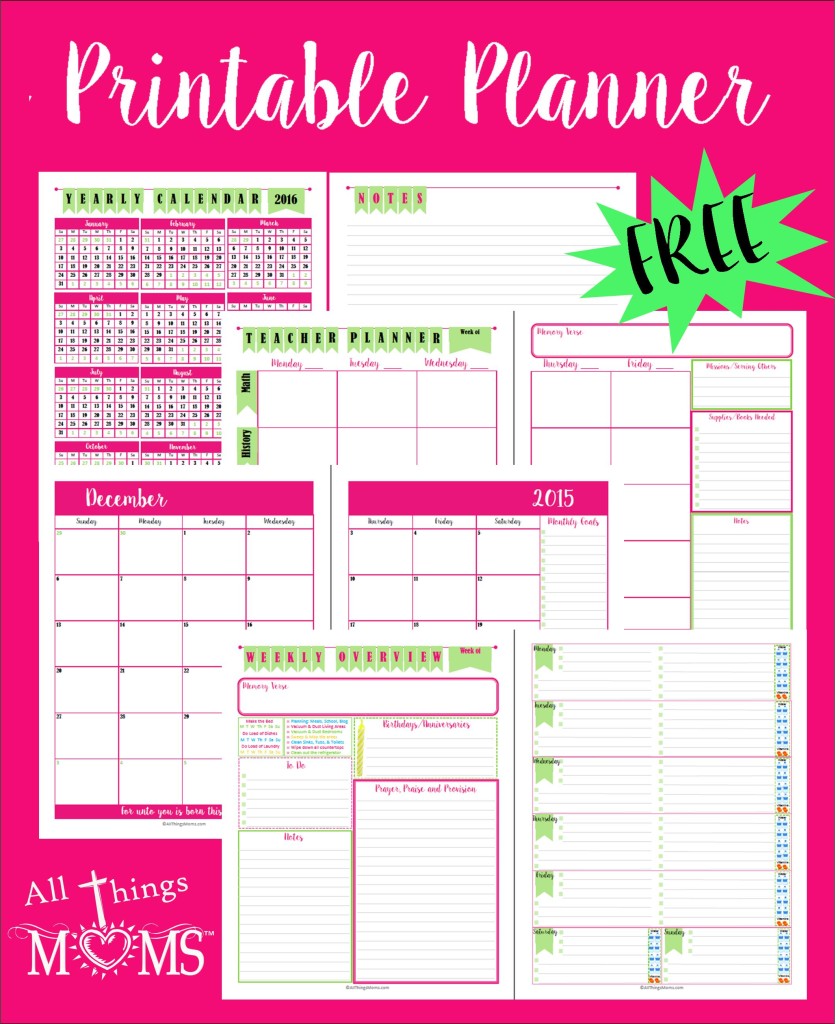 If you like this printable, you may also enjoy my Printable Planner.
Includes: Weekly, Monthly and Yearly Calendar Pages, a Homeschool Planner and Note pages.
The Weekly planner features:
– Water intake and vitamin tracker
– Scripture Memory Verse
– Birthdays and Anniversaries
– Notes
– Weekly To Do
-Space for weekly prayer requests, praise reports and notes of provision.
– Chore tracking checklist (optional )
Looking for a printable blog planner? Look no further, The Blog Success Planner will take your blog to another level!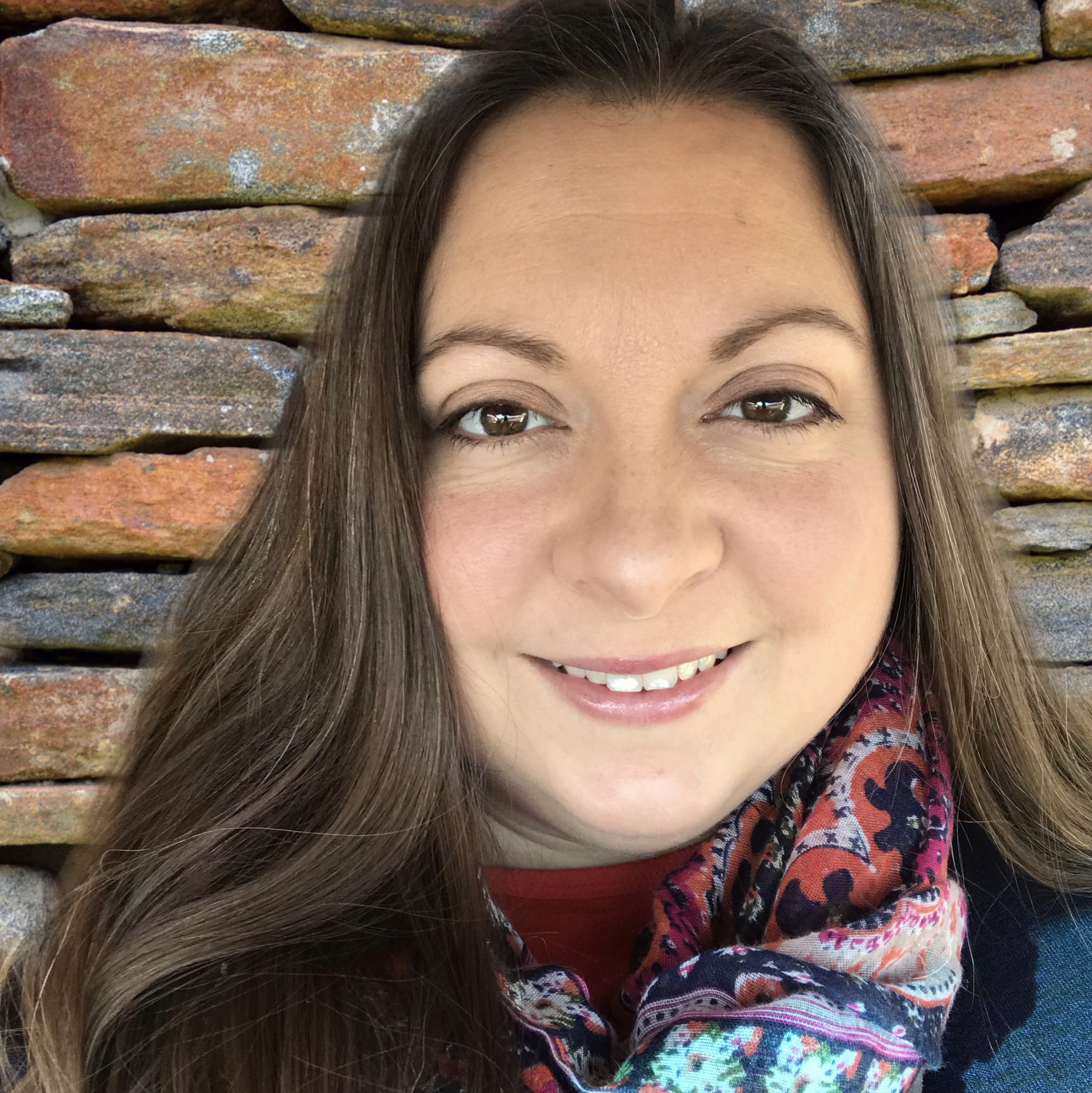 Hi! I'm Paula, a wife and mom by both, birth and adoption. We are a homeschool family and are also therapeutic foster parents. I enjoy spending time with our horses, gardening or going on adventures (usually in our backyard) with my family. We love Jesus and strive to honor Him in all we do. Want to know why I started All Things Moms? >>Read More