Home Organizer – Free Printables 3
This page may contain affiliate / referral links. See Disclosure for more info.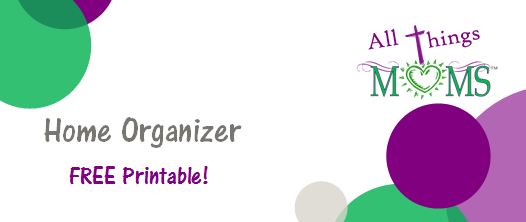 Yay! Day 3 of Printables for you Home Organizer-Let's get right to it! Here are today's printable pages:
Printables are available to All Things Moms subscribers, Enter your email to subscribe above and get instant access to the printable. You can see how I use each one below.
Birthdays
I am horrible with Birthdays!  I typically remember them 2 to 3 days befo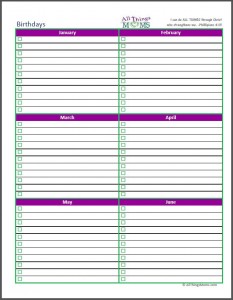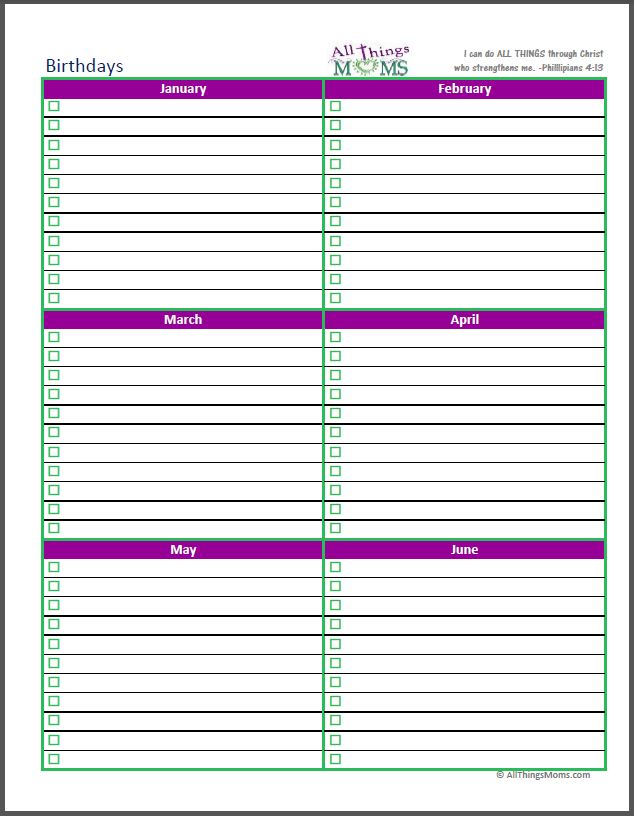 re they are here and then again on the day after- doih! Can anyone else relate to that? At one time I kept them in my phone, which worked but after getting a new phone they were ALL gone! Plus your phone doesn't have a way to put kids birthdays and I know a lot of kids that deserve to be wished a Happy Birthday on that special day! When I started creating my organizer I knew I would need a page to address birthdays.
The printable Birthday pages are a great way to keep track of monthly birthdays and includes a check box so you can easily identify which friends you have sent Birthday wishes too and which ones you may have forgotten!
You also have the option to type your Birthdays in prior to printing and save so next year you don't have to re-write them all!
Projects/ To Do
I also needed a way to track those long term projects – you know the ones that are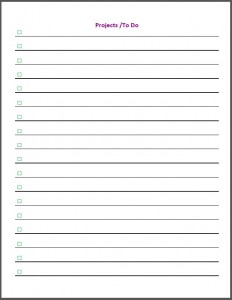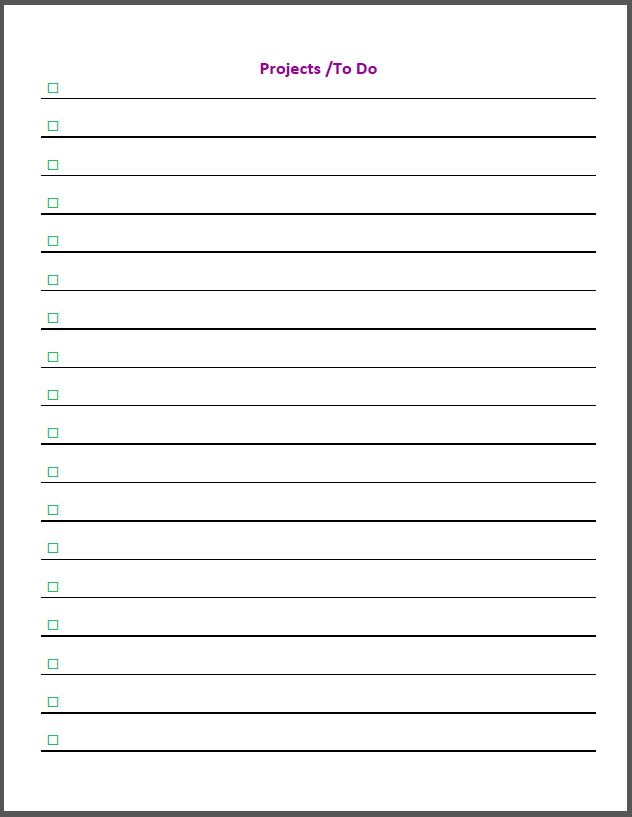 always on your to do list but rarely get done. I find that without these written in front of me I forget about them when I actually do have time to work on them.
The projects printable includes a single line and a check box to keep track of what you need to get done.
The header "Projects/To Do" can be changed to fit your personal needs or to be used as multiple pages. You could make a page for goals, books to read, or whatever you wanted – it's up to you!
Bible Verses
In my planner, this is a page labeled "Boot's Bible Verses" and it is where I keep track of the Bible verses my daughter has learned and what she is working on. I think scripture memory is a very important for adults and children of all ages. In fact, when my daughter was first born I told everyone we were going to start on her first Bible verse "God called the light day, and the darkness He called night" lol! Now obviously she was a little too young to start memorizing it then but I thought it was funny since her days and nights were all mixed up!
We started teaching our daughter Bible verses when she was 22 months old. She was an early talker so she had no problem talking in sentences by this age and could be easily understood. I noticed that she was "reading" us books and singing songs like "Twinkle, Twinkle" from memory. These were indicators to us that she was ready to start learning Bible verses. They aren't very long and complex scriptures but they are scriptures that I think will help her as she grows. We also chose not to teach her 2-3 words that summarize a verse, which I see in a lot of Children's books.  I think children are very capable of learning entire verses of scripture – they are like sponges – they just soak information up!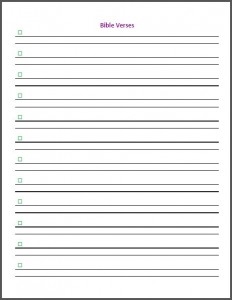 She has done a great job learning each of the scriptures we have worked on – in most cases learning them in just 3-5 days but we usually stick with it for a month before learning a new one. That way it is really committed to memory. I just ask her everyday what her Bible verse is and give her the first word so she knows which one I am talking about. Here's what she's learned so far:
– Let everything that breathes Praise the Lord! Psalms 150:6
– By His Stripes, I am healed Isaiah 53:5
– What time I am afraid I was trust in thee. Psalms 56:3
She doesn't have the scripture references down yet because she says a number and then starts counting. For example -Psalms 56:3 she says Psalms 5, 6, 3, 7, 8, 9, 10! It's pretty adorable!
The Bible Verses printable is very similar to the projects page only it includes two lines per check box. The title can be changed so you can use this for other lists or personalize it for each child.
Have you checked out the other printables so far? We have a Home Organizer Planner, Weekly Overview, Bible Study Notes, Yearly Calender and Bills Organizer. Be sure and check back tomorrow for the Meal Planner and Shopping Lists!
---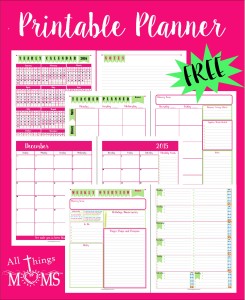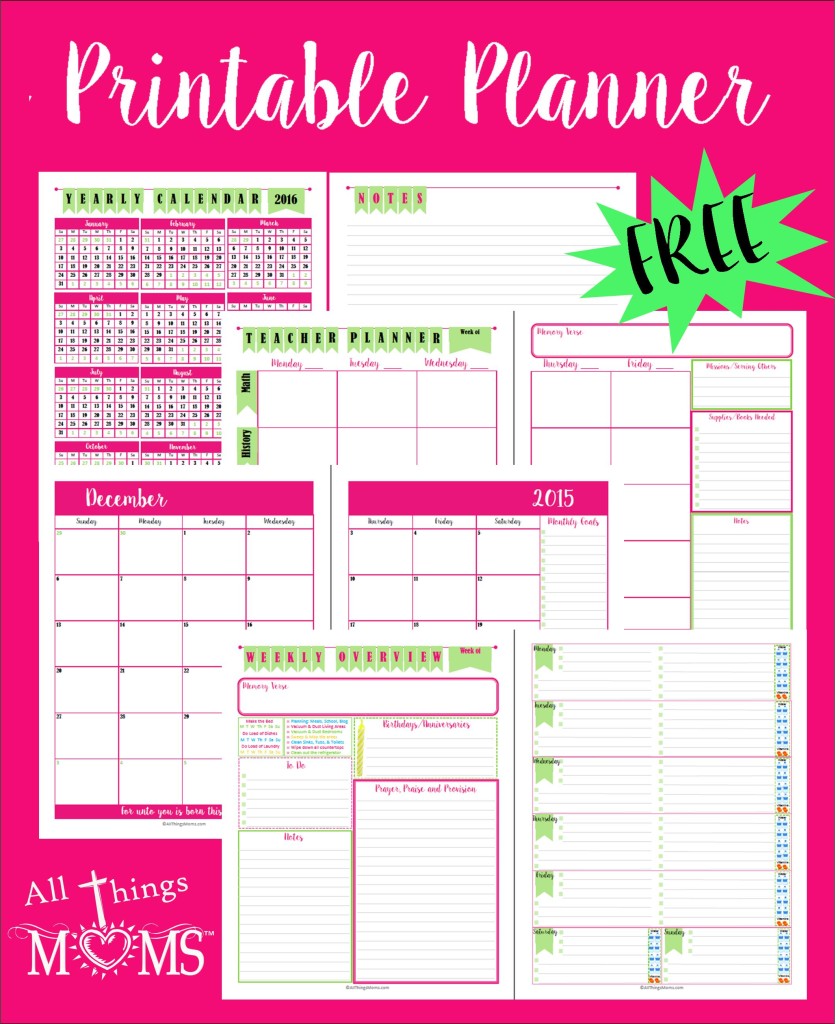 If you like this printable, you may also enjoy my Printable Planner.
Includes: Weekly, Monthly and Yearly Calendar Pages, a Homeschool Planner and Note pages.
The Weekly planner features:
– Water intake and vitamin tracker
– Scripture Memory Verse
– Birthdays and Anniversaries
– Notes
– Weekly To Do
-Space for weekly prayer requests, praise reports and notes of provision.
– Chore tracking checklist (optional )
Looking for a printable blog planner? Look no further, The Blog Success Planner will take your blog to another level!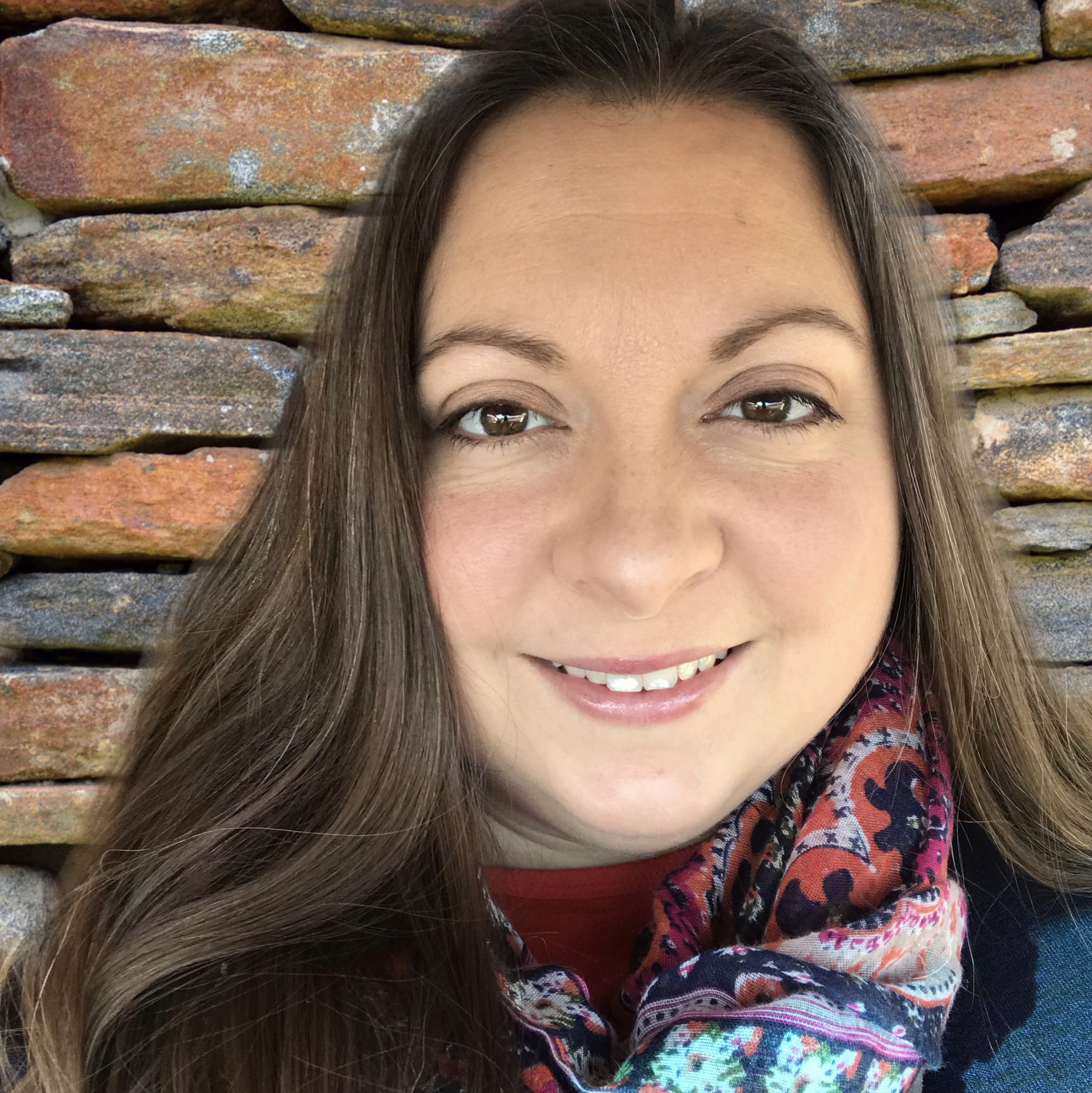 Hi! I'm Paula, a wife and mom by both, birth and adoption. We are a homeschool family and are also therapeutic foster parents. I enjoy spending time with our horses, gardening or going on adventures (usually in our backyard) with my family. We love Jesus and strive to honor Him in all we do. Want to know why I started All Things Moms? >>Read More