Home Organizer- Free Printables 4
This page may contain affiliate / referral links. See Disclosure for more info.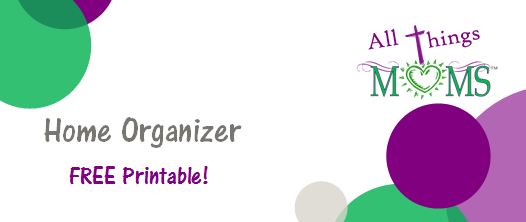 Today's Home organizer printables are focused around meal planning and shopping!  Now before I get started let me just explain that this meal plan is a little different than the meal plans you've seen before.  There is no Monday-meatloaf, Thursday- Spaghetti, etc going on here.  Those meal plans NEVER seemed to work for me. Here's the thing, if I know I have to eat spaghetti on Thursday I wake up dreading spaghetti with everything I have! I seriously can not force myself to eat it. So what would I do? Make something else from another day  or worse be tempted to order pizza or go out to eat. Then you know what happened? The meat I bought for the spaghetti went bad or the lettuce for the accompanying salad spoiled and I had to throw food away! That just shouldn't happen!
My solution is a "meal plan for those who don't like being restricted to a plan" meal plan. Lol, but that's a mouth full so we'll just stick to the traditional "meal plan"- just know it's not exactly traditional. However, non-traditional works in this house! I have been using it for about 2 years. I tried a few others but I ALWAYS come back to this one. It's flexible and creates less waste.
Here's how it works. There are 28 boxes for meals- all numbered. 28 boxes allows you some flexibility to have leftover nights and the occasional dinner out. It also gives you the flexibility to make this a 2 week meal plan if you like to plan in smaller doses. Two week plans could be structured as 14 lunches and 14 dinners, or 7 Breakfasts, 7 lunches and 14 dinners. (I find that breakfast and lunches repeat themselves more frequently). If you like to plan breakfasts, lunch and dinners for a month at a time simply print out 3 copies and plan out 28 days of each.
Beside the number of the meal there is a space for the actual meal and then a smaller space for coding. I use this to code the cooking method and whether anything is precooked to help me judge cook times. This allows me to choose quick meals on nights that I am running behind on dinner, grilled meals on beautiful evenings and microwave meals on really hot days. You can create a custom key on your meal plan prior to printing it out in the bottom left corner. The key I am currently using is P-Pre Cooked (Main portion of meal is precooked), R=Raw (Raw meats take longer to cook), F=Freezer Meal, G=Grill, M=Microwave, CP=Crock Pot, LO= Uses Leftovers from another meal, QM=Quick Meal (15 minutes or less).
At the very bottom there is a space that I use for any additional comments or meals. Such as freezer meals I am planning on making during this time or meals to take somewhere. This can also be a good place to jot down breakfast or lunch ideas if you don't really like to plan them but think of something to make with ingredients being purchased.
Here is my Meal Planner in action- I have mainly dinners and a few lunches which I notated with a L in the right corner of the code box. Most of the meals I know what ingredients are in them because they are a part of my regular rotation. If you are not familiar with your recipes create a small binder with 14 pages of sheet protectors. Label them front and back numbers 1-28. Slide the recipe in the number to match your meal plan and keep it handy for doing your shopping list and preparing dinner each night. Once you have the meal cross it off or put a check mark in the number section, unless you have ingredients to make it again another night, in that case leave it on 🙂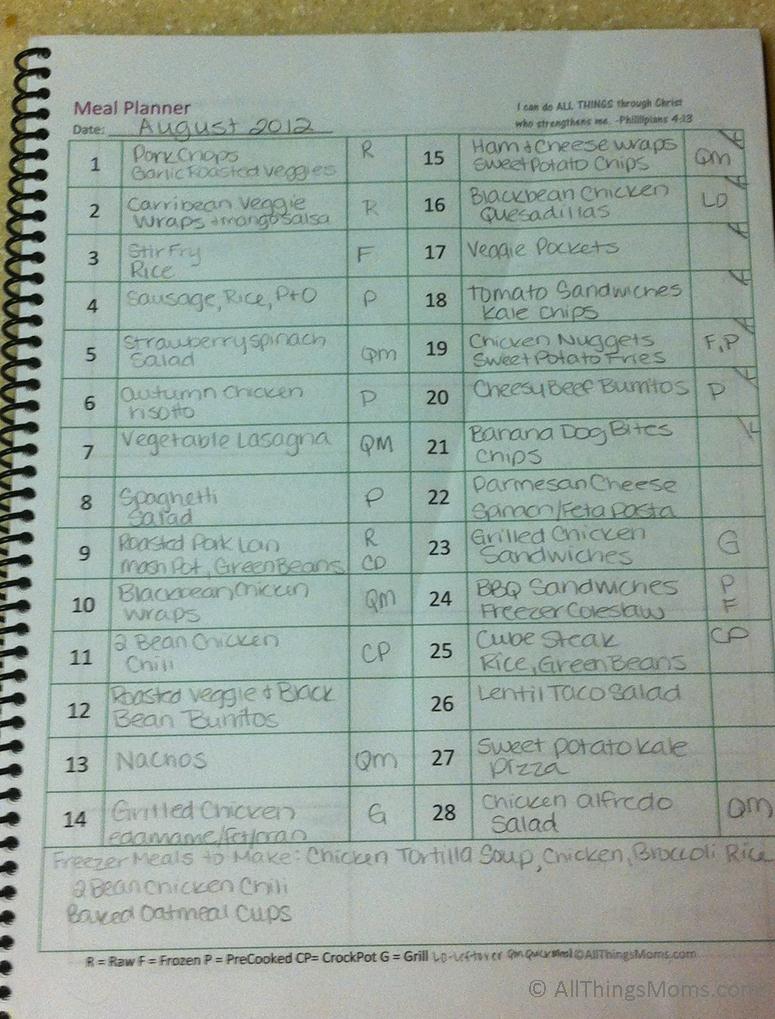 A very important part to this meal plan being a success is the shopping list page. On the shopping list I list the various ingredients needed for the recipes by category (grocery, produce, meat, etc.) Next to the item I put the numbers for the meals it is needed in. Ex: lettuce- 8, 17, 28, 26.  This way when I notice my lettuce is starting to go bad I can choose to make a meal using it. I then take my items and move them over to my stores based on pricing and quantity needed. Here I figure the number of meals and the amount needed for each to determine how much of an item I need. With the lettuce for these 4 meals I will need two heads. I know I can get those cheaper at the bulk store so I add lettuce to the bulk store list. I also add in items that aren't a part of my meals but I know I will need for snacks or to go with lunches- mainly fruit in our house. The shopping list also contains a small "other" section for other purchases that need to me made at different stores. Here is an example of my shopping list for the above meal plan. I should also note that staple items such as sugar, flour, etc I keep on hand and add to the list as soon as it gets over half empty. That way I don't have to ever worry about being out for a meal.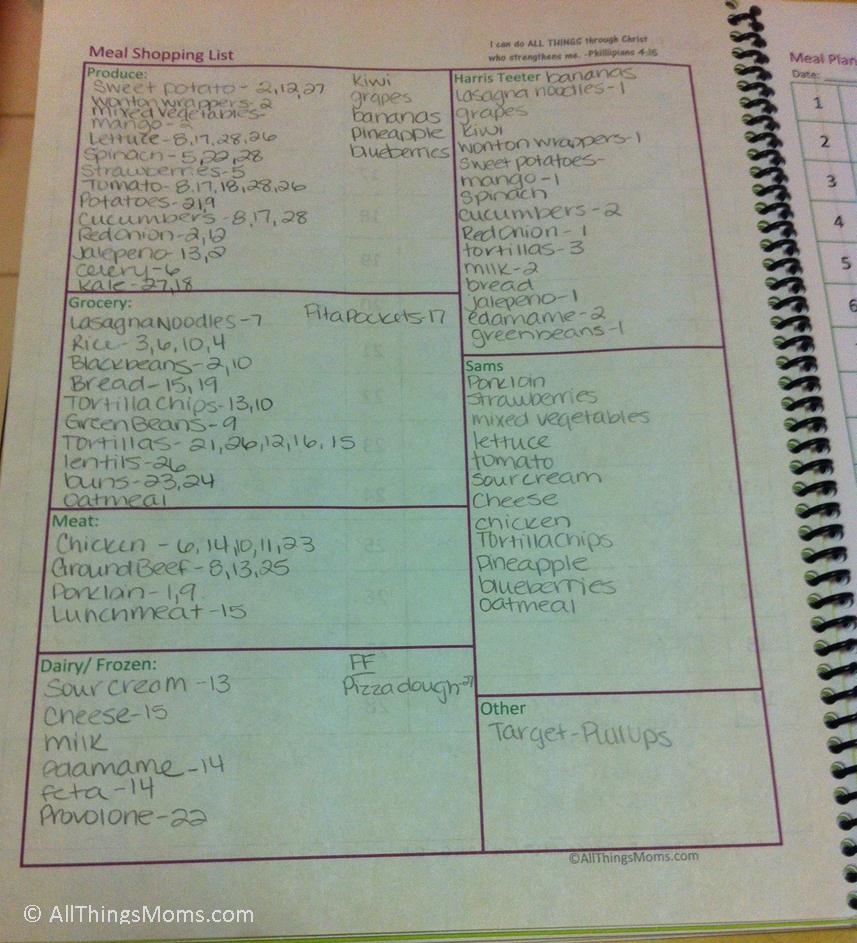 Here are the custom printables.
Printables are available to All Things Moms subscribers, Enter your email to subscribe above and get instant access to the printable. You can see how I use each one below.
Meal Planner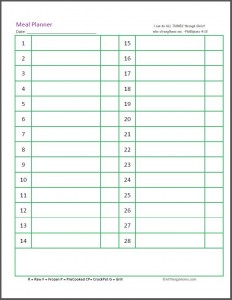 With custom options you may choose to type in your meals prior to printing and make your own key at the bottom for coding.
Shopping List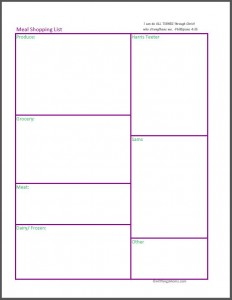 With custom options you may choose to type in your list prior to printing and change your store names.
That's all the Home Organizer Printables I have for you now. I am open to suggestions on what you would like to see or if you would like more custom features in the current printables. Please leave a comment below and let me know what you think of this "meal plan for those who don't like being restricted to a plan" meal plan.
Be sure and check out the other Home Organizer Printables- Home Organizer Cover, Weekly Overview, Bible Study Notes, Yearly Calender, Bills Organizer, Birthdays, Projects, and Kids Scripture Memory.
---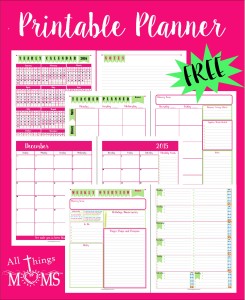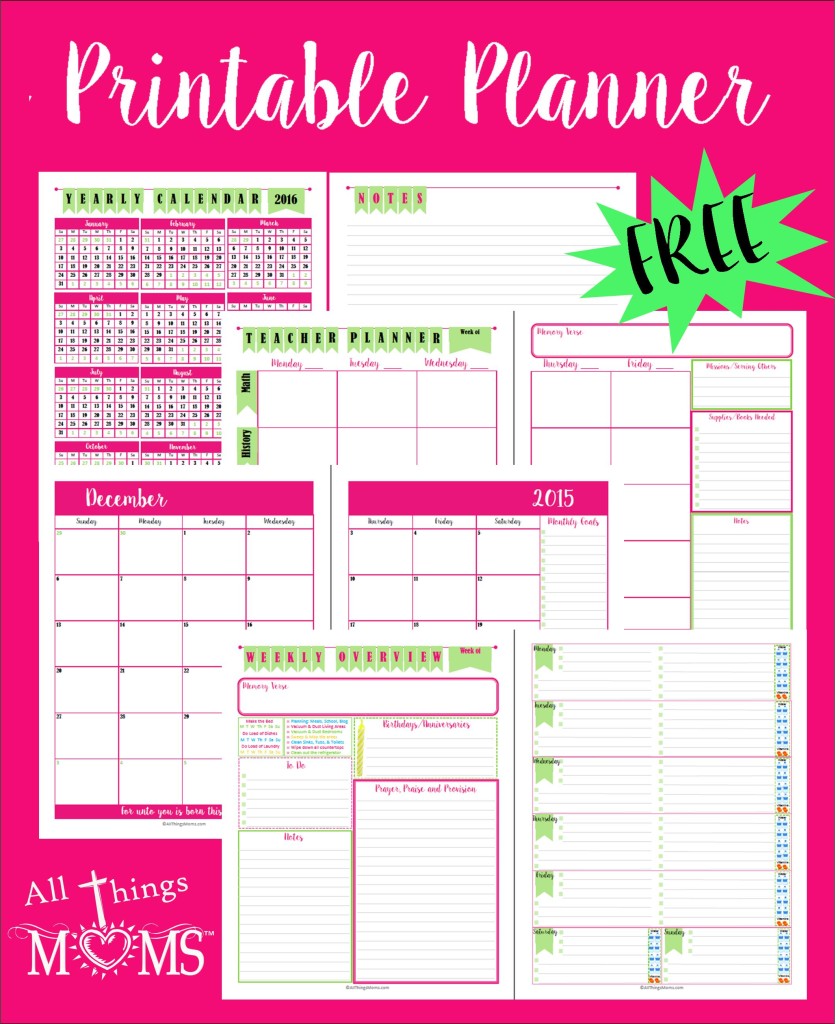 If you like this printable, you may also enjoy my Printable Planner.
Includes: Weekly, Monthly and Yearly Calendar Pages, a Homeschool Planner and Note pages.
The Weekly planner features:
– Water intake and vitamin tracker
– Scripture Memory Verse
– Birthdays and Anniversaries
– Notes
– Weekly To Do
-Space for weekly prayer requests, praise reports and notes of provision.
– Chore tracking checklist (optional )
Looking for a printable blog planner? Look no further, The Blog Success Planner will take your blog to another level!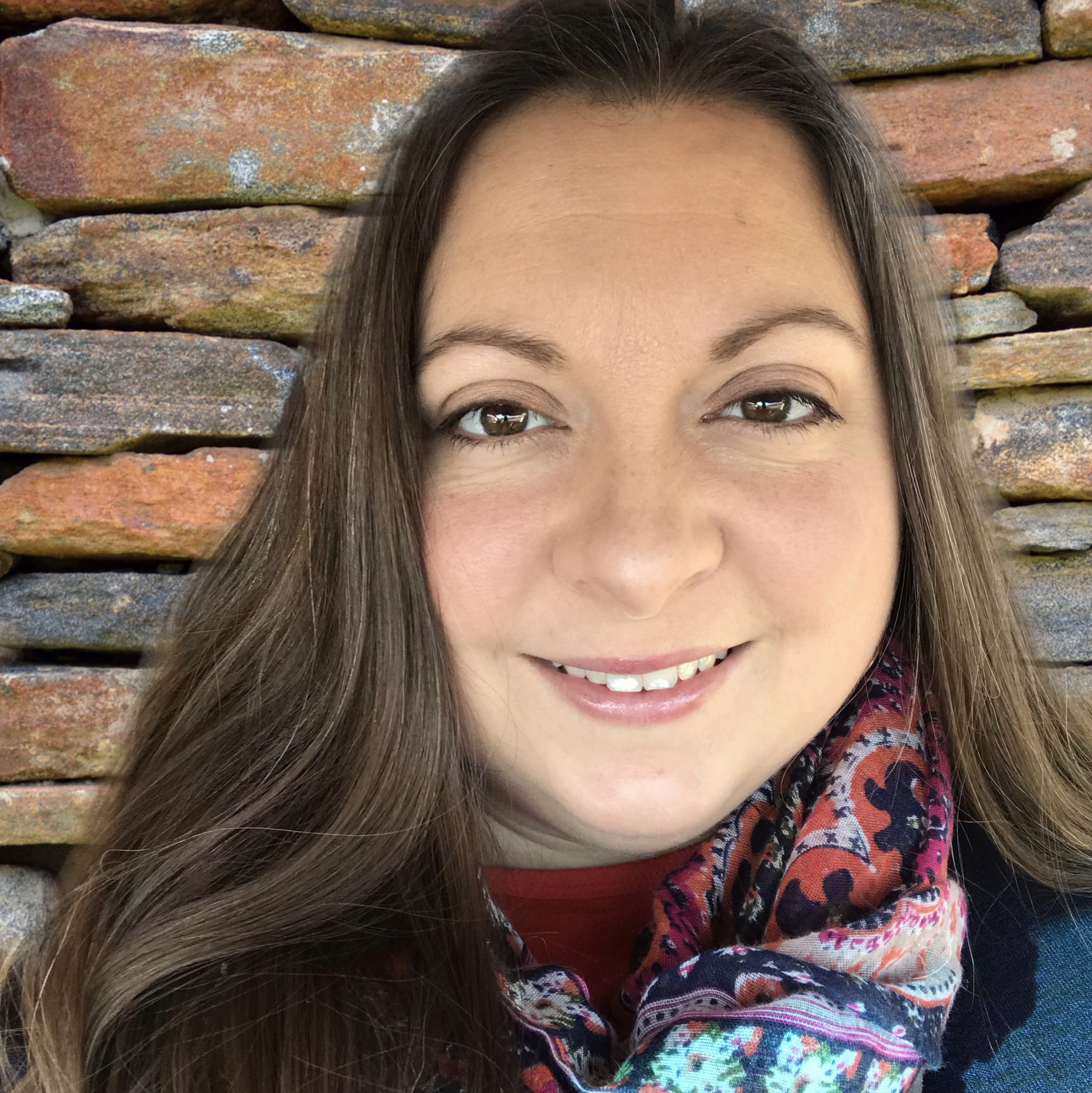 Hi! I'm Paula, a wife and mom by both, birth and adoption. We are a homeschool family and are also therapeutic foster parents. I enjoy spending time with our horses, gardening or going on adventures (usually in our backyard) with my family. We love Jesus and strive to honor Him in all we do. Want to know why I started All Things Moms? >>Read More