"Makes Mom Happy" Meal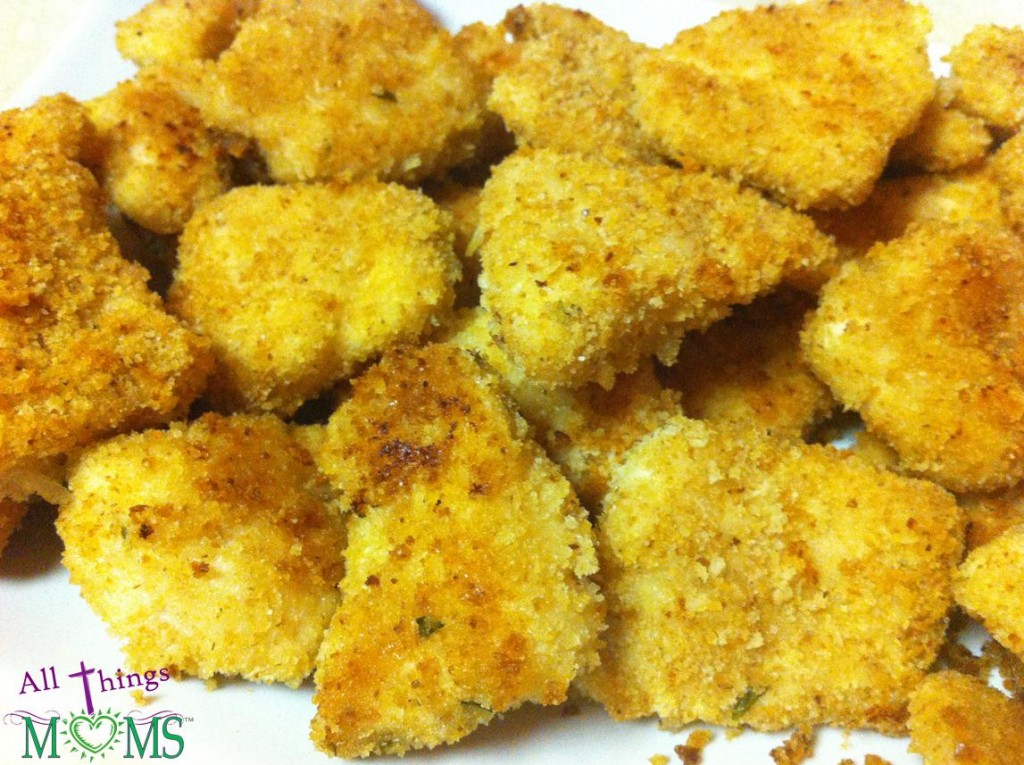 What is it about chicken nuggets that makes them so irresistible to kids? (and Moms too!) I can't even tell you how many kids I know that practically live off of chicken nuggets.  Ask most any child what their favorite meal is and hands down it's chicken nuggets, followed closely by pizza (we'll address that later  🙂 )
So far, I have refused to let my toddler have one of these delicious little treats because most of the ones you buy are full of processed "meat product" and other things I can't even pronounce- and you can forget about fast food! It's out of our budget and out of the question!  Nothing about about overpriced, fried, processed meat product and greasy fries says "happy" or "meal" to me. Yuck.
One day I needed something different to pack for lunches and to have on hand for quick dinners.  I found myself thinking about how easy chicken nuggets would be- still refusing to give in to the expensive, processed kind I went in search of a good homemade nugget recipe. This recipe is not only delicious, it's healthy, quick, and much more cost effective!
Chicken Nuggets
Ingredients
16 oz (2 large) skinless boneless chicken breasts, cut into even bite sized pieces
salt and pepper to taste (optional)
2 tsp olive oil
6 tbsp whole wheat Italian seasoned breadcrumbs
2 tbsp panko
2 tbsp grated parmesan cheese
olive oil spray
Directions
1. Start by preheating your oven to 425°. Spray a baking sheet with the olive oil spray.
2. Place the olive oil in one bowl and mix the breadcrumbs, panko and parmesan cheese in another.
3. You can season chicken with salt and pepper – I left this step out to reduce the sodium.
4. Place a few chunks of chicken at a time in the bowl with the olive oil and mix so that each piece is evenly coated.
5. Move the chicken to the breadcrumb mixture to coat, then place on the baking sheet.
6. Once all the chicken is on the baking sheet or stone, lightly spray the top with olive oil spray.
7. Bake 8 – 10 minutes. Flip the nuggets and cook another 4 – 5 minutes or until cooked through.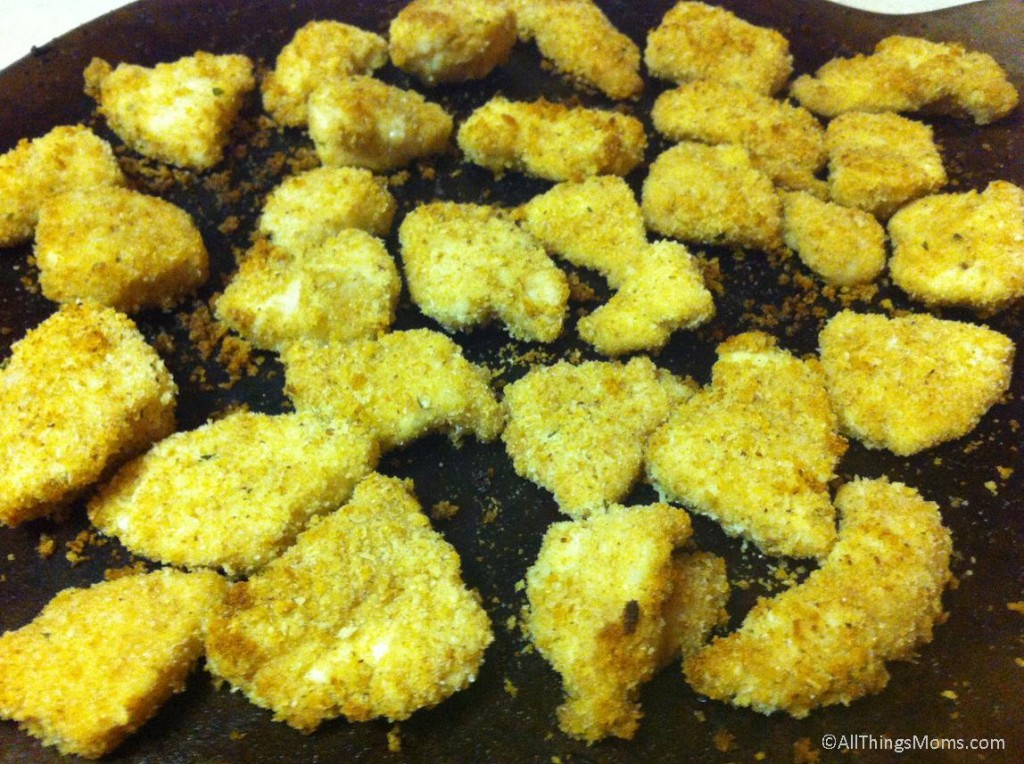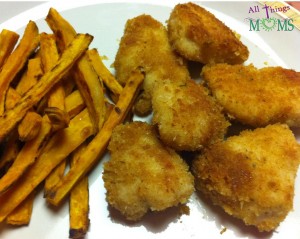 In honor of the happy meal that made chicken nuggets so popular I served mine with Baked Sweet Potato Fries. My husband loved them, my daughter loved them, I loved them- Success!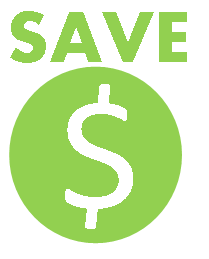 Buy your chicken in bulk or on sale and make extras! I made triple the recipe and placed my leftovers in a freezer bag and froze them.  Just as convenient as what you would find in the freezer section without all the cost!
So next time your child asks for a Happy Meal,  you can give them their favorite nuggets and not feel bad about it! Now that is a meal that makes Mom happy!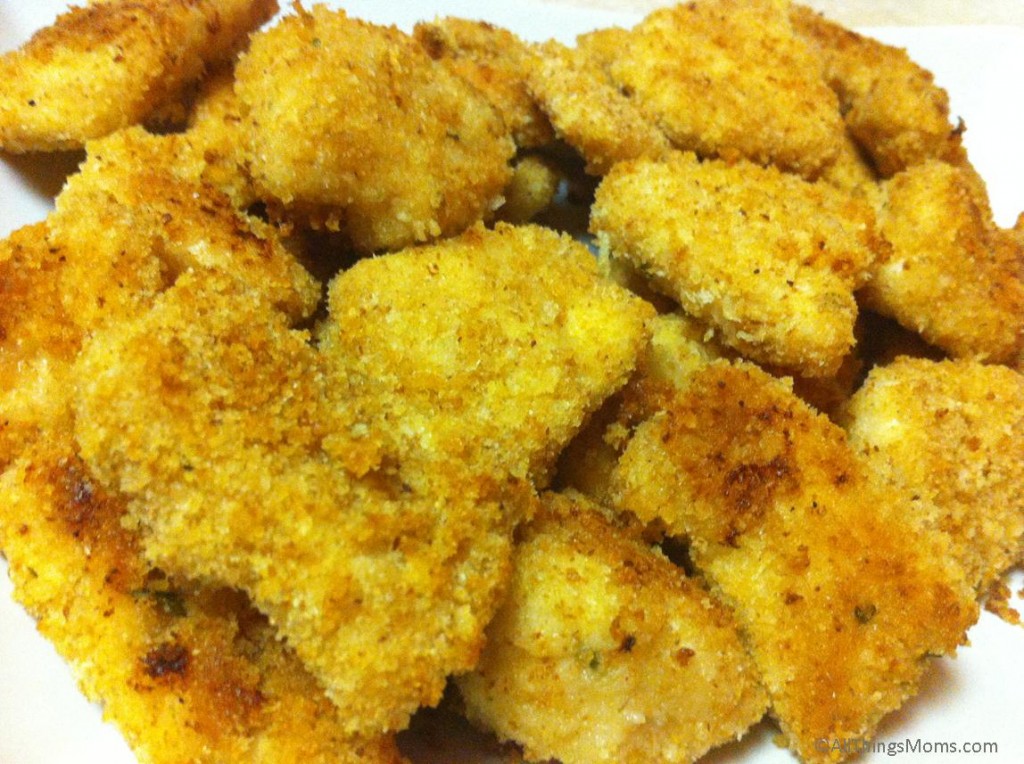 Recipe Adapted from: SkinnyTaste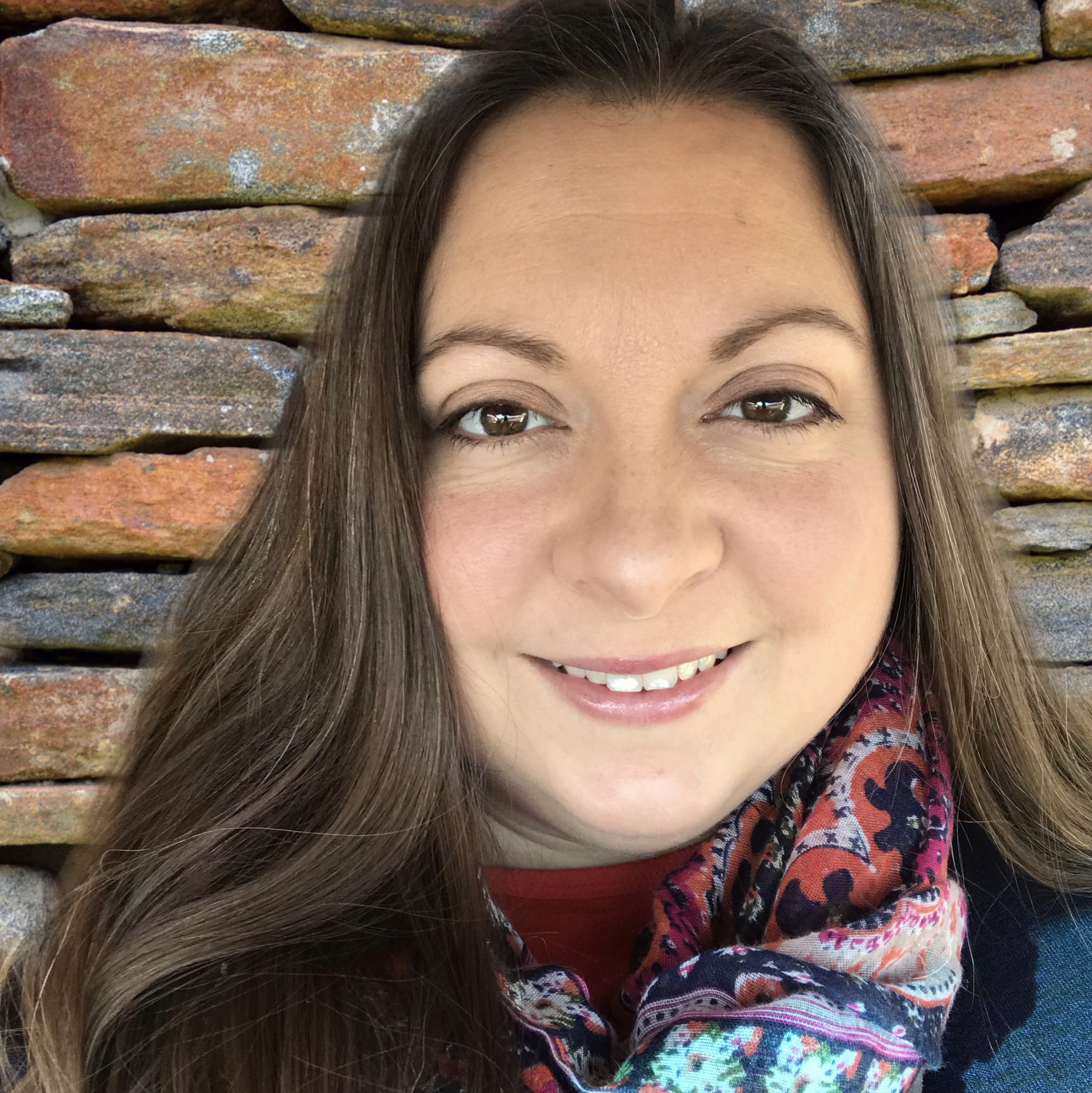 Hi! I'm Paula, a wife and mom by both, birth and adoption. We are a homeschool family and are also therapeutic foster parents. I enjoy spending time with our horses, gardening or going on adventures (usually in our backyard) with my family. We love Jesus and strive to honor Him in all we do. Want to know why I started All Things Moms? >>Read More