Homemade Laundry Detergent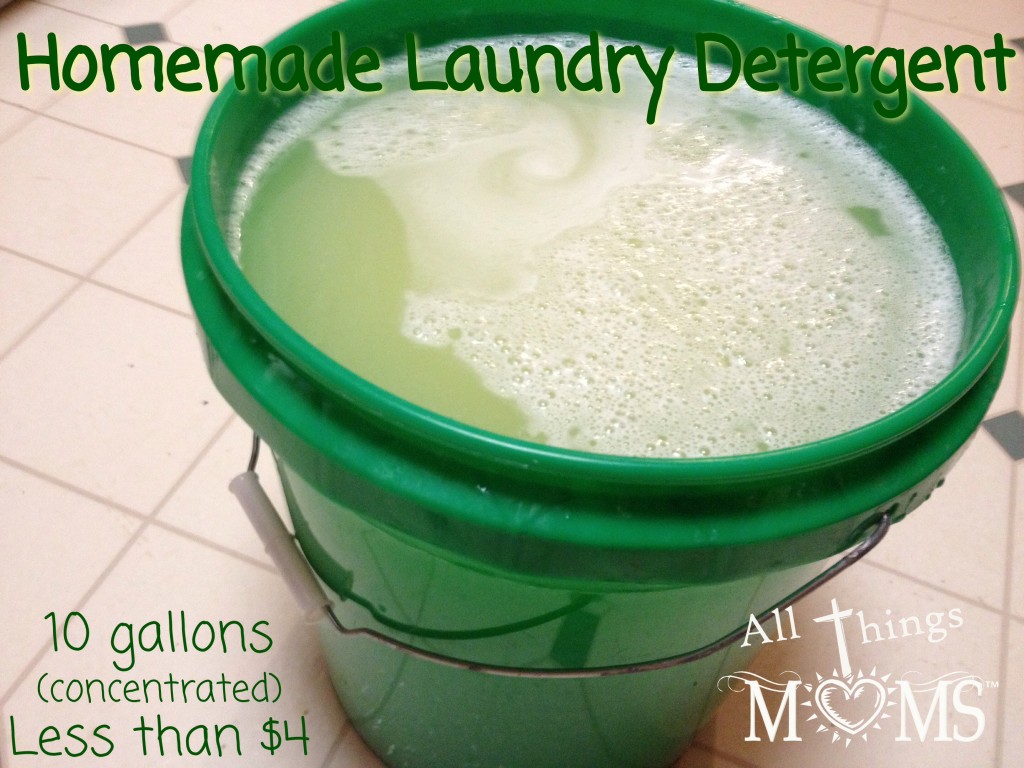 I get a lot of questions about my homemade laundry detergent.  We've been using it for over 3 years and I love it!  It is just as good as what you buy at the store for less than a penny per load! A great way to save money!!
Ingredients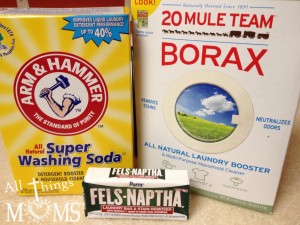 4 cups hot tap water – free
1 Fels Naptha Soap Bar ($.99)
½ cup Borax ($5.39 for 6.5 cup box, cost for amount used in this detergent = .82¢)
1 cup Arm & Hammer Washing Soda ($3.49 for 9 cup box, cost for amount used in this detergent = .38¢)
Total Cost to Make =$2.19. Makes 10 Gallons total (approx. 640 loads if using ¼ cup per load) Cost per load is .003¢! Less than a penny a load!!  From the same grocery store the cheapest per unit bottle of detergent was $11.99 for 150 ounces, you would need to buy 8 ½ bottles of this detergent to get the same amount of laundry done. That's $101.92- which means we just saved $99.73!!
Here's How-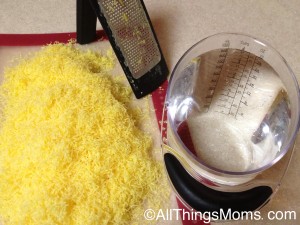 – Grate the bar of soap and add to the water in a large saucepan.  Stir continually over medium-low heat until soap is melted and appears to be completely dissolved.
-Fill a 5 gallon bucket half full with hot tap water. (We used a 5 gallon bucket with a lid from our local supermarket)  Add the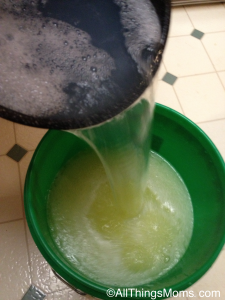 washing soda, Borax, and melted soap.  Stir until all the powder is dissolved.  Fill the bucket to the top with more hot water. Stir, cover and let sit overnight. The detergent will thicken up to a gel consistency. (Stir it up prior to filling your detergent bottle each time)
-Fill a clean, used, laundry soap dispenser half full with your soap and then fill it to the top with water. Shake before each use. This picture was taken just after filling the dispenser, it will gel up a little more than this for the next use
That's it- easy, peasy! We store the 5 gallon bucket in the garage with the lid on and refill our detergent container as needed. Remember – it's concentrate- so always fill the container half way and fill the rest with water. Store your remaining borax and washing soda for the next batch or use them to whip up some more homemade cleaners!
This really is the best detergent! We ran out once in a pinch so I sent my husband to buy some. I couldn't use it fast enough, I couldn't wait to get back to my homemade kind, it takes out our toughest stains! It works in HE appliances and is GREAT on delicates too. Hope you enjoy it!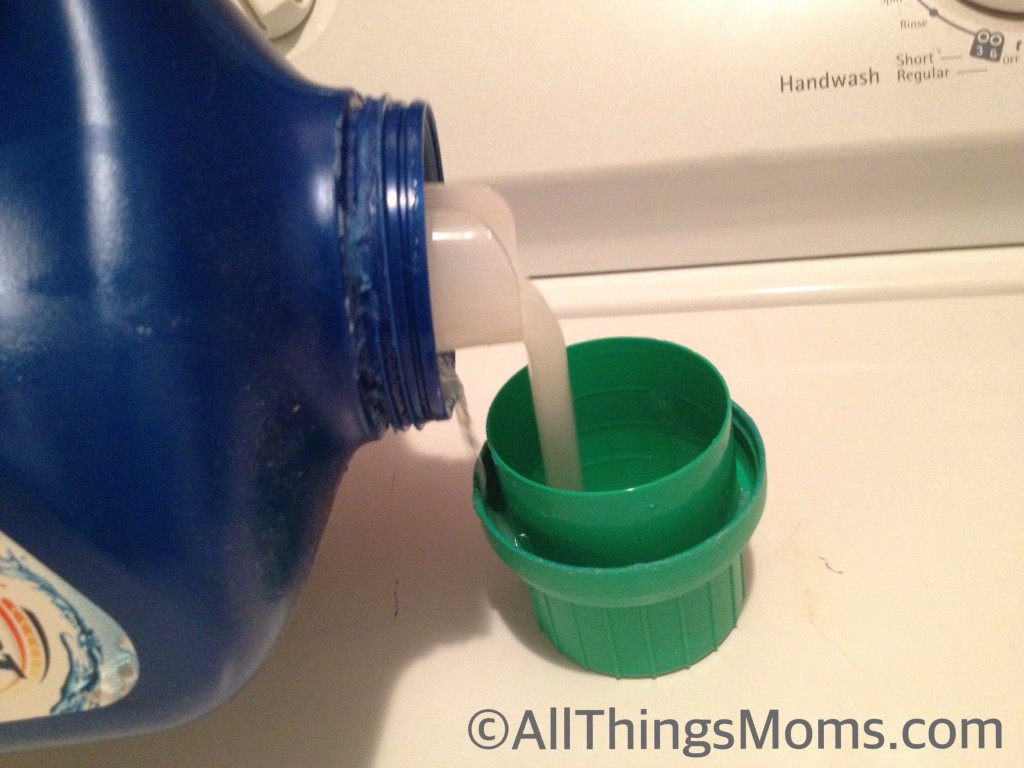 This recipe was originally shared in a post with a few money saving ideas. Since I get so many questions on it, I thought it deserved a post of it's own! You can view the previous post here.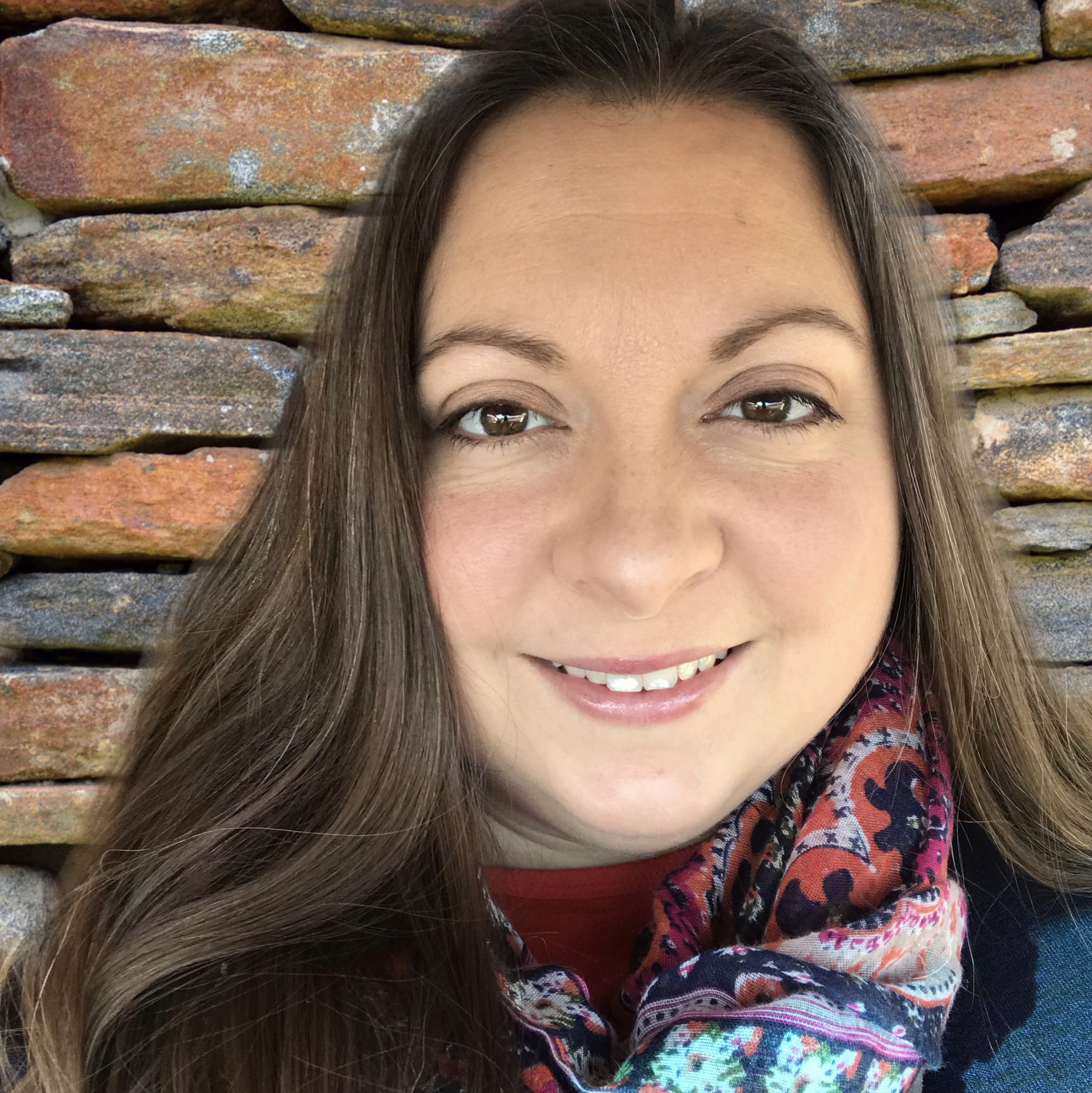 Hi! I'm Paula, a wife and mom by both, birth and adoption. We are a homeschool family and are also therapeutic foster parents. I enjoy spending time with our horses, gardening or going on adventures (usually in our backyard) with my family. We love Jesus and strive to honor Him in all we do. Want to know why I started All Things Moms? >>Read More