Italian Herb and Olive Oil Dip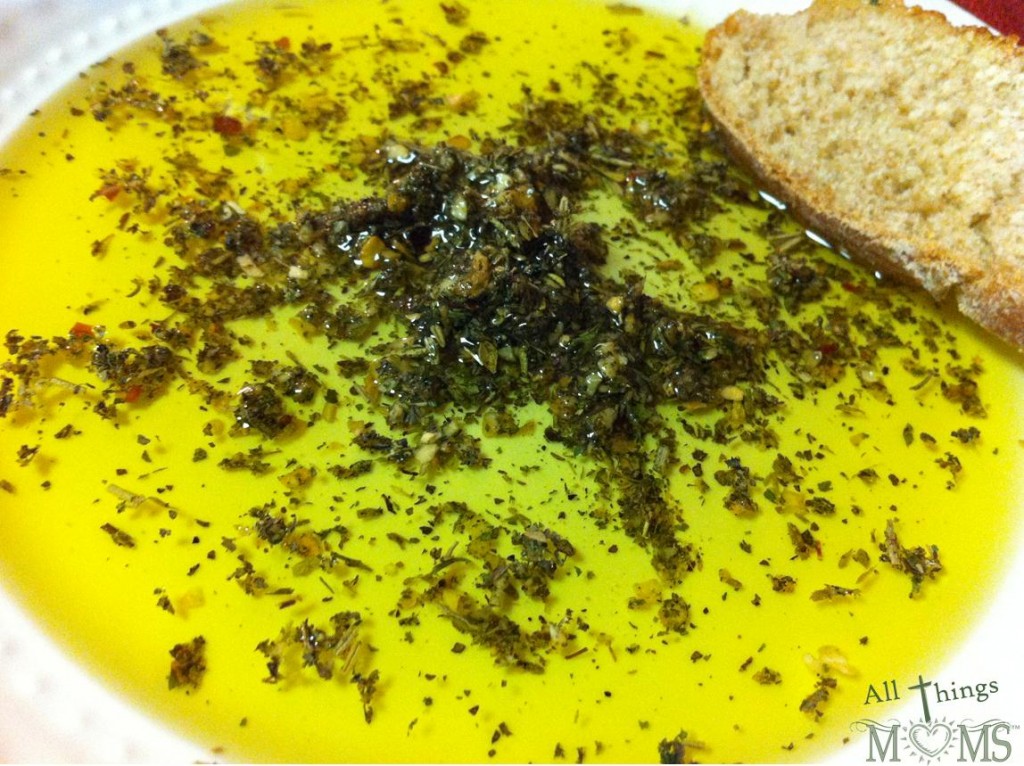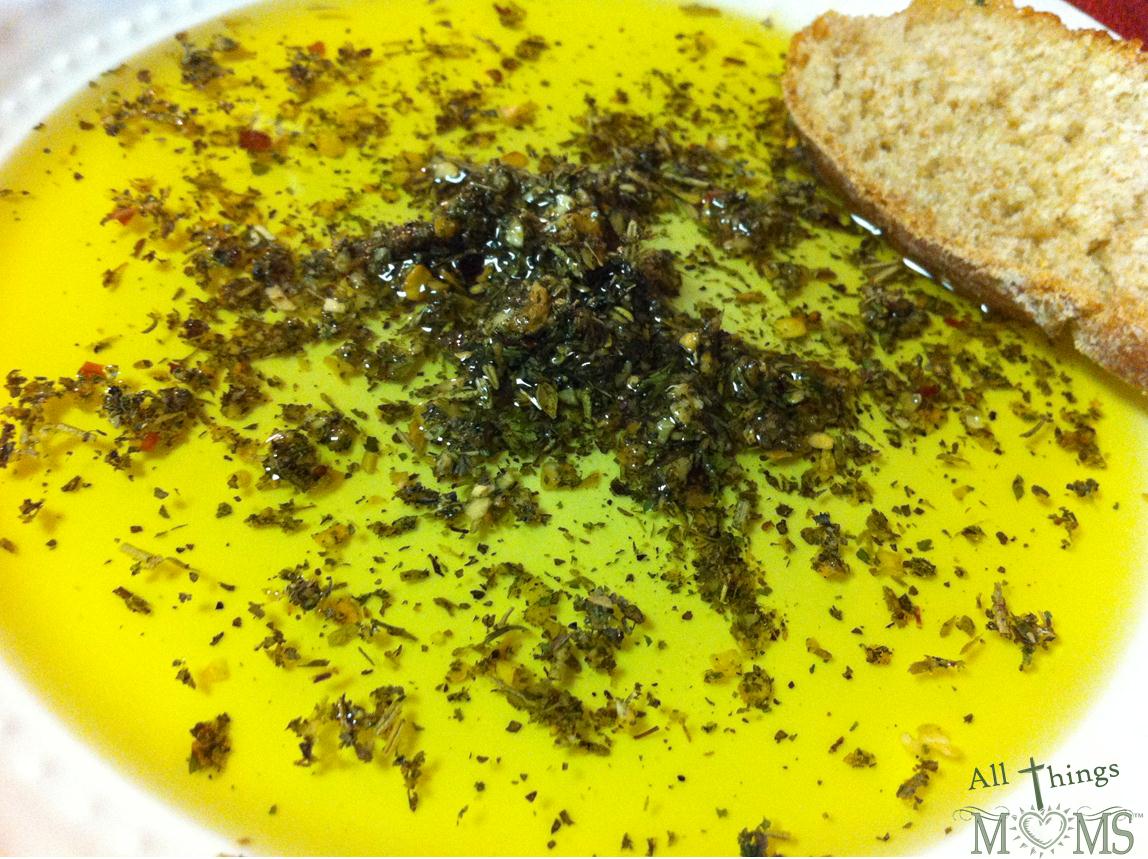 Friday I shared with you the Carrabba's Chicken Bryan that I made for my Mom's birthday dinner. Now, everyone knows you can not have a Carrabba's meal without enjoying some of that delicious herb dip with olive oil.  It's the first thing they bring to you after you sit down to have your meal and boy is it delish! I don't know that we ever have any left to enjoy with our food!
Before we get started with the dip let's talk about the bread and the olive oil. You can't just serve this with any old bread- it tastes best with a nice, fresh baked, artisan bread or french baguette. I made a beautiful stone ground wheat loaf. I can't really take too much credit though, I used the Fleischman's bread kit – you mix the packs in the box together and let it rise. It's really easy and comes together in under an hour. I have tried a few good homemade bread recipes out there and want to try more but for this night the easy stuff won out.  (Plus I got it for next to nothing on sale with a coupon!) You also want to use a nice olive oil with this but that doesn't mean it has to be expensive. I recommend using an Extra Virgin Olive Oil.  Most brands will work although I have noticed that some store brands and are not quite as good.  I used Pompeian, which I buy in bulk for cheaper than the store brands.  Whatever brand you choose, make sure it is fresh. Olive oil that isn't fresh is not good in this recipe.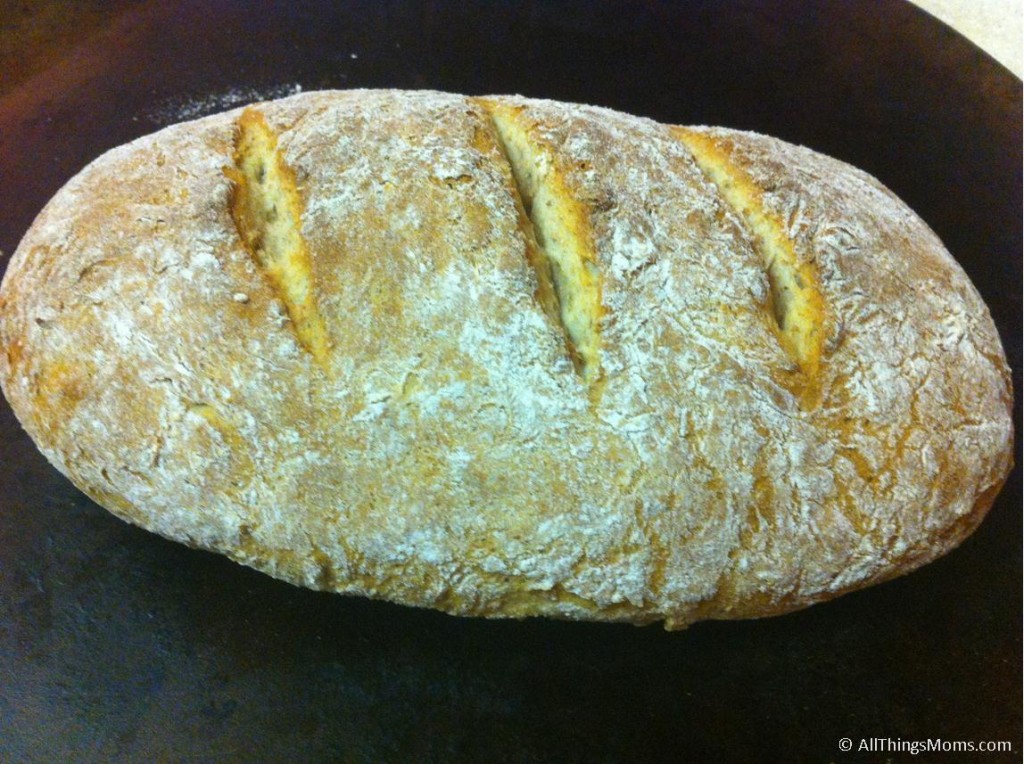 Now that we've covered the basics let's get started on the dip. If you haven't ever gotten to taste this stuff at Carrabba's, trust me when I tell you that you need to make this immediately! It's very easy to put together and really sets the stage for your meal.
Herb and Olive Oil Dip
Ingredients
1 tablespoon dried basil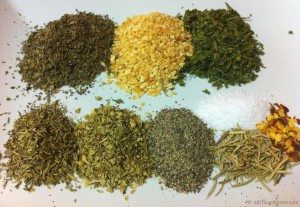 1 tablespoon dried parsley
1 tablespoon minced garlic
1 teaspoon dried thyme
1 teaspoon dried oregano
1 teaspoon black pepper
1/2 teaspoon kosher salt
1/2 teaspoon dried rosemary
1/2 teaspoon crushed red pepper flakes
few drops of lemon juice
Directions
1. Combine all of your ingredients EXCEPT lemon juice.
2. Place in a small food processor or food chopper. Lightly chop until all the ingredients are about the same size.
3. To serve- Take 1/2 tablespoon and place it in the center of a plate. Add 2-4 drops of lemon and mix together. You don't want the mix to be wet- just add enough to make it hold together.
4. Pour 2-3 tablespoons of olive oil on top.
5. Dip sliced bread in mixture.
Enjoy!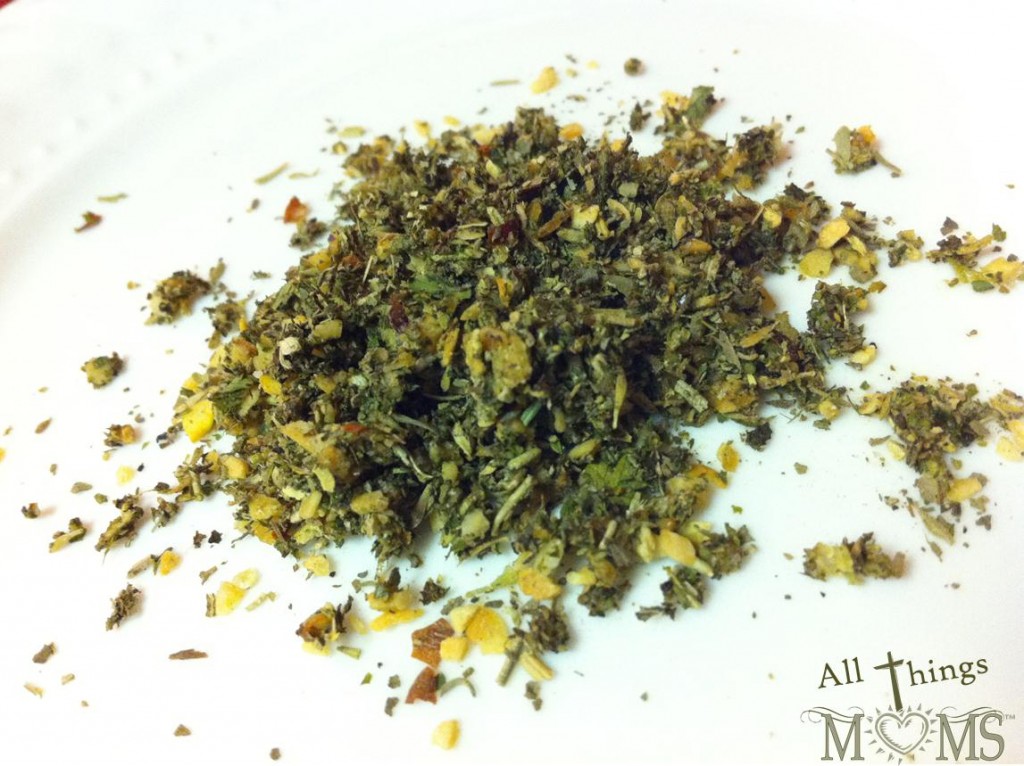 Recipe makes a little less than 1/4 cup
You can double the recipe and store in an airtight container in the pantry with your other spices, to do this make sure you stop at Step 2 – you should not store with the lemon juice added. I made a double batch and stored in a 4 oz jar that once held pimentos. Old baby food jars would also be great to store this in.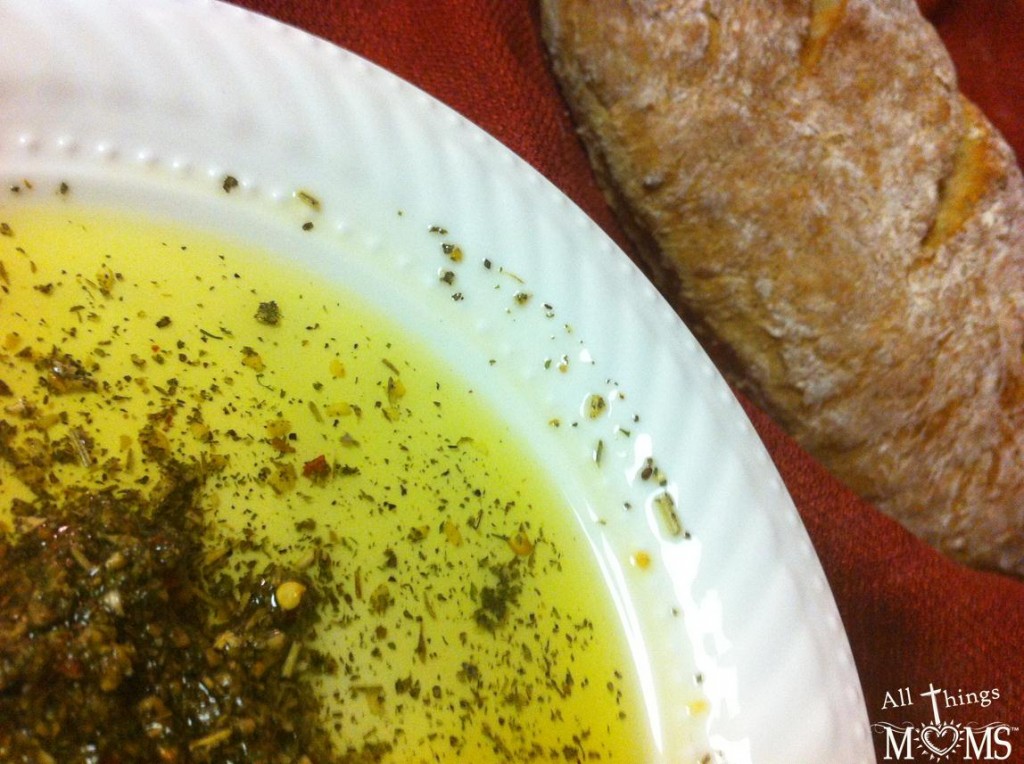 Recipe Adapted from: Food.com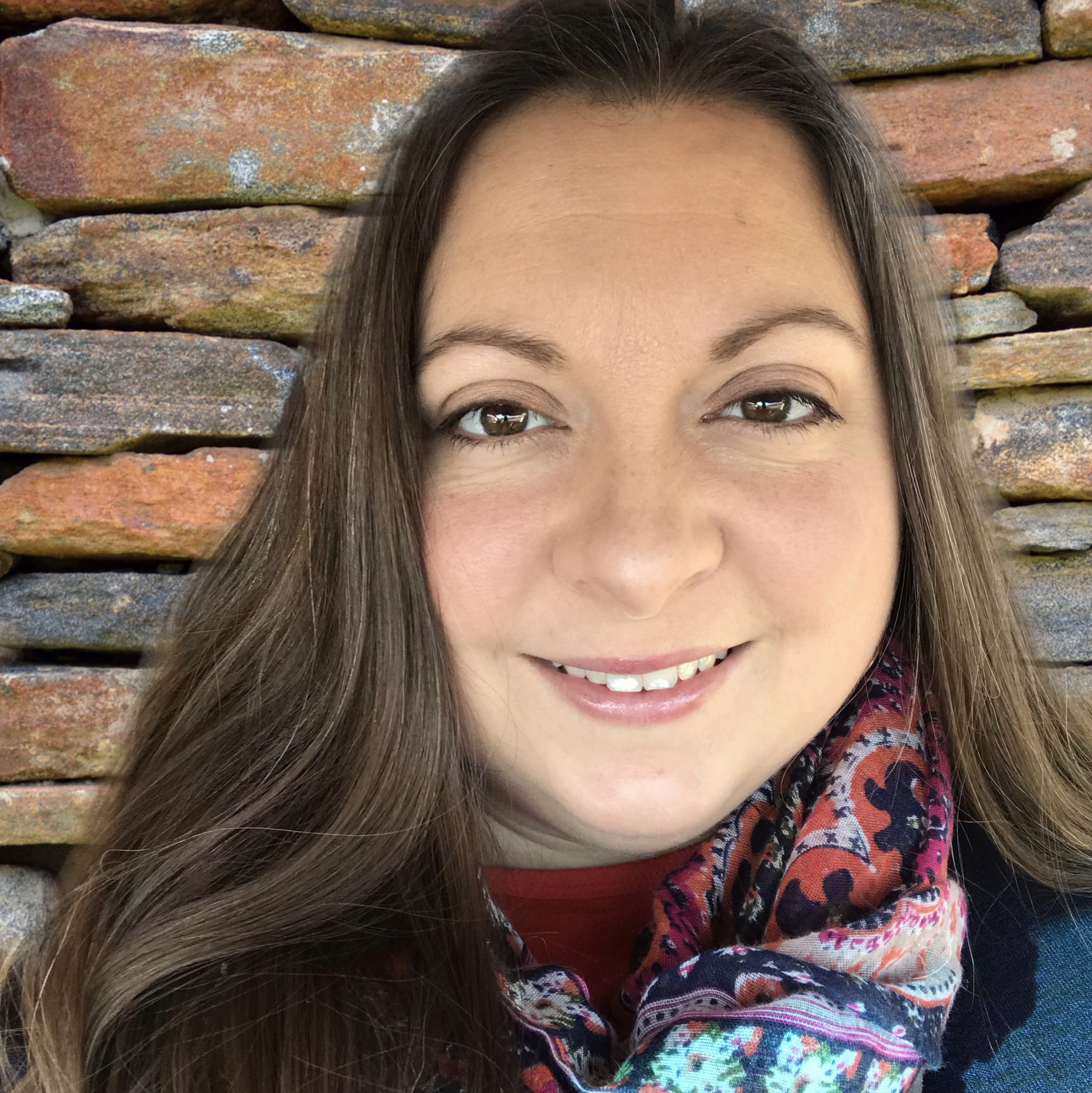 Hi! I'm Paula, a wife and mom by both, birth and adoption. We are a homeschool family and are also therapeutic foster parents. I enjoy spending time with our horses, gardening or going on adventures (usually in our backyard) with my family. We love Jesus and strive to honor Him in all we do. Want to know why I started All Things Moms? >>Read More