Leaf Rubbing Lesson Plan
This page may contain affiliate / referral links. See Disclosure for more info.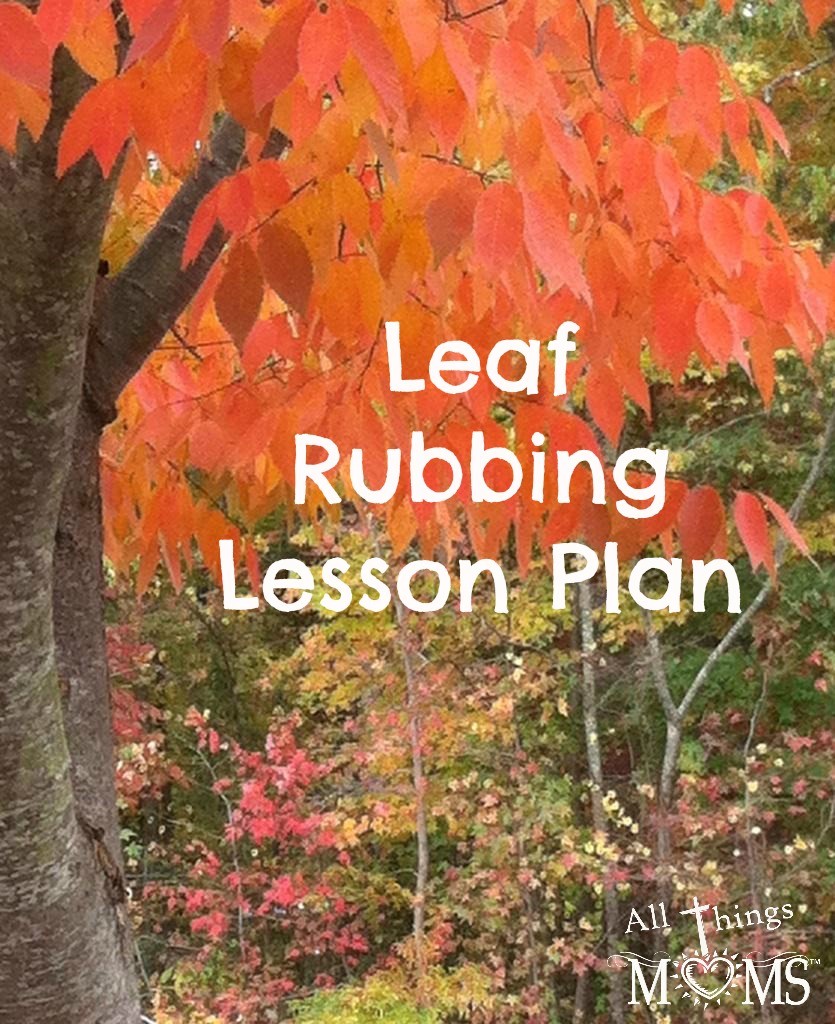 It's a beautiful fall day.  You know the kind where you can feel the warm sun shining on your back and brightly colored leaves adorn the trees and the ground.  The kind that makes the kiddos antsy, and if we're honest, even moms anxious to get out of the house and enjoy the day.
But… there is still school work to be done.
No problem!  Take the kids outside for a treasure hunt aka nature walk. Take a bag to collect your treasures in, or give each child a bag to gather their treasures.  Walk in your own yard, your neighborhood, or get really crazy and pack snacks and go to a nearby park. The walk can be as short or long as you want it to be…just get outside and enjoy the day.
Ask each child to collect several different colored leaves.  As they pick up leaves off the ground have them search for the tree with the same type of leaves.  And while they are wandering around the trees ask them to be on the look out for acorns, nuts, pinecones or even small rocks.
Try to identify the types of trees that you see.  Take a field guide such as The Concise Tree Guide
with you if you need help or plan to check the internet later to help you identify the tree.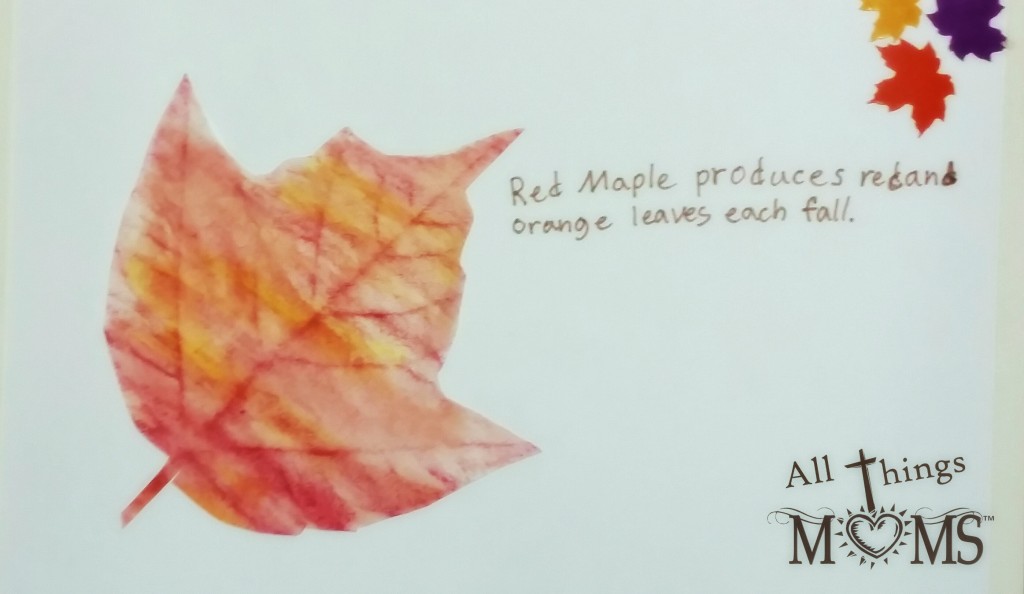 Once you get back home, you can make leaf rubbings.  Simply lay the leaf on the table and cover with a white sheet of paper. Then take a crayon or colored pencil to rub back and forth across the paper revealing the outline and the vein pattern of the leaf.  Try to use colors similar to the colors of the actual leaf.
For a more artsy experience, use watercolor pencils in several colors.  If  you use the watercolor pencils, you can take a brush with a small amount of water and lightly brush across the leaf to blend the colors. (The examples shown in this post were done with watercolor pencils.)
Let them try to cut around the outline of a couple of their leaves, and mount onto brightly colored construction paper.  Let them add fall stickers if you have any on hand.
NOTE to perfectionist moms -(you know who you are)        
Do not, I repeat, do not spoil this learning experience by expecting perfectly cut leaves, or perfectly colored leaves or perfect penmanship. Don't even expect all the kids to behave perfectly during your walk.  Repeat after me, this is the way they learn and it's gonna be messy and that's OK.  Got it?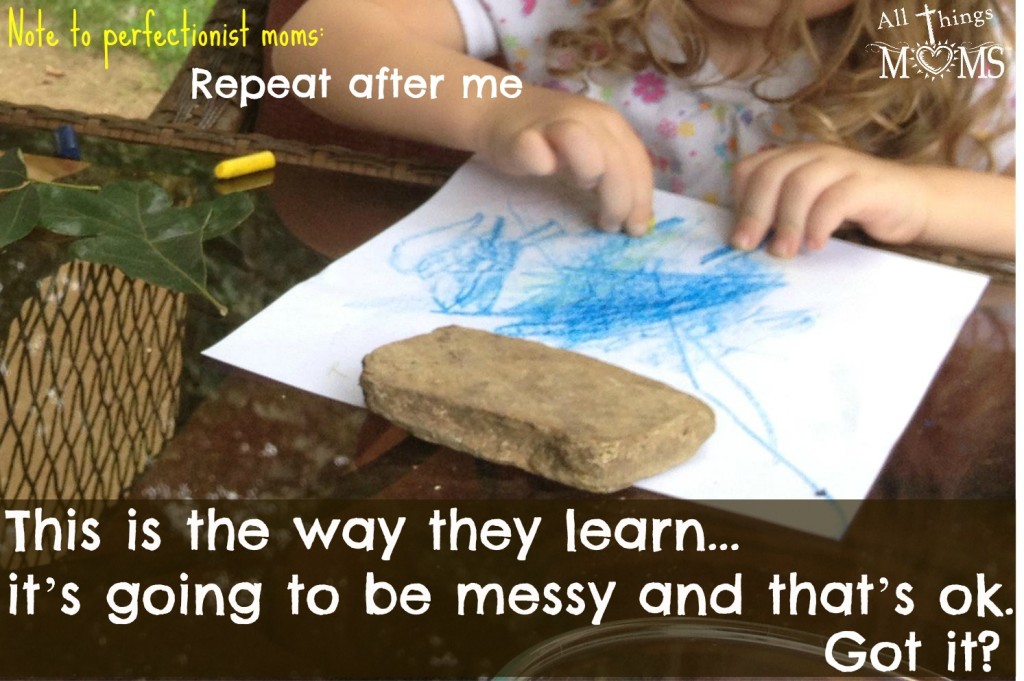 The leaf rubbing can also be put into a nature journal.  If it is being added to a nature journal be sure to label the type of leaf and maybe tell something about the type of tree, too.   You may even want to add a Bible verse to your project.
Then pat yourself on the back, you've just covered art, science, critical thinking skills, gross motor skills, fine motor skills and journaling all in one fun, if impromptu, lesson plan!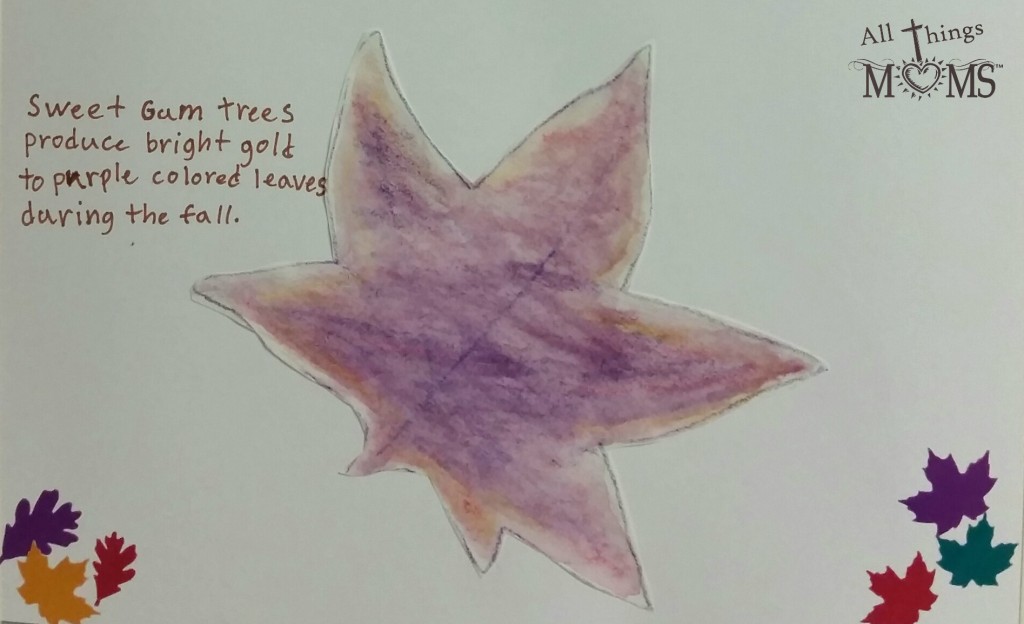 I'm a wife and mother of four homeschool graduates. I enjoy walking, reading and writing. I also love to do almost anything creative from taking photos to painting furniture. I'm an imperfect mom with a less than perfect family learning to walk by faith in Jesus through life's daily challenges. >>Read More