Comfort Food, In a Bowl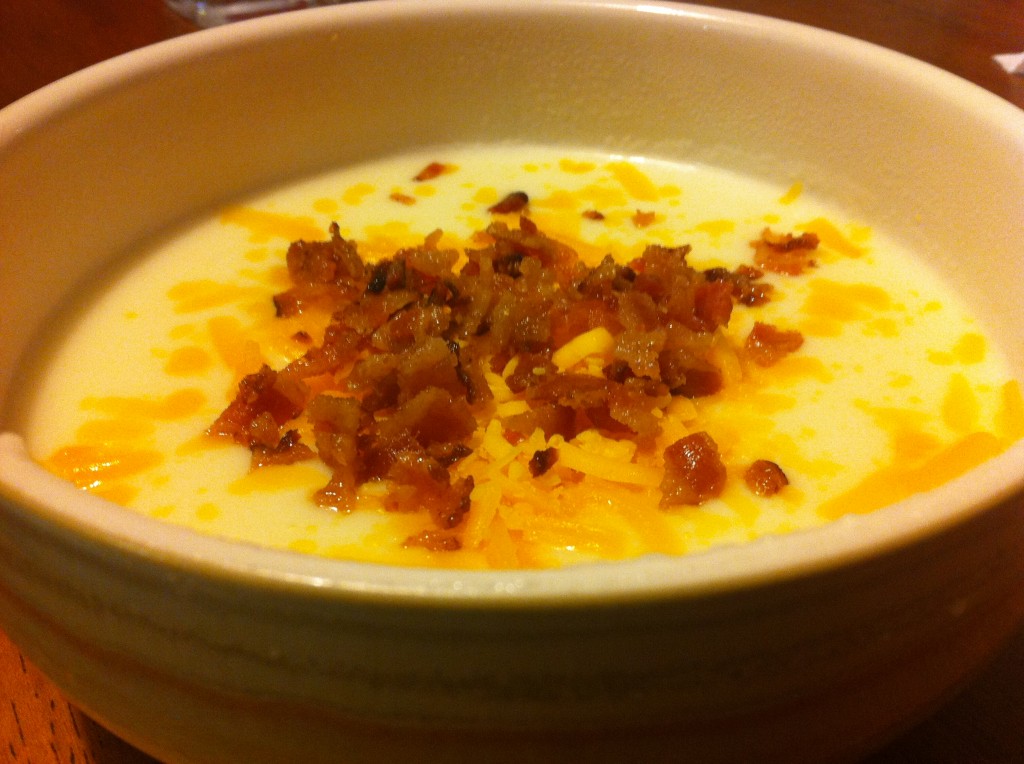 There's something about a baked potato that is just comforting to me.  When I was pregnant with our daughter I had horrible morning(noon, midday, and night) sickness.  During this time my love for potatoes grew even more, no matter how bad I felt, I could always have a baked potato.  I practically lived off of them, and yet I never got tired of them.  Last week I needed some comfort! I had a sick toddler, a broken computer, heavy workload, and the usual things that needed to get done around the house. I found myself standing in the kitchen looking in the fridge trying to decide what to do for dinner. I was thinking soup would be best for my daughter but craving the comfort of my favorite food when I realized- I don't have to compromise! I can have them both!!
While I've always been a fan of baked potatoes, I'm not really a big fan of soup. All of that changed with this soup. It has everything comforting that I love about a baked potato and more!  As a bonus this recipe is better for you than a traditional loaded baked potato soup too!
Loaded Baked Potato Soup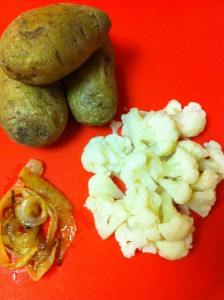 Ingredients
2 large russet potatoes, washed and dried
2 cups cauliflower florets
1/2 sweet vidalia onion
1/2 tsp olive oil
1 1/2 cups fat free chicken broth
1 1/2 cups reduced fat milk
1/2 cup light sour cream
salt/pepper to taste
bacon (cooked, crumbled) and cheese for topping
Directions
1.  Preheat oven to 400 degrees Farenheit.   Cut onion into rings and drizzle with olive oil. Roast until onions are translucent and golden. Set to the side.
2. Wash potatoes, poke holes in them and cook in the microwave 4-6 minutes until tender.  Cool and Peel the potatoes. You can also cook these in the oven if you prefer.
3.  Steam cauliflower until tender. I used frozen cauliflower florets for this recipe.  If you don't have a steam basket or you're in a hurry you could use a Steamfresh bag of cauliflower.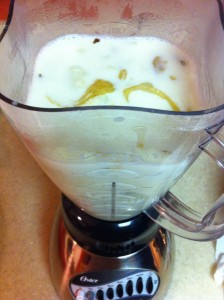 4.  Once cauliflower is tender, drain and return to the pot on medium heat. Add chicken stock, milk and potatos and bring to a boil.
5.  Pour into a blender (or use and immersion blender), add onions and sour cream an puree until smooth and creamy.
6.  Pour back into the pot, salt and pepper to taste and cook 5-10 more minutes.
7.  Ladle into a bowl and serve with shredded cheese and bacon on top.
You don't have to stand over the stove to get fresh bacon! Just lay your bacon out in a pan with a 1 inch rim and bake in the oven while the onions are roasting. You don't have to flip it or anything just watch it and remove once it gets nice and crispy. Remove the pan from the oven and lay the bacon out on a plate with paper towels to absorb the extra grease.  I line my pan with aluminum foil, let the bacon grease sit until it has solidified, and wrap it up and throw away- no greasy mess!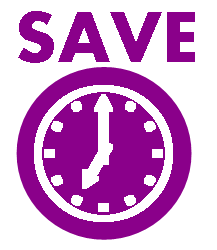 While your roasting the onion for this recipe, go ahead and roast 1-2 onions. They will go great on a Philly Cheese steak, Patty Melt, or Sandwich Wrap. You can store them in the fridge for 2-3 days in a sealed container.
 Recipe Adapted from: SkinnyTaste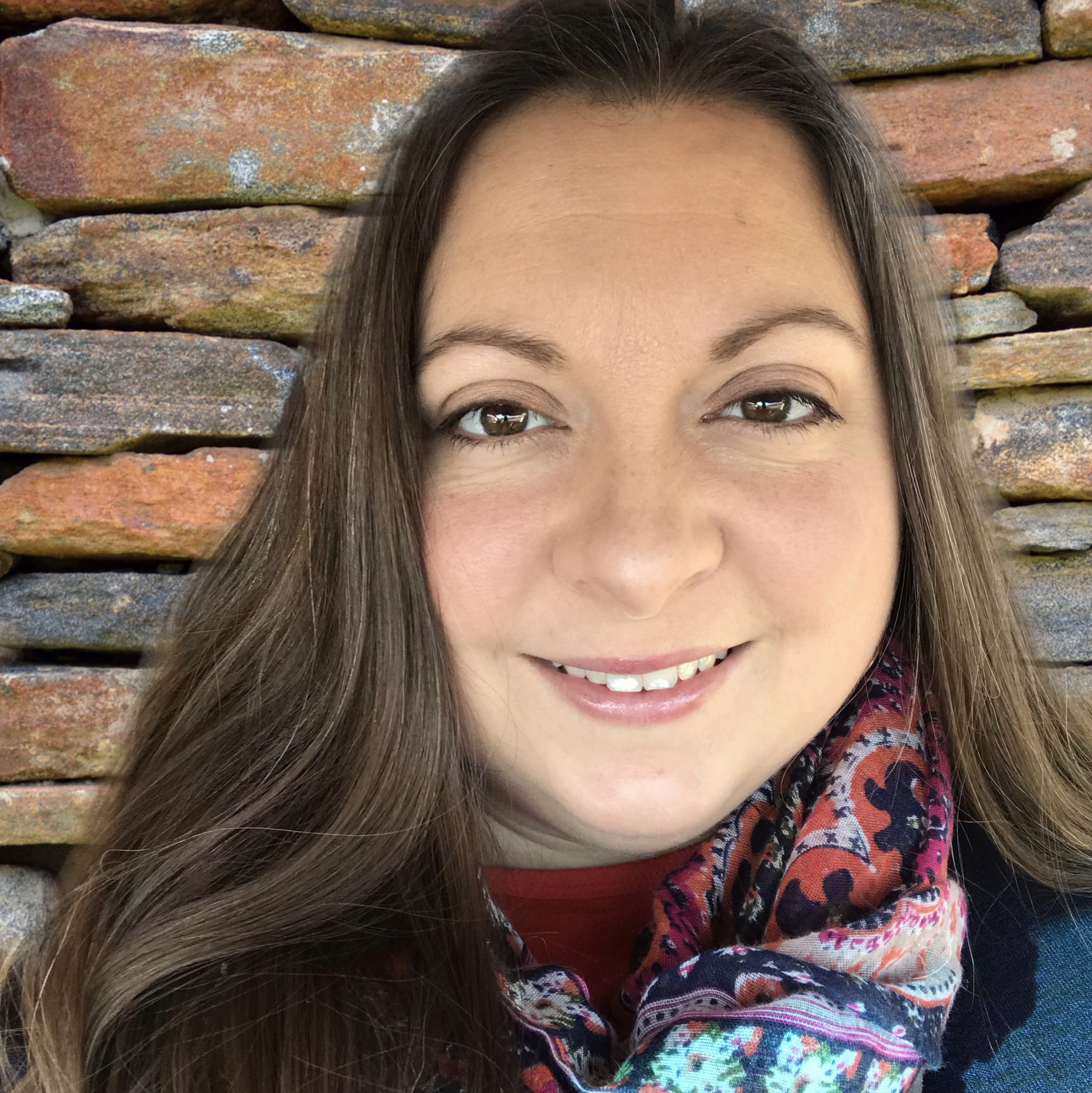 Hi! I'm Paula, a wife and mom by both, birth and adoption. We are a homeschool family and are also therapeutic foster parents. I enjoy spending time with our horses, gardening or going on adventures (usually in our backyard) with my family. We love Jesus and strive to honor Him in all we do. Want to know why I started All Things Moms? >>Read More