Money Saving Tricks With Your Halloween Treats
This page may contain affiliate / referral links. See Disclosure for more info.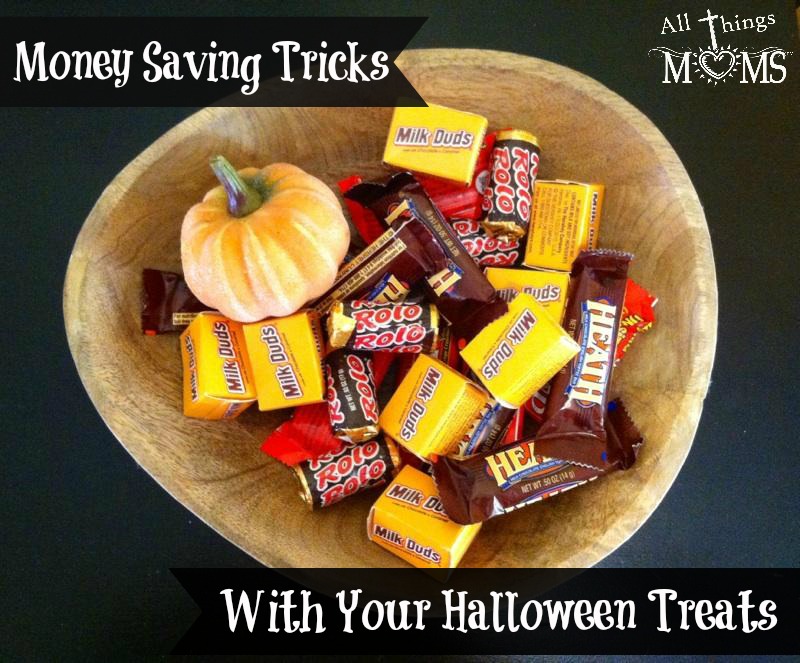 It's not too early to be thinking about Halloween…even those of you who don't go trick or treating, probably go to a fall festival or some similar event where the end result is the same.  Your child comes home with a bag of candy roughly equal to half his or her own weight.
So, what's a good mom to do when faced with the dilemma of letting your child consume enough candy to send them and you right over the edge?
Answer:  Let your little munchkin have a few pieces of candy that night.  After they are safely asleep, you raid their candy and stash some away for….no, not for yourself…for their Christmas Stocking!
That's right pull out some of the good chocolate candy, gum, or lollipops that don't have a Halloween themed wrapper and put it in your very best hiding spot to save for Christmas stocking.
Don't take enough that they know you've raided their candy.  Just enough to keep yourself from spending a small fortune on their stocking candy. Remember you aren't stealing their candy you are reallocating some of it for later consumption.
As soon as the Christmas candy canes comes out, pick up a couple of inexpensive boxes  and your Christmas stocking candy is done!
In the unlikely event that your kids don't get enough candy to produce 3 new cavities, never fear, you can still save money on candy by hitting the stores early on the day after Halloween to pick up candy while it's 50% off.
BTW, if you happen to run across M&M's, Snickers, Heath Bars, Rolos, Reese's Pieces, or Peanut Butter Cups with Halloween wrappers that are 50% or more off, BUY THEM NOW!
Why?  Because you can mix any of the candy pieces into home made or boxed cookie mixes, for a quick Christmas cookie.  Rolos & Reese's Peanut Butter cups also work great with cookie dough.  Just roll cookie dough into balls and place in mini muffin pan, immediately after baking press the Rolos or Peanut butter cups into the cookie. Let it cool completely before removing from the pan.  Any of the other candies can be chopped and added to brownie mix or cookie mix for an extra indulgent treat.
I'm a wife and mother of four homeschool graduates. I enjoy walking, reading and writing. I also love to do almost anything creative from taking photos to painting furniture. I'm an imperfect mom with a less than perfect family learning to walk by faith in Jesus through life's daily challenges. >>Read More