No Bake Energy Bites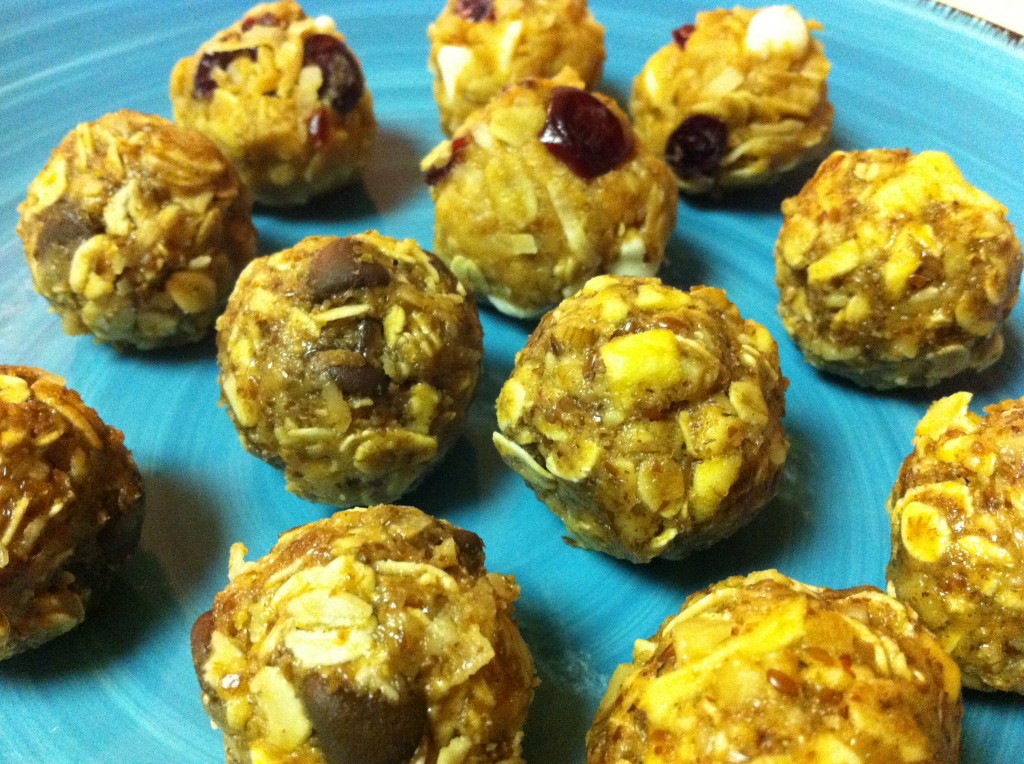 First, I want to apologize. I'm sorry I haven't been keeping the posts updated lately! When I started this blog it was my plan to write new posts at least 4 days a week. It was not my plan to get sick and feel completly drained of all energy, I should have been better prepared, and for that I am sorry! I am finally feeling better now, Praise the Lord, and starting to get my energy level back up. Speaking of energy-  wouldn't it be great to have a quick, easy, recipe that you could prepare to give you an extra boost without taking any extra energy to make? Ooh, and what if it could be healthy for you but taste kind of like those delicious no bake chocolate cookies that are so bad for you?  While we're making a wish list, let's make it so versatile you can easily switch out the ingredients and get a whole new flavor combination. Oh wait, this is no wish list, this is an actual recipe- No Bake Energy Bites! YES!!
I first had these delicious little treats this weekend. My oldest niece came over for some girl time, we made these and chicken tenders using my homemade chicken nuggets recipe. It was a lot of fun just getting to hang out in the kitchen together, talk, and watch a movie. It's something I hope we take time to do more often. I am so blessed to have a niece who is so close to me in age and is such a great friend, I don't get to tell her enough but I thank God for the blessing she is in my life. Years ago, when I was going through a tough time she prayed for me. I had turned away from God, angry at the circumstances in my life and was selfishly taking my hurt out on the ones that loved me. It wasn't until a couple of years ago that I even knew, a friend and her former youth leader told me that as I was going through this tough time in my life my niece would come in every week and ask for them to pray for me. Those prayers and the prayers of others saved my life.  I saw my circumstances for what they were and saw myself for what I was, a sinner.  I repented, turned my life around and gave it all to God.  In a time where I should have been someone for her to look up to, she became someone I look up to.  She is an awesome person and the fact that she shared this recipe with me, well that just makes her even more awesome!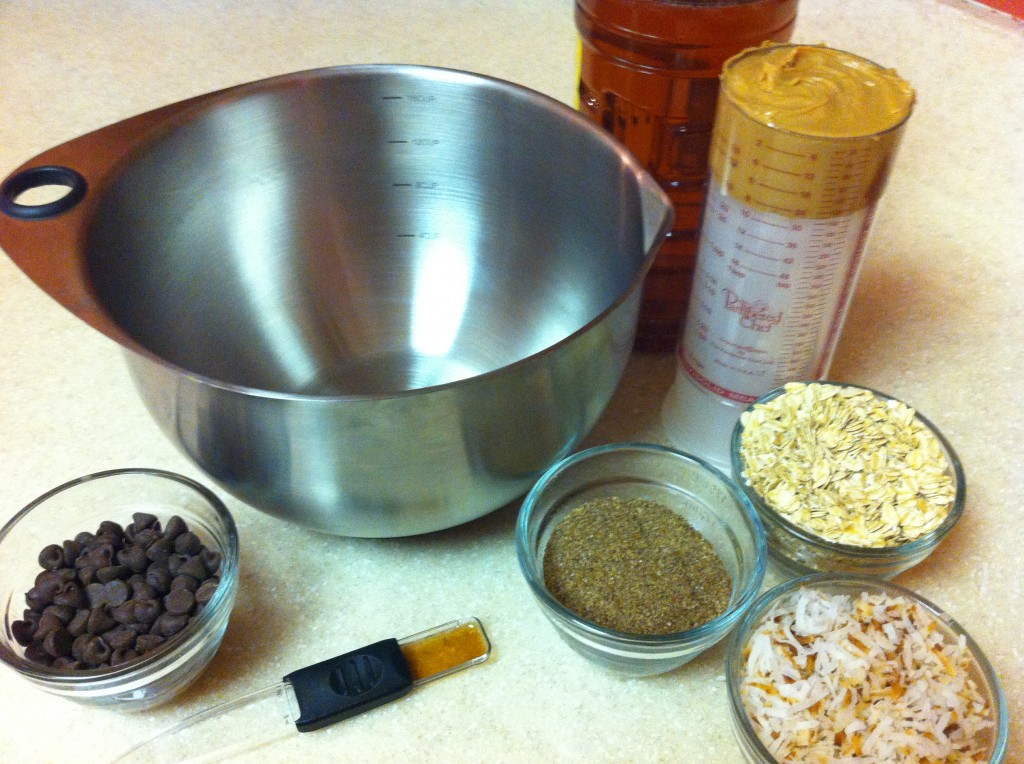 No Bake Energy Bites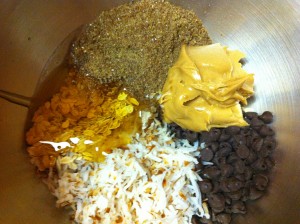 1 cup dry oatmeal (I used old-fashioned oats)
1 cup toasted coconut flakes
1/2 cup chocolate chips
1/2 cup peanut butter
1/2 cup ground flaxseed
1/3 cup honey
1 tsp. vanilla
1. Mix all ingredients together in a medium bowl.
2. Cover and let chill in the refrigerator for at least half an hour.
3. Use your hands to roll the mixture into balls once chilled. Balls can be whatever size you prefer. Mine were about 1″ and the recipe made about 25-30 balls.
These can be stored in an airtight container and keep in the refrigerator for up to 1 week.
I also made 2 other flavor combinations- Apple Cinnamon and Cranberry White Chocolate.  Both were delicious! I asked my husband which was his favorite and he very quickly replied: "For breakfast Apple Cinamon, For dessert the chocolate ones, for all day snacking the Cranberry White Chocolate." He's got it all figured out, lol!
Apple Cinnamon- Use 1 cup of chopped dried apples in place of coconut, use  ½ cup chopped walnuts in place of chocolate chips, add ½ teaspoon cinnamon or Cinnamon Spice blend
Cranberry White Chocolate- Use  ½ cup white chocolate chips in place of regular chocolate chips, use 1 cup cranberries in place of toasted coconut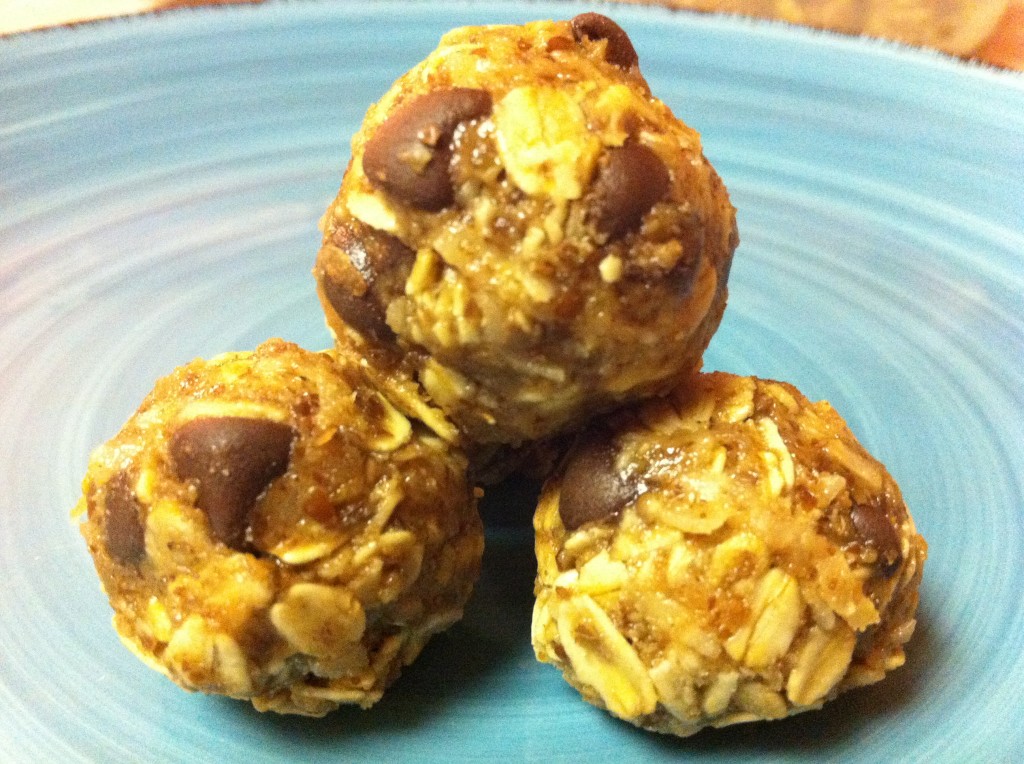 This recipe is a great base to get creative with, you can substitute just about all of these ingredients to create limitless possibilities. Here are some other substitution ideas:
Peanut Butter- any nut butter (almond butter, sunflower seed butter, etc)
Flax Seed- Wheat Germ
Honey- Possibly Agave, however, I recommend sticking with honey because it's thick and really helps hold it together
Chocolate chips- Other chips- White chocolate, dark chocolate, butterscotch, etc.
Coconut- chopped almonds, walnuts, pecans, pumpkin seeds or sunflower seeds
You could also use chopped dried fruits and berries (apricots, dates, raisins, cranberries, cherries, etc) Just make sure you keep the wet/dry ratio the same. If they seem to dry, add more honey or peanut butter and if they seem to wet add more oats or other dry ingredient.
Recipe Source:  Gimme Some Oven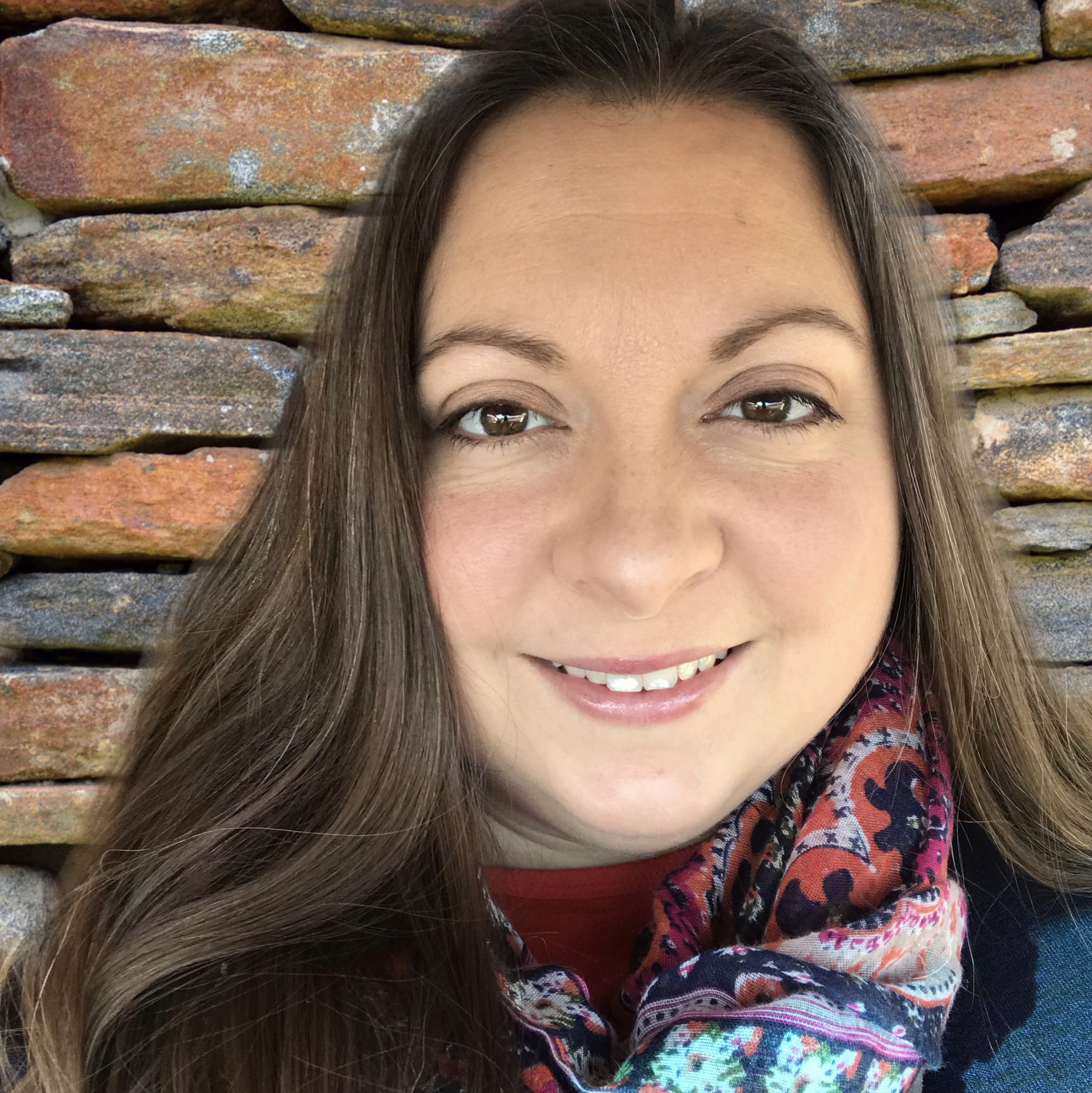 Hi! I'm Paula, a wife and mom by both, birth and adoption. We are a homeschool family and are also therapeutic foster parents. I enjoy spending time with our horses, gardening or going on adventures (usually in our backyard) with my family. We love Jesus and strive to honor Him in all we do. Want to know why I started All Things Moms? >>Read More