Organizing Your School Space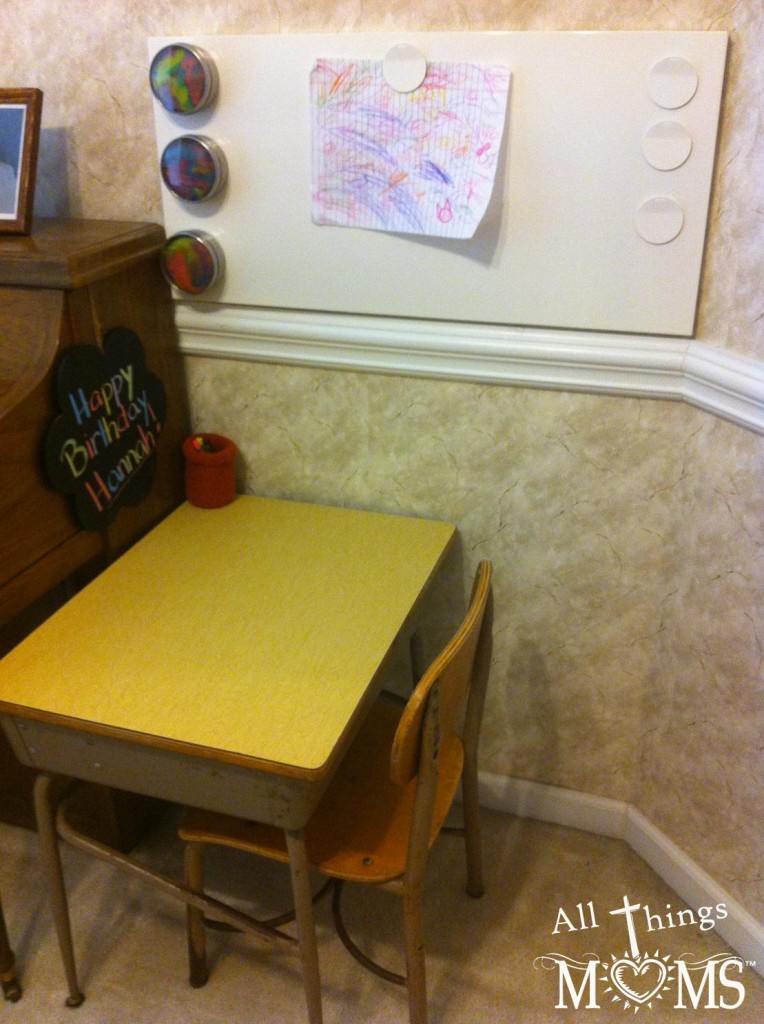 While we are on the topic of back to school let's talk about organization. I haven't even started to home school yet but I know it is going to take some organization! I want to get off to a good start by having a special place for all school, arts and craft things. For my daughter's 2nd birthday we took some very inexpensive items, combined with some re-purposed items and made her a special place to learn, play and create. I love the results! I hope you can take away some good ideas for your creative space.
Let's start with my favorite- Magnetic Play Dough Tins!
These are actually air tight spice containers from IKEA. They come in a 3 pack for $4.99. The magnet on the back is almost as large as the jar so you don't have to worry about little ones getting it in their mouths. We originally bought these to store paperclips and office supplies in – this is a much better use! Perfect fit for a batch of homemade play dough! I started out with 3 of these and have already gone back for another pack!
This Magnetic Board is the perfect holder for her play dough and artwork.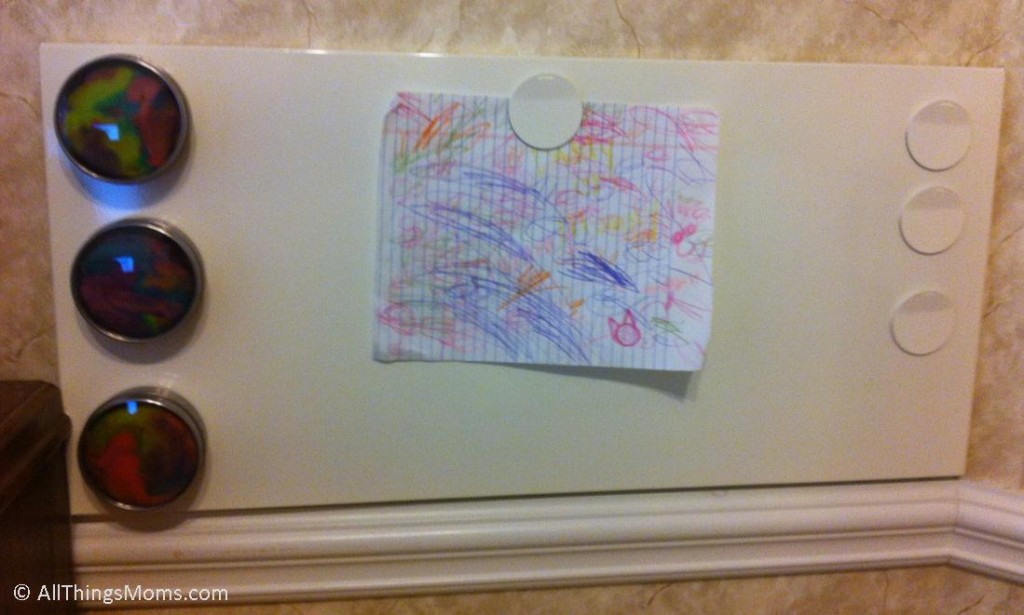 This is also from IKEA and can be hung vertical or horizontal depending on the space. We originally purchased this for an office wall but never got around to it. It was the perfect fit for her desk space! These are $12.99, which is pretty affordable for it's function. We also use this as a dry erase board, although, I should admit the package says it is not to be used as that. I'm not really sure why- maybe that is more pointed for the stainless version. I guess we are living on the edge but I have not had any problems with it so far and worse case scenario I've got my handy-dandy magic eraser ready 🙂
To hold artwork we use these cute little magnets. They are large with a raised grip so her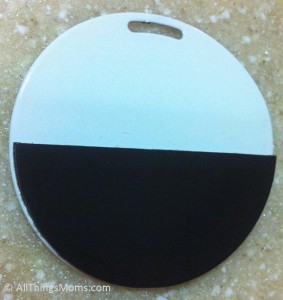 little hands can easily grip them and hang her own pictures. I also don't have to worry about her getting them in her mouth. They come in a 4 pack from IKEA for $2.99 and are available in 3 different colors. This was part of our office purchase months before I was even thinking about quitting work. (I love how the Lord provides for us when we don't even know it! Turns out my procrastination was part of His big plan!)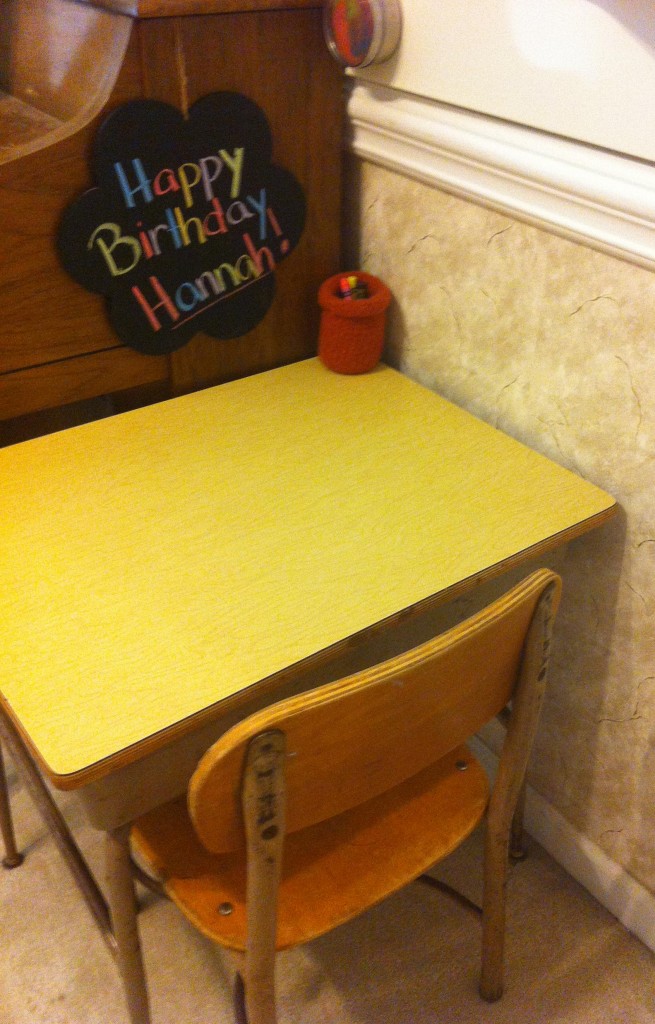 The desk I found at a school yard sale fundraiser. It had a lot of marker on it so I offered them $5 and they took it! I was able to get it cleaned up nicely with a magic eraser and some clorox clean up wipes. I still hope to spray paint the metal pieces some day so it looks nicer but it would not have had time to dry for her birthday and I haven't thought about it since. Sounds like a good winter project to me 🙂
The desk is up against our piano and I used a screw inside the piano as a holder for the cute little flower shaped chalk board. I found it in the clearance bin at target for .30 cents! I always knew it would come in handy!
Inside the desk I used several different storage containers to hold crayons, chalk, and play dough toys. I even recycled a little potpourri box to hold colored pencils. On top of the desk I placed some crayons in a cute little felted jar cover. This was made by my sister and given to me around a cute little jar with some chocolate covered peppermint sticks and other yummy coffee treats. I like to use it to hold her crayons that she uses most because it won't break if she drops it and it's lightweight with no lid so she can easily get to them when she wants to color.
You should have seen her face light up when she saw this! It made me so happy – she loves her desk! It is the perfect place for playing and preschool fun now but it will also grow with her as we start school in a few years.
Here's a quick look at how I organized the rest of my craft/office/school room: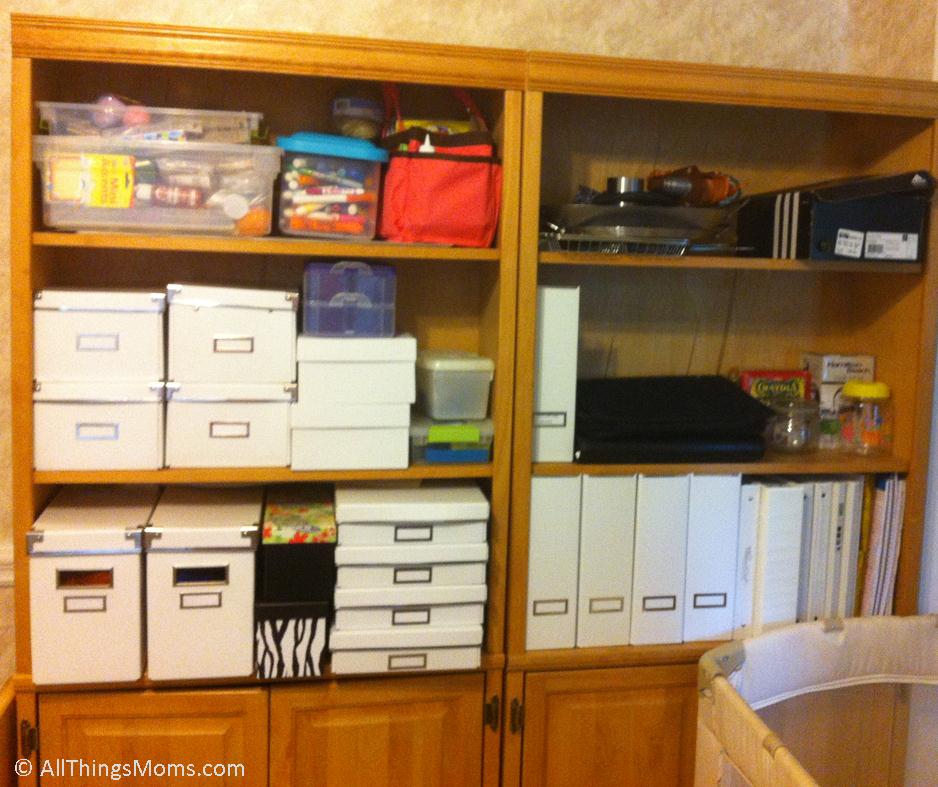 I would love to have big cabinets with doors to cover all my stuff but since I don't I used paper and media organizers from IKEA to neatly hide everything. This also allows me to keep like items together. I have a box of beads, a box of hair bow stuff, several boxes of ribbon, a couple of boxes of yarn, some boxes of fabric and some boxes of other various craft/school supplies like stickers, feathers, pompoms, glitter glue, etc. I know, I know- I may have a crafting addiction. My husband has already shown me this and I am in recovery! No new purchases in almost a year! I had good intentions of making something with all this stuff when I bought it but never got around to it. (Can't wait to see what God has in store for it!) I use the magazine holders for magazines, recipes, and construction paper. This frees up my covered space for things I want to keep my daughter out of – like the sewing machine or my Pampered Chef stuff.
As you can see I still have few "loose" items that need a home but I think I'm off to a pretty good start! Soon those shelves will be full of school books and the desk full of ink pens and writing papers (sigh) and I will be glad I got off to an early start with organizing our school space!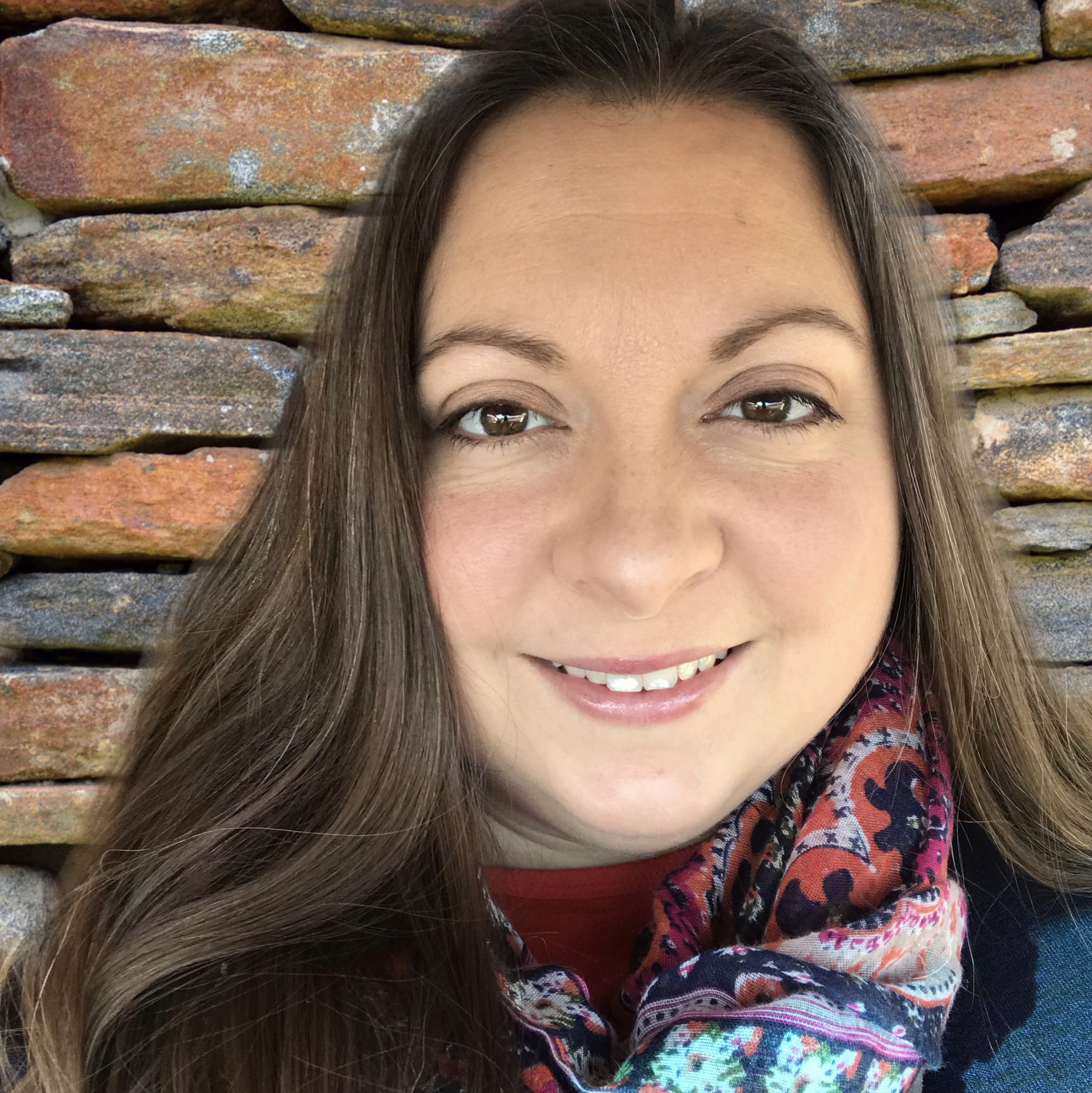 Hi! I'm Paula, a wife and mom by both, birth and adoption. We are a homeschool family and are also therapeutic foster parents. I enjoy spending time with our horses, gardening or going on adventures (usually in our backyard) with my family. We love Jesus and strive to honor Him in all we do. Want to know why I started All Things Moms? >>Read More