Presence not Presents…What our kids really need for Christmas
This page may contain affiliate / referral links. See Disclosure for more info.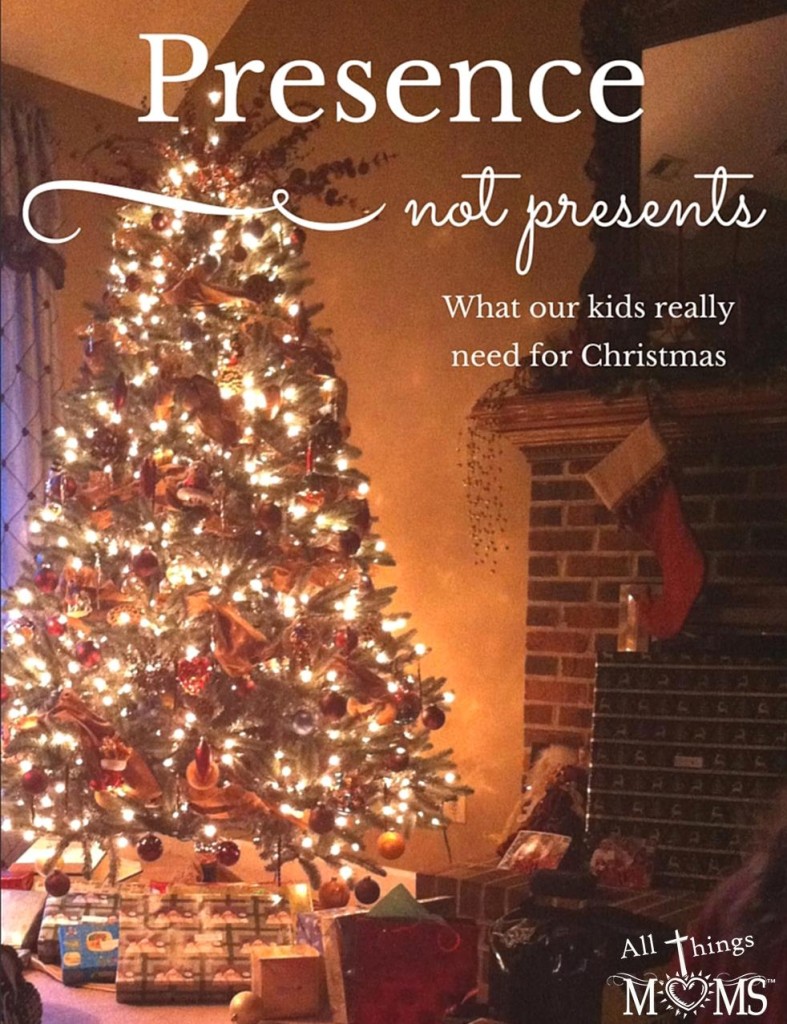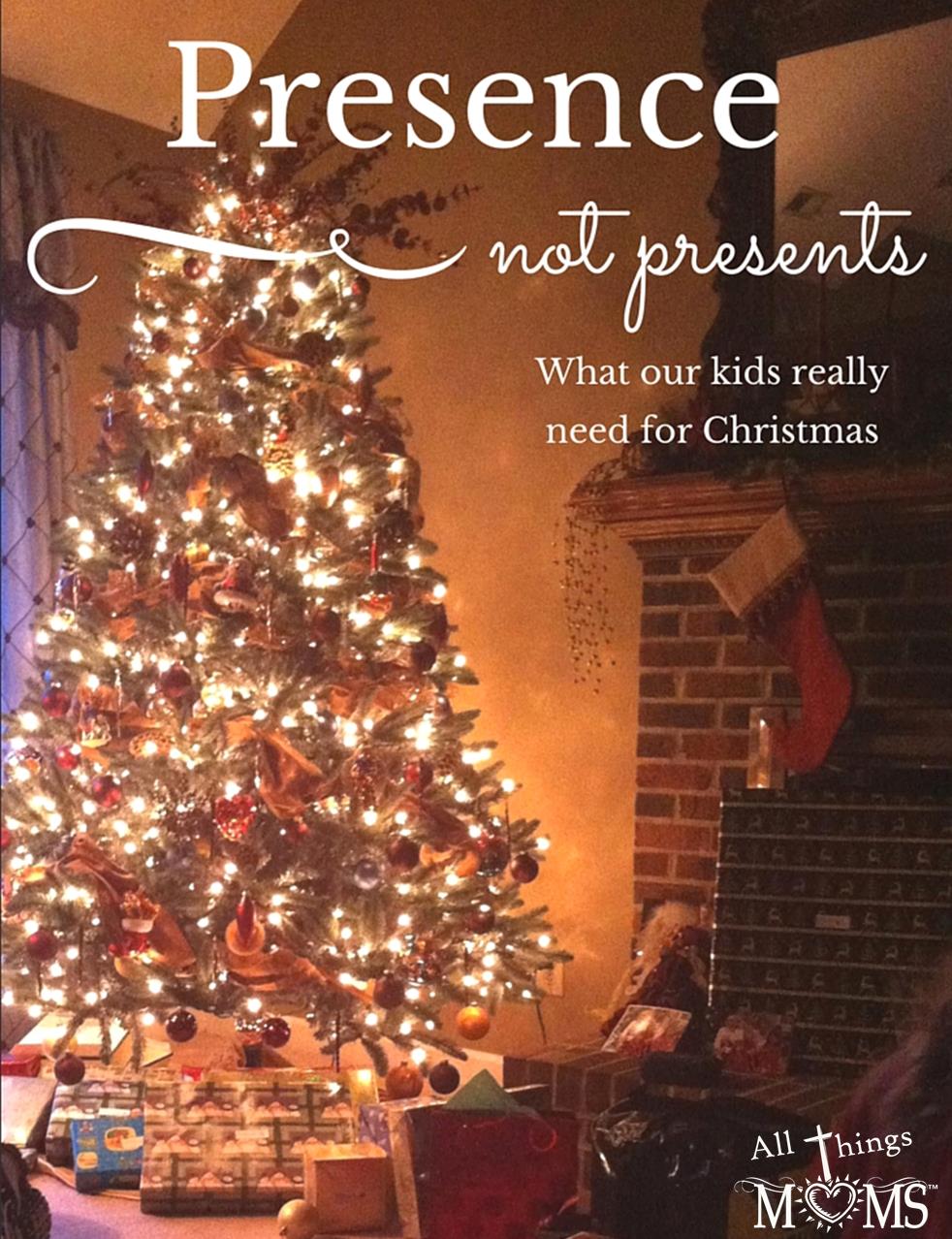 Presence… your presence.  It's true of all the things our kids want, the one thing they crave the most is time with you!
Of course, depending on their ages they may not even realize or know how to express that desire. Little ones are easy, they readily express their desire in their actions by tugging on your hand, crawling into your lap, or just calling for you…constantly.
As they get older, it's harder recognize the signs that they want to spend time with you. Sadly…they may have just given up on trying to spend time with you.
If they are teenagers the chances are good that they would probably adamantly deny that they want to spend time with you.   The truth is they need as much or more time with you now than they did when they were little.
How do I know this?  I'm a mom of four… all of whom are in their twenties.
So…how do we go about giving our presence to our kids instead of a stack of presents? Consider giving them gifts that require your presence.  Gifts that give you a good excuse to spend time with them.
Board and card games make great gifts IF you will commit to play with your kids.  Why not commit to a family game night?  Make cookies or popcorn and enjoy spending time together.
Tickets to local attractions The zoo, interactive children's museums, or state parks are great places to start.   State parks often offer family discounts. Spend a day with the kids, take a hike and explore local sites.  If it requires a couple hours drive, then you get to spend even more time together in the car!  Spend that time singing, playing car bingo or telling stories – in between potty breaks and answering the inevitable "Are we there yet?" Just remember…season passes to a local amusement park where you can drop off the kids or where everyone goes their separate ways isn't what we're going for here.  The goal is to spend time together.
Share a hobby that you love.  Buy a gift to help your child learn your favorite hobby.   Take your child fishing, hunting, flying or horse back riding. Teach them your favorite sport. Set up a basketball goal for after work game time, take them to the driving range.  If neither you or your child are the athletic type, take a more artsy approach. Teach them to knit, crochet, or paint pictures with them.  Buy them a cheap camera and teach them to take pictures.
Camping equipment Consider purchasing a tent and sleeping bags and go camping, even if it's in your own back yard!  And yes, this idea is coming from the girl who likes a hotel room and the maid service that come with it.  Having said that, we have made some great family memories while camping.  Going camping usually forces you to unplug from all those electronic devices that have a tendency to take over life.
Buy a how to book and work through it with your kids.  There are tons of kids activity books that teach everything from how to make paper airplanes to building bird houses or even treehouses!  You can also find books that teach beginning sewing, origami, cooking, or jewelry making.  Pick a book with a project that you are willing to commit to and go for it!  My mom bought me a cookbook at a book fair and supervised while I made many of the recipes.  Afterwards she would write the date and write an encouraging note beside each new recipe I tried.  Could be one reason I enjoy cooking today?
Coloring books for adults are everywhere these days.  Why not buy one for yourself and an age appropriate coloring book for your child and spend some time coloring together?
Books to read aloud – Read aloud to your children…even if your children can read for themselves!  As a homeschooling mom, I read aloud to my children daily until they were in their high school!  Why not pick out your favorite book from childhood and commit to reading it aloud to your kids? Yes, your older kids will probably balk at the idea for the first chapter or two, but once they get into the story they will be anxious to find out what happens next.
Give them the gift of learning to serve.  Get together with a couple other families and go Christmas caroling in the neighborhood, or to a nursing home.   Make cookies as a family and take them to another family or make multiple cookie/candy trays to give to neighbors, the doctor's office or local library, police or fire dept.  Volunteer to sort clothes at the homeless shelter or crisis pregnancy center.  Make an ornament or paper wreath to give to patients at a nursing home.  The possibilities are endless!
Give your kids the ultimate gift this Christmas… the gift of You!  So what if you have to use a little PTO and take time off work to make some of it happen?  It will be well worth it in the end.  When your child is grown and gone from your home you are not going to regret for one second the time you spent with them.
I'm a wife and mother of four homeschool graduates. I enjoy walking, reading and writing. I also love to do almost anything creative from taking photos to painting furniture. I'm an imperfect mom with a less than perfect family learning to walk by faith in Jesus through life's daily challenges. >>Read More