Sweet Potato Kale Pizza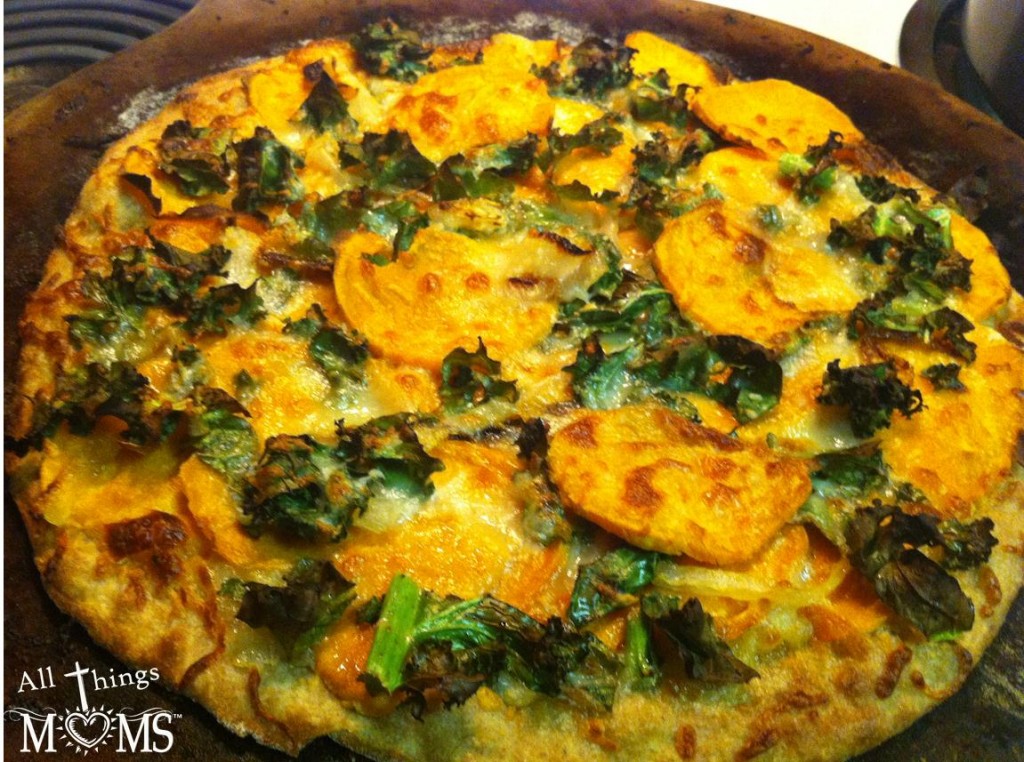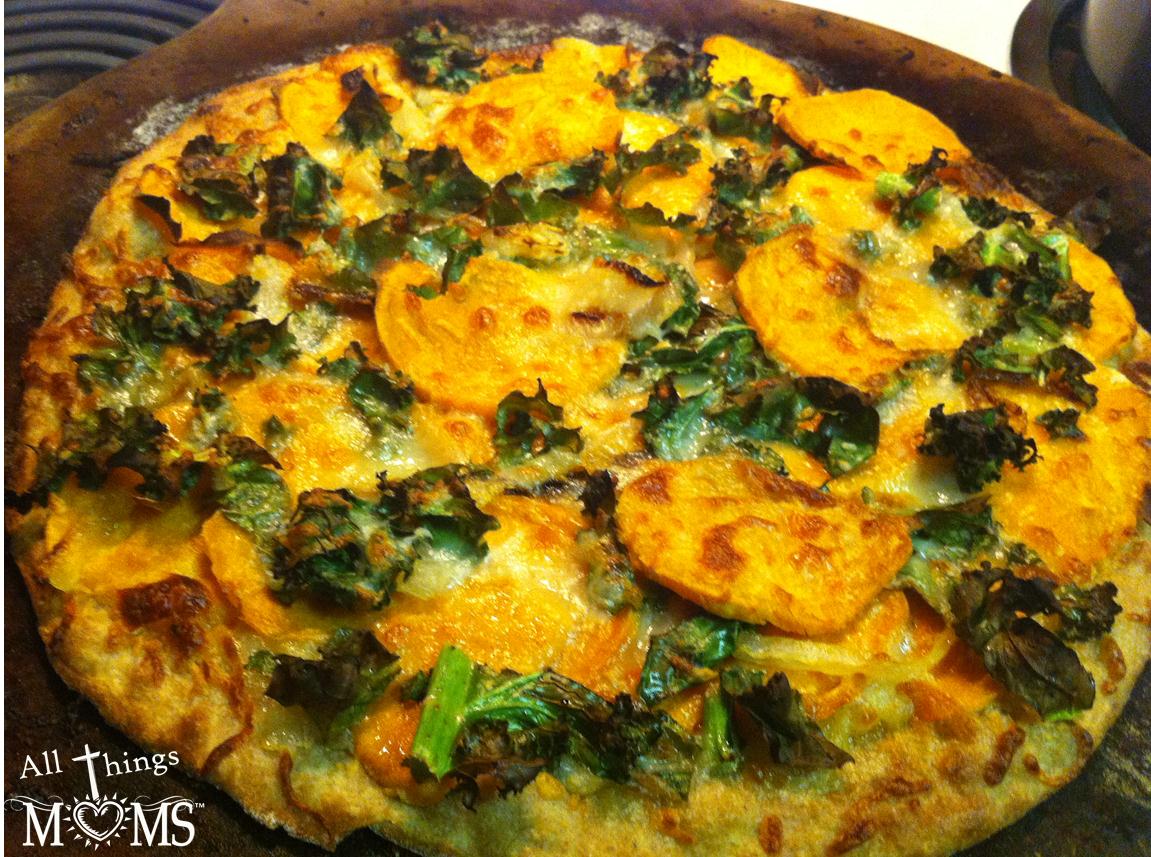 I know what you're thinking- kale? Really- on a pizza? Yes. Absolutely 100% YES! Trust me – you're going to love it! The combination of flavors from the sweet onion and sweet potato balance perfectly with the kale, covered in cheese and nestled on a crispy crust…yum! Remember- Think Outside of the Box! My husband is not a greens fan, in fact we tried kale chips and he refused to ever eat kale again. You should have seen how excited he was to be trying a new pizza, but when he heard the ingredients list it was an immediate disappointment. Being the wonderful man that he is, he did offer to be a good sport and at least try it.  You can imagine my surprise at the end of the night when I wrapped up a single leftover piece- just one. Not only did he try the pizza, he ate over half of it in one evening! He loved it and you will too! Not only is this pizza delicious, it's inexpensive to make. I used homemade pizza dough, got the sweet potatoes on a great sale and you only need 3-4 leaves of kale which is less than a half pound! So go ahead – try it- you'll thank me later 🙂
Sweet Potato and Kale Pizza
1 Pizza Dough – I used this whole wheat pizza dough
1 large sweet potato, thinly sliced, about 1/4 inch thick
1/2 sweet Vidalia onion, sliced (You could also use a red onion)
1 1/2 tablespoon olive oil, divided
Salt and pepper, for seasoning potato slices and onion
1 1/2 cups mozzarella cheese
1 1/2 cups chopped kale
1 tablespoon balsamic vinegar*
1 teaspoon, freshly chopped rosemary (I omitted this because I didn't have any, I'm sure dried rosemary would also work)
– Preheat the oven to 400 degrees
– Toss sweet potato and onion slices in a bowl with ½ tablespoon of olive oil. Add salt and pepper to season.
– Bake for approximately 20 minutes on a large baking sheet, turning once.
– Remove potato and onion from the oven and set aside to cool while you prepared the pizza dough
– Turn you oven up to 500 degrees – If you are cooking on a pizza stone go ahead and place the stone in the oven to heat up
– Lightly flour a clean surface and roll the pizza dough out with a rolling pin to desired thickness (Cook times based on 3/8 inch thickness)
– In a small bowl toss the kale with the balsamic vinegar *
– Carefully remove the hot stone from the oven and place pizza dough on it (If you have a pizza peel you cover with cornmeal and lay the dough out on there then slide the pizza onto the hot stone once all the toppings have been placed on the pizza)
-Lightly brush the dough with the remaining olive oil and top the pizza with the mozzarella cheese, sweet potato slices, kale, onion, and rosemary. (I used ¾ of the cheese as the bottom layer and sprinkled the remainder on top)
– Place the hot stone back in the oven for 10-15 minutes or until the cheese is melted and the crust is golden.
– Allow the pizza to cool for a few minutes and then slice and enjoy!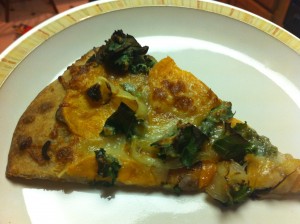 *If you don't have balsamic vinegar – don't worry- you can substitute something else. I used some Pomegranate juice mixed with olive oil and a splash of apple cider vinegar so it was about the consistency of Balsamic Vinegar. I think you could get away with using acai berry, or blueberry juice too as long as you use a little vinegar.
Save time on your next meal- while you are roasting the sweet potato and onions for your pizza why not add some additional veggies to your pan for a quick side to your next meal. I roasted extra sweet potatoes and onions. My toddler and I enjoyed the sweet potatoes with lunch the next day and we used the roasted onions in a loaded baked potato soup the next evening (Recipe Coming Soon)
Be sure to check back next week for more Think Outside of the Box pizza recipes!
Recipe Adapted From: two peas & their pod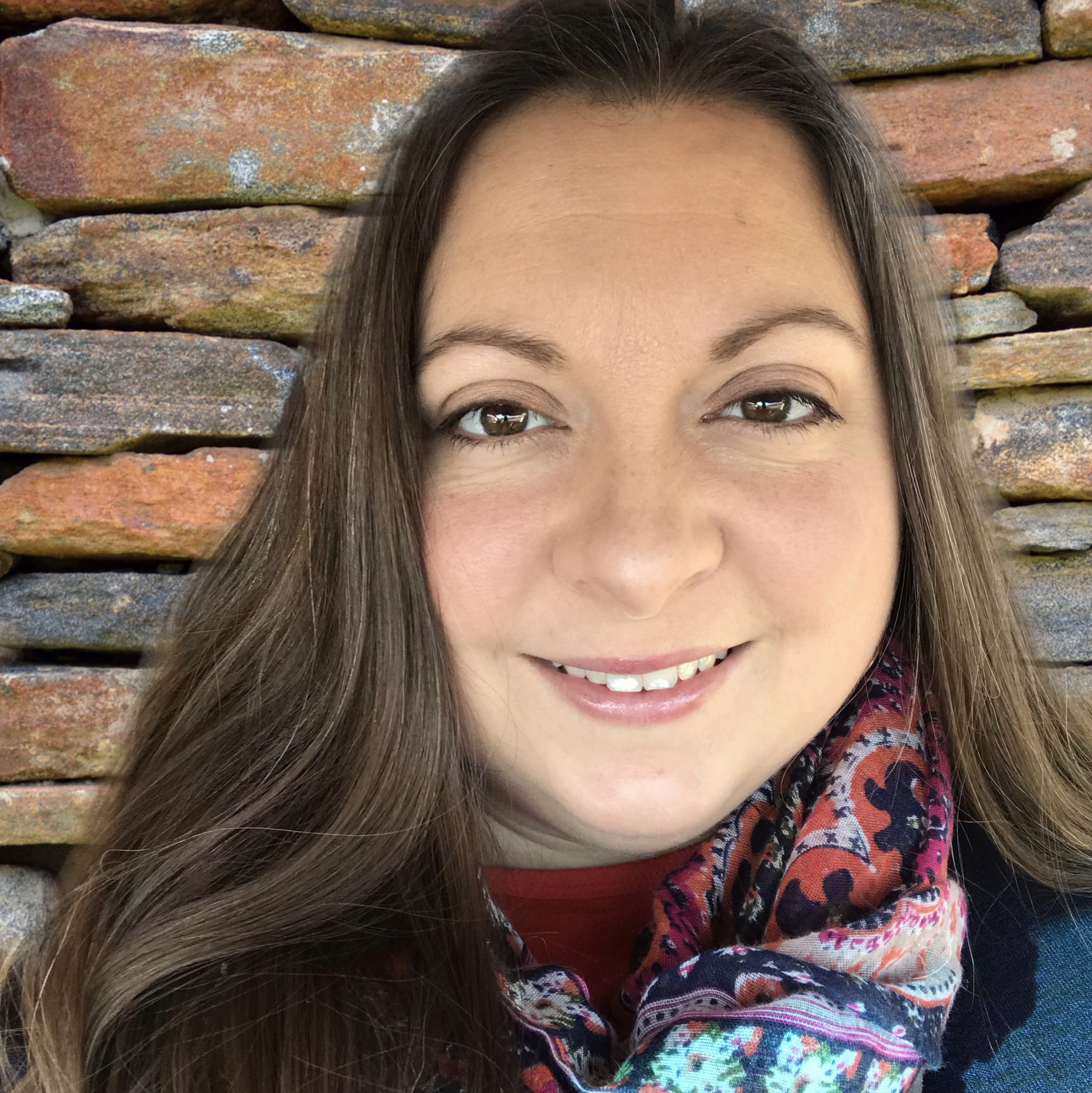 Hi! I'm Paula, a wife and mom by both, birth and adoption. We are a homeschool family and are also therapeutic foster parents. I enjoy spending time with our horses, gardening or going on adventures (usually in our backyard) with my family. We love Jesus and strive to honor Him in all we do. Want to know why I started All Things Moms? >>Read More